It may not be the Appalachian Trail, but to some local runners, traveling the length of the W&OD Trail is a goal worth pursuing.
The Washington and Old Dominion Trail stretches 45 miles through Northern Virginia between Purcellville and Shirlington. The asphalt path is beloved by cyclists and runners alike, but running the entire trail in one day is an uncommon feat. 
Though Arlington's Mike Wardian holds the fastest-known-time for the trail, 5:06:10 in 2019, speed doesn't necessarily take precedence. Anyone can enjoy cameraderie in the attempt, and several runners have, this year. 
Alexandrians Robbie Brusso and Greg Swiatocha ran the trail together May 1 starting at 6:30 a.m. in Purcellville. It took them roughly 7.5 hours, including support stops every six miles along the trail.
Brusso's rest stops included meeting his wife by the Caboose Brewery, his mother and father-in-law near Great Falls Road in Falls Church, and Swiatocha's wife, Erin, and his father at Bluemont Park in Arlington.
These rest stops were very useful during Brusso and Swiatocha's run, and they were made even more supportive by the family members that staffed them.
"This made Francis [Yu]'s run even crazier," Brusso said. "We saw him I think mile 19, and at first we were just like oh there's Francis on a run… then we realized he's running it unsupported, in the opposite direction".
D.C.'s Francis Yu, a teammate of Brusso and Swiatocha on the NOVA Running Club, coincidentally decided to run the whole trail on the same day. Yu, running alone passed his teammates at his mile 26.
"I felt like with the pandemic and everything, it would be a good time to push my limits," Yu said.
Running the W&OD trail end-to-end was an exhilarating challenge to prepare for during the racing dearth brought about by the Coronavirus pandemic. The 10-foot wide trail, which is named after the former railroad that operated along the route from 1859 to 1968, saw a sharp increase in use during the pandemic as people sought to get outside.
Fairfax's Miguel Cuya saw that increase in the trail's use during the pandemic and he wasn't surprised.  "You don't need a membership, you can just come and run, walk, or bike." 
He seems people just not running, walking or biking along the trail, but outdoor fitness classes popping up on spots along the trail, adding more activity and atmosphere to the park.
Cuya credits the trail with having led him to met many of this friends over this 15 years of running. He even bought his home because of its proximity – less than a mile – to the trail.
 But it's more than just a place for physical activity.  Therefore, it's not surprising that he chose to celebrate his 45th birthday on July 31 by running the 45 miles. Accompanied by Miguel Matta and Kate Stilling, the trio was greeted along the way by their D.C. Road Runners teammates. 
The NOVA teammates boosted their training in advance of their runs.
"I think I did three or four 20-milers, which is the equivalent of someone running 10 miles and saying I think I can run that marathon soon," Brusso said.
Cuya, meanwhile, suffered a slight injury in the week before while biking the entire trail, adding a little suspense as to whether he'd be fit for the attempt. He was more worried that by the time he reached the sun-baked stretches on the eastern end of the trail, the temperature would have heated up, compared to the tunnel of trees on the western end.
"It's crazy because the trail is so varied," Brusso said. I think that's an interesting component of it. How it looks at the end in Shirlington is completely different from how it looks in Purcellville. It's tough to just get tired of it, in my opinion."
"It's nice to see all these small towns and suburban areas all linked together," Yu said. There's a lot of diverse scenery."
Asked to provide advice for people planning to attempt the 45 mile trail by foot themselves, Yu said: "If you're curious like I was, it was an overall good experience, and I'm happy to have done it and got it checked off that bucket list."
 "If anything happens on the trail, you're going to be surrounded by people and a lot of places to get food and get drinks. You can make a fun day out of it with all the glories along the way. If you're curious, I'd totally encourage you to do it. If you're interested, you know you're going to be in for a difficult experience, so why not?"
Recent Stories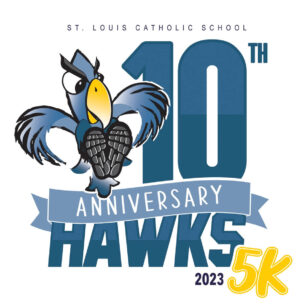 2023 will be the 10 year anniversary of the St. Louis Hawks 5K and Fun Run for Health & Wellness. The USATF certified course runs through the historic Hollin Hills neighborhood in Alexandria, VA.
The Hawks 5K goal, in conjunction