You may recognize Courtney Carter. Perhaps you've seen her running around the Anacostia Trail or the National Mall — two of her favorite local running routes; you may know her from Instagram, where her handle @eatprayrundc has more than 11,500 followers; or you may know her through her work with diversity, equity and inclusion and her posts about it on sites like Women's Running, Oiselle's blog or her own website.
She's using her social media presence to show runners and people of color that they can accomplish amazing things. And Carter, who lives in D.C.'s Trinidad neighborhood, also wants the D.C.-area running community to do better when it comes to diversity, equity and inclusion.
Carter, a 38-year-old who has lived in the D.C. area for about 12 years, began running in high school as a sprinter and hurdler. As a child in a military family, Carter bounced between three different high schools in two states, and graduated from school in Maryland.
After high school, she took a hiatus for several years until, as a University of Virginia law student, she became a founding member of the "Brown Girls Run Club" — a roughly 10-member group of the school's law students who ran together and did other activities as well. 
Through her participation in this running group, Carter found community and trained for her first 10-mile and half marathons in 2007.
After her first half marathon, running was a more casual affair — something she still did, but she didn't care to compete in more than a 5K here and there. She was just starting her career as a lawyer, and "life stuff" happened, Carter said. After a five-year hiatus, Carter tackled the Rock 'n' Roll D.C. Half Marathon — her first in D.C.
"While I didn't love that course, I liked the idea of training and it kind of stuck and I decided to do more races," she said.
Shortly thereafter, she went on to run her first marathon, the Richmond Marathon, and didn't turn back from running long distances. She's now completed more than a dozen half marathons and 10 marathons.
She has documented her running adventures through her social media, and said she hopes others feel encouraged, included and represented through that effort.
"It's not necessarily something I set out to do intentionally," Carter said of becoming something of a local social media influencer. "But because there is a lack of highly visible people of color in running, people don't see themselves, and when they don't see themselves, they don't see it as a space that is welcoming to them. No one wants to show up to spaces where they won't be welcomed."
"It's about seeing people in spaces where they aren't always expected to be. And for American people of color, that's certainly long distance running."
Carter said that representation matters on social media.
"For being hyper local and being a casual, everyday, middle-of-the-packer — maybe people will be like 'oh maybe I can try that too,'" Carter said.
Social media is a space where Carter said she can post about her experiences authentically and hopefully connect with others and encourage them in their fitness journeys.
"I have heard from people, women — especially women of color — who have said they were inspired to do a workout, or do a race or, as of late, get a Peleton — because I post about my Peleton a lot," she said.
Diversity, equity and inclusion are a big part of Carter's life. It's embedded in her social media; she is a DEI Advisor for Oiselle. It's her career, too.
She's the director of diversity and inclusion at Jenner & Block — a D.C.-based law firm. In the role, she leads the firm's diversity, equity and inclusion initiatives such as hiring, retention and advancement. Also, she works across the firm to bring in speakers and hold events on the topic. 
Carter practiced law as an attorney, but found it wasn't the best place for her. After working in a legal diversity pipeline program, she was inspired to pursue a different type of leadership at a firm. Her own personal experience helped draw her to the diversity, equity and inclusion role as well.
"Living as a Black woman in the United States of America … racism, white supremacy, sexism are built into the fabric of this country, so it's a collective experience given my background going to a top law school, going into the legal profession, being the only 'fill-in-the-blank.' The only black person, the only woman …"
"I think anyone who has had the experience of being 'othered' has thought through these concepts [of diversity, equity and inclusion]. It has affected me personally; it has affected nearly everyone," she said.
There is room for growth in the D.C.-area running community when it comes to diversity, equity and inclusion, Carter said. 
"I think people make statements and put a black square on their Instagram, but I'm not seeing tangible differences locally," Carter said.
She noted that many D.C.-area running groups remain largely white spaces, which aren't attractive for people of color to join.
"I'm not interested in being in those spaces that are only white with no work to change that," she said. "…Frankly, I haven't seen anything impressive at all. There is a lot that can be done."
Carter recommends local running groups partner with other local, more diverse groups. And these groups need to take a step back to ask why the group is not more diverse, she said. She also suggests they evaluate where they advertise, who works with them and how they engage with the community. 
As Carter learns and grows as a runner, diversity specialist and social media presence, she's working to stay true to herself. 
"As your presence gets larger, you have a voice, and I'm conscious of trying to use my voice to be authentic. That is really my goal," she said.
While her day job is with diversity, equity and inclusion, she said there are other sources on social media who cover that topic more extensively and do it better than her. On Instagram, she recommends @ckyourprivilege, @monachalabi and @rachel.cargle.
"I like connecting with people and I think it's fun," she said. "My main goal is to be authentic and be myself."
Recent Stories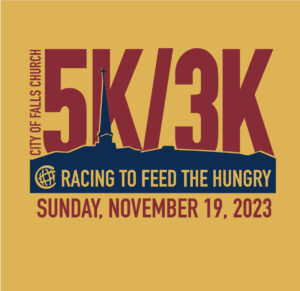 The out and back Falls Church City 5K/3K course is mostly flat on the W&OD Trail starting and finishing at 103 Columbia Street. Overall male and female winners earn free shoes and medals are awarded to all categories. Great family