In a moment, Ava Gordon knew something was wrong.
While training over the summer, she took a breath and realized things weren't quite right, which lead to a positive COVID-19 test and a few weeks off of running while she recovered.
In another moment, she knew things would be alright. That was while she was trailing Herndon's Gillian Bushee in the second half of the Third Battle Invitational. She felt raindrops, and knew her fortunes were turning.
"I just love running in the rain, and I started feeling really good," Gordon said. "I figured out I had COVID because I could only run about 10:00 pace."
As the rain picked up, so did Gordon, and with about a quarter mile to go, she overtook Bushee en route to a 17:34-17:51 win, much faster than her compromised training pace. In doing so, Gordon led her Loudoun Valley team to a second place finish with 165 points to W.T. Woodson's 150. Tuscarora trailed with 180 points.
Third Battle Invitational
Oct. 16, 2021
Winchester, Va.
As the schedule turns to the postseason, each of the top three teams figures to be a contender for their respective state titles, with Woodson in 6A, and Tuscarora competing with defeding 4A champions Loudoun Valley.
Gordon's debut at the Carlisle Invitational in late September was an underwhelming ninth place finish, almost minute from the lead, but that was off of two weeks of training following her COVID recovery and a nagging foot problem that bothered her over the summer.
"I do a lot of hourlong runs, and every time I do one I feel better and better," Gordon said. "I'm getting my endurance back."
Gordon, along with her teammate and boys' race winner Graham Mussmon, have verbally committed to Liberty University.
Mussmon didn't have the same mid-race turnaround. He started moving away from the rest of the pack within the first mile and had no close pursuers.
"I wanted to get out in front before the course narrowed," Mussmon said. "When started to pick it up at 1,200 meters, nobody else came with me."
By the time he left the more stable gravel course surface in the third mile and lost his footing a few times, he had enough of a lead to not have to worry. He cruised to a 15:21-15:36 over South County's Isaac Garcia.
"I wanted to run relaxed, to keep my shoulders down," Mussmon said. "I just kept pushing but never got in over my head."
Woodson's boys also topped the Vikings, 116-137, led by David Dawson in 11th place. James Wood, a 4A rival of Loudoun Valley's finished third with 187 points.
Recent Stories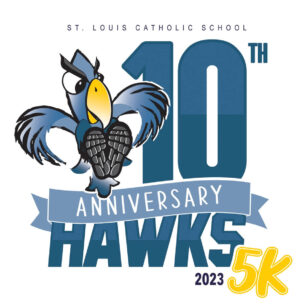 2023 will be the 10 year anniversary of the St. Louis Hawks 5K and Fun Run for Health & Wellness. The USATF certified course runs through the historic Hollin Hills neighborhood in Alexandria, VA.
The Hawks 5K goal, in conjunction