Two local college teams and a variety of other local runners won individual honors at college conference cross country meets last weekend.
Georgetown won its second straight Big East title in Indiana George Washington University's women won their first Atlantic 10 Cross Country title Saturday in Ohio. Georgetown's Maggie Donahue won the Big East individual championship, George Mason's Annabelle Eastman won the Atlantic 10 individual championship and John Champe alumna Bethany Graham, running for Furman, won the Southern Conference individual championship.
Josh Fry, a Bethesda-Chevy Chase alumnus won the Southern Collegiate Athletic Conference individual tile, running for Colorado College and Logan Funk, a George Mason/Meridian alumna now at Christopher Newport, was the Coast-to-Coast Conference champion. Gonzaga alumnus Cullen Capuano, a sophmore at Washington University in St. Louis won the University Athletic Association's rookie of the year.
GW had all four scoring runners – Margaret Coogan (2), Peri Pavicic (6), Kathryn Nohilly (10), Olivia Syftestad (15) and Julia Dempsy (17) – finish in the top 20 to score 50 points to host Dayton's 75. Eastman, second in the spring's conference meet, ran 17:24, ahead of Coogan's 17:31 and led the Mason women to a fifth place finish. George Mason's Jack Ikenberry finished second in 24:43 to Richmond's Peter Borger's 24:35 to lead Mason to a third place finish. James Glockenmeier (fifth place) led the GW men to a seventh place finish.
Donahue won the Big East title 20:47-20:49 over Villanova's Lydia Olivere, the first of four Georgetown scorers –  Sami Corman (6), West Springfield alumna Kiera Bothwell (10) and Baylee Jones (13) in the top 15, with Katie Dammer finishing 35th. Jack Salisbury (6) led the way for the Hoyas, who swept places 10-13, but lost 35-52 to host Butler.
Howard had two second place finshes at the Mid-Eastern Athletic Conference, led by Joslyn Crosby (3) and Gavin Williams (4). Howard also had top locals finishing 11th: Walt Whitman's Breanna McDonald and Bowie's Tafari Stephenson. Catholic's men finished third John O'Rourke's runner-up finish and their women finished sixth, led by Paige Wilderotter. Maryland's women finished 14th at the Big 10 Championships, with Lake Braddock alumna Sarah Daniels leading the way for local finishers in 95th place.
American finished eighth on the men's side and 10th on the women's at the Patriot League Championships, led by Russell Sullivan (39th) and Emily Neuner (67th). Bowie State's men finished second at the Central Intercollegiate Athletic Association Championships, led by Shane Massey in fifth, and ninth in the women's race, led by Central's Heaven Jenkins in 40th place. UDC's women finished fifth at the East Coast Conference Championships, paced by Kamille Dixon's 12th place finish.
Both Marymount teams  finished fifth at the Atlantic East Conference Championships, led by Jules Lemmon in sixth and Hayfield alumnus Matthew Zirkle in 30th.
Outside of the D.C. area, Richard Montgomery alumnus Rohann Asfaw, running for Virginia, finished 13th at the Atlantic Coast Conference Championships and George Marshall alumna Heather Holt, running for N.C. State, finished 17th.
Patriot's Rachel McArthur finished fifth at the Pacific 12 Championships, running for Colorado.
At the Ivy League Championships, Bethesda-Chevy Chase alumna Zoe Nuechterlein, running for Yale, was sixth and Yorktown alumnus Albert Velikonja was 28th for Dartmouth.
William and Mary runners led local finishers at the Colonial Athletic Association Championships, with runner-up Sam Pritchard from West Springfield and Loudoun Valley alumna Kyra Holland (14).
Northwood had two UMBD runners lead locals at the America East Championshos – Fantaw finishing 39th Madison Armonda in 40th.
Woodson's Tyler French was 49th at the Patriot League Championship for Lehigh
East Carolina had two runners leading local finishers at the American Athletic Conference Championships – Patriot alumna Linsay Yentz (27th) and Herndon alumnus Colin McCauley (35th).
James Madison's Rachel Shoemaker, running for Rice, was 27th at the Conference USA Championships.
Loudoun Valley alumnus Jeremiah Mussman was 38th for Liberty at the Atlantic Sun Championships. Forest Park alumnus Zach Diller was 68th at the Southern Conference Championship, running for VMI.
Saint Sebastian Academy alumna Anne Akagi finished 12th at the Big South Championships for Charleston Southern and Loudoun Valley alumnus Ben Goulet was 62nd for Longwood.
George Mason alumnus Ryan Henderson, running for Christopher Newport, was second at the Coast-to-Coast Championships. Bethesda-Chevy Chase alumnus Adam Nakasaka was seventh at the Minnesota Intercollegiate Athletic Conference Championships. Gonzaga alumuns Gavin McElhennon  was 10th at the Centennial Conference Championships, running for Johns Hopkins.
I'm sure I missed somone. I'm sorry.
Recent Stories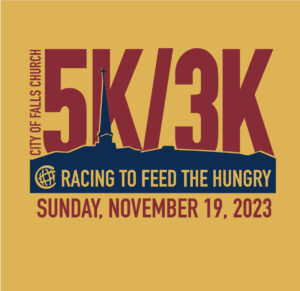 The out and back Falls Church City 5K/3K course is mostly flat on the W&OD Trail starting and finishing at 103 Columbia Street. Overall male and female winners earn free shoes and medals are awarded to all categories. Great family