The two-point loss at the 2019 D.C. cross country championships gnawed at the St. John's boys team. They had closed the gap on Gonzaga from the WCAC Championships a week prior, but they still had cause for optimism. Most of the runners were underclassmen, and they could start looking ahead to the next fall.
Then the next cross country season was canceled because of the COVID-19 pandemic, and all but one of those boys graduated or didn't return two seasons later. It would be up to senior Nicolas Grabarz to exact his revenge.
He did so by finishing second at the 2021 championships, and leading three more of his teammates to top-10 finishes to put them comfortably ahead of St. Albans, 41-63. Georgetown Day School was two points behind in third, while the St. John's girls repeated as champions over Georgetown Visitation 24-56 with Georgetown Day School in third with 98.
DCSAA Championships
Nov. 6, 2021
Kenilworth Park, Washington, D.C.
"We remembered how much those two points hurt," Grabarz said. "That hurt a lot more than any workout. We ran this for all of 'the greatest to never do it."
Grabarz ran 16:10 on the Kenilworth Park course, trailing St. Albans junior Pierre Attiogbe, who won in 16:00. Attigbe and Sidwell Friends senior Micah Lachman led much of the first of two laps of the mostly flat course. Also scoring for St. John's, sophomore Finley Tobin (fifth, 17:07), sophomore Paul Robinson (seventh, 17:13), freshman Cameron Mickle (ninth, 17:16) and senior Austin Rios-Colon (18th, 17:31). Attiogbe, Grabarz and Lachman had previously all faced off at the Landon Invitational, with Lachman taking second that morning.
The Landon Invitational would have provided a preview of the girls' D.C. championship too, but St. John's junior Meredith Gotzman was out with a strained right hamstring. Landon winner Marisa Poe, a Maret senior, finally had a crack at her, just weeks after she came back from her own injury to her right knee. The pair broke the rust at their respective conference championships a week ago, managing the muddy WCAC and ISL courses without reinjuring themselves.
"I almost slipped a few times, but didn't hurt anything," Poe said.
The pair was treated to a remarkably dry Kenilworth course, despite heavy rain part of the week leading up to the race.
"It's amazing, I've never run here when it's not muddy before," Gotzman said.
She and Poe raced together until about 600 meters to go, when Poe took the lead on a long move.
"I just wanted to leave it all out there. It's my last high school meet," Poe said. "Once I saw I had a few steps on her, I was ready to go. It took everything I had to not look back, but I knew that it would waste valuable energy.
Poe finished in 18:59, with Gotzman in 19:07 and Georgetown visitation freshman Vivian Kelly third in 20:11.
"The only thought in my mind was that it was over, I'm done, I did it," Poe said.
Gotzman was following by teammates senior Olivia Gutierrez (fourth, 20:28), junior Caroline Gotzman (fifth, 20:36), Sophie Mattheus (ninth, 21:23) and sophomore Nell Droege (11th, 21:36) to sew up scoring for St. John's second consecutive title.
Recent Stories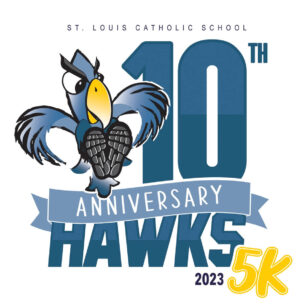 2023 will be the 10 year anniversary of the St. Louis Hawks 5K and Fun Run for Health & Wellness. The USATF certified course runs through the historic Hollin Hills neighborhood in Alexandria, VA.
The Hawks 5K goal, in conjunction