Reston's Susanna Sullivan has run the Credit Union Cherry Blossom Ten Mile frequently enough to know the course extremely well, but she didn't get the home field advantage she really wanted.
While leading the race in the second half, she had her eyes trained on the press truck ahead of her, watching her Capital Area Runners teammate Eva Greenberg, looking for some kind of feedback or indication of how strong her lead was. But Greenberg, working as a press assistant for the race, didn't betray her professional responsibilities and gave Sullivan nothing back.
"It was very quiet on Hains Point, so it was hard to figure out what was happening around me," she said. "Usually, you can gauge by how people are cheering, but there was none of that. There were a few people clapping here or there, but they never gave me any intel on what kind of lead I had."
Sullivan, 31, opened up what she later heard was a 50 meter lead in the fifth mile, pulling away from Carrie Verdon, Paige Stoner, Sarah Pagano and two-time Olympian Kim Conley. By mile 10, she started to wane.
Credit Union Cherry Blossom Ten Mile
April 3, 2022
Washington, D.C.
"I was feeling great until the last mile," she said. "They're all really strong women and some of them are training for marathons so I knew they'd have a strong close, so I just ran for all I was worth."
She was worth 52:32, good for a nearly-two-minute PR and the first local Cherry Blossom winner in 40 years. Her previous 10-mile PR came across the Anacostia River, a 54:22 at the Up Dawg 10 Mile in 2020, which kicked off a resurgence in her performances after a lull of several years. In the month leading up to Cherry Blossom, Sullivan set personal records at 10k (32:03) and 5k (15:38), with the 5k coming a little more than a week ago.
"I was hopeful that (10-mile pace) was going feel slower and it did like I felt I really did feel comfortable until the last mile," she said. "I was getting a lot of confidence from the fact that I was running fast that far into the race. Even when I started to not feel as good at the end, I knew that last mile is hard for everybody."
While she might not have had the feedback she wanted, Sullivan's lead was not contested by the traditional headwinds in the latter half of the race, though she felt focused enough on the lead truck that she didn't think wind would have shaken her.
"It was the perfect day."
Sullivan's 10k PR has motivated her to attempt the 31:45 USATF qualifying standard, so after racing the BAA 5k in two weeks, she plans to race a 10k in May.
On the men's side, Kenyan Nicholas Kosimbei, 25, took off after 5k and stayed far enough ahead of Wilfred Kimitei and Shadrack Kimining to cruise into a 45:15 finish, tying Alan Kiprono's 2012 time.
"I wanted to run ahead at 5k, but the pace was a little slow before that, so I tried to push it a little bit," he said.
Kosimbei wasn't concerned about leaving himself vulnerable while leading.
"That's my style," he said. "I'm happy with my race, but I still want to break the record on my own. I was not sure exactly what the record was while I was racing."
He broke away at 5k at the Publix Atlanta Half Marathon a month ago, running 1:00:36 to break the course record and win by nearly two minutes. Futsum Zienasellassie, 29, was the top American finisher, running 46:53 for fourth place.
Aside from Sullivan, the top local finisher distinction went to Elena Hayday, 22, who ran 54:32 for 10th overall. A recent transplant to Bethesda after graduating from the University of Minnesota, Hayday planned to go out with the chase pack, but quickly found out there was none.
"There was a group of front runners and everyone else just kind of strung out behind, so I went out kind of conservatively and then realized that it had some more in the tank around mile three," she said.
She chased runners individually until roughly mile eight, when she tried to protect 10th place.
"I think I did a good job of staying focused," she said. "I'm still getting used to road racing and not having as many people nearby, but I didn't get complacent and slow down today."
D.C.'s Zach Herriott, 22, was the top local men's finisher, also in 10th, running 48:47. Herriott carried the distinction of winning the race's virtual competition in 2020. He ran much of the race with Pacers/GRC New Balance teammates Tom Slattery and Brian Rich.
"The most important thing was making we didn't go out too fast," he said. "Eveyone goes out like a bat out of hell, and we had to rein ourselves in because we were going 4:40 pace. We found a group about two miles in who were running 4:55s and we just stuck with them. I thought they'd go too fast, but Brian made the good, tactical decision to commit to sticking with them. The last mile was what it was."
With his marathon debut approaching, Herriott was pleased to have executed a patient race strategy, holding back early on even when he felt ready to run faster.
Recent Stories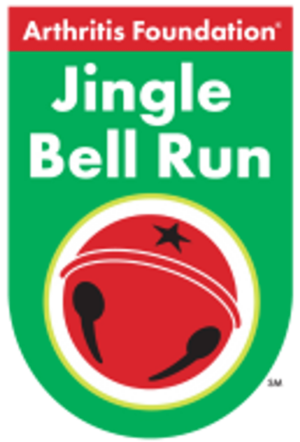 Be part of the original festive race for charity and signature Arthritis Foundation holiday event! Wear your favorite holiday attire and together, we'll jingle all the way to a cure! Register as an individual or bring a team of friends,