I thought I had been fooled.
No, I must have gotten something wrong. Turning out of Morven Park, the famed Old Waterford Road, which I found on Loudoun County's map of unpaved roads, was most certainly paved!
Well, I was already out in Leesburg, I might as well keep going. I started climbing the hill (that will happen a lot on this route) and a while before I realized it, the road had indeed switched to rocky dirt, just as advertised.
I picked the road from the county's new map, which is suited for mobile use, but found some supporting endorsement from the Loudoun Road Runners, who make the road a staple of their routine.
Before too long, I realized why. By the time I hit the intersection with Nestlewood Road, I was used to the climbing and the traffic, light as it was, was down to almost nothing. There are a few tricky curves, so you have to approach them with caution, but before long the road stretches out ahead of you with plenty of visibility.
I like rolling hills, so it was right up my alley – the climbing peaks before 2.5 miles on the way out, though 1.5 to 2.3 on Old Waterford climbs 267 feet. I'm mildly terrified of horses, and I passed a few, but they didn't threaten me and everyone stayed cool.
Five miles in, you reach the end of Old Waterford, but if you're willing to navigate 0.1 mile of pavement on a sweeping curve, Browns Lane gives you an extra 1.9 miles of dirt road – I initially missed it and ran too far on Loyalty, as you'll see on the map. If 14 miles of mostly-dirt road isn't enough, you can add on plenty on Morven Park, which is also a great place to park (or watch a cross country race).
I loved it on a day I was being pelted in the face by sleet. Chances are you'll like it, too.
Recent Stories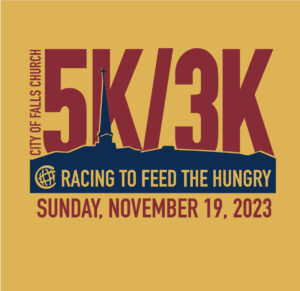 The out and back Falls Church City 5K/3K course is mostly flat on the W&OD Trail starting and finishing at 103 Columbia Street. Overall male and female winners earn free shoes and medals are awarded to all categories. Great family