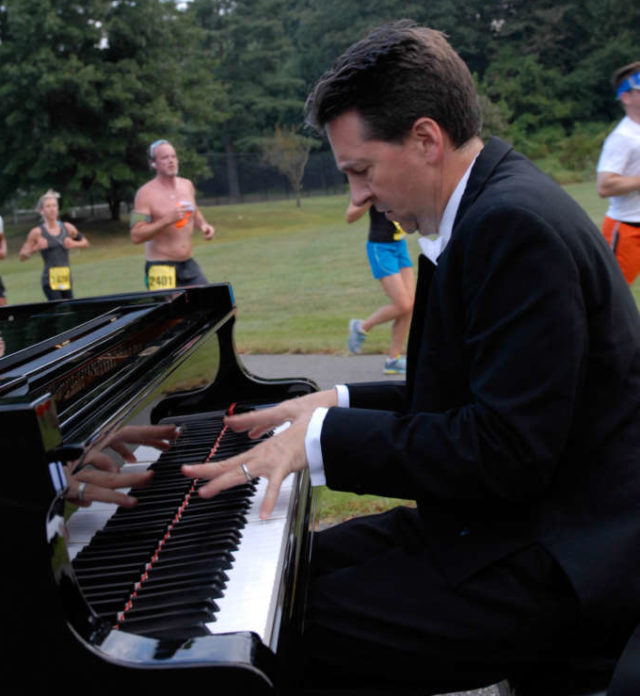 In the middle of mile six, the Parks Half Marathon went from sweaty brow to high brow.  It became the "Rachmaninoff 'n' Roll Half Marathon."
Heading into Ken-Gar Park, runners were greeted by George Gershwin as Shaun Tirrell tickled the ivories. In a tuxedo, paired with some Asics, seated at a concert grand piano.
"I don't usually play classical that early," he said. "It's more for night owls."
Nevertheless, he and his friend, race director Mike Acuna, conspired to get one of his Estonia pianos (Tirrell owns PianoCraft in Gaithersburg) out to a basketball court. He tried to get the Washington Conservatory Faculty to play, but they couldn't swing the scheduling.
Tirrell is no stranger to running, with a 14:50 5k to his name and some impressive times as a high school runner in Massachusetts. He had the chops to challenge a few of the lead African runners for a minute before heading back to the bench.
In high school, he would head to piano practice right after cross country was over.
"That was when I would learn the most, when my concentration was the sharpest," he said. "It was because of the endorphins."
In addition to his work restoring and customizing pianos, he performs frequently, and he has a secret technique for stressful performances.
"I run beforehand," he said. "It always puts me in the right mindset."
This was originally published in the November/December 2013 issue of RunWashington
0
Comments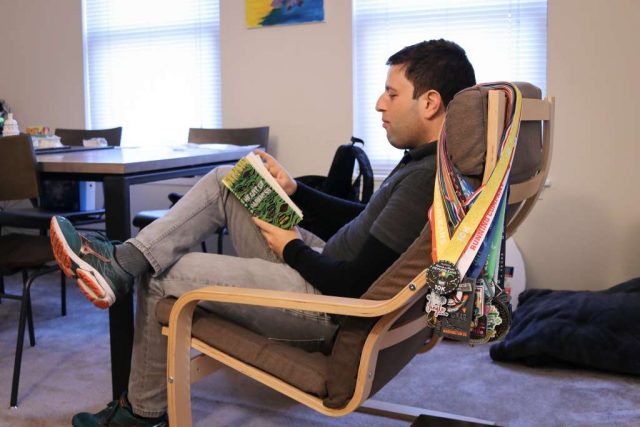 What started as an innocent IKEA chair purchase in 2014 has turned into quite the display of race medals for Mike Katz of D.C.
His springy bentwood Poäng, which he pronounces POE-ayng, is adorned with 32 pieces of hardware from marathons, half marathons, relays, ten milers, and more. He layers them on with the completion of each race, hoping (with mixed success) they stay in chronological order.
His favorite? The 2014 Rock 'n' Roll USA (now Rock 'n' Roll DC) Half Marathon medal has good aesthetics and was the first medal he draped onto the Poäng while unpacking in an otherwise unfurnished apartment in 2014.
Another notable design includes the 2015 Parks Half Marathon medal featuring a wine stopper welded onto the bottom.
His memento from the 2016 Santa Barbara Veterans Day Half Marathon is a round aluminum pendant that a friend hung on a candy necklace with "Good Job Running Boy" written on it in Sharpie.
The Poäng makes an appearance on Katz's social media accounts from time to time, captioned with some variation of "Another medal for the Poäng!" and the occasional race report.
"I'm gonna need a new medal chair soon if I keep making these terrible choices," he wrote in 2015.
If it gets to that point, he has his sights set on the children's version of the Poäng as a contingency.
0
Comments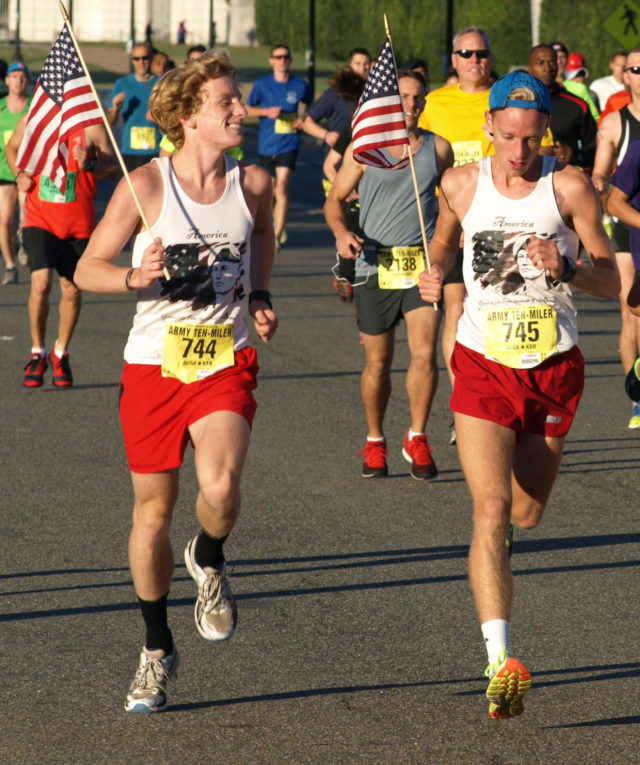 The Jutras family has been running the Army Ten-Miler since 2003. In that time, the team composition has changed, and so has the reason they run.
Pierre and Julia ran with their eldest son, Dillon, and their daughter Heather. They took a year off and came back in 2005, only without Private First Class Dillon Jutras, who had enlisted in the Army and was serving in Iraq.
Dillon died from combat injuries less than three weeks after deployment. He was 20.
0
Comments