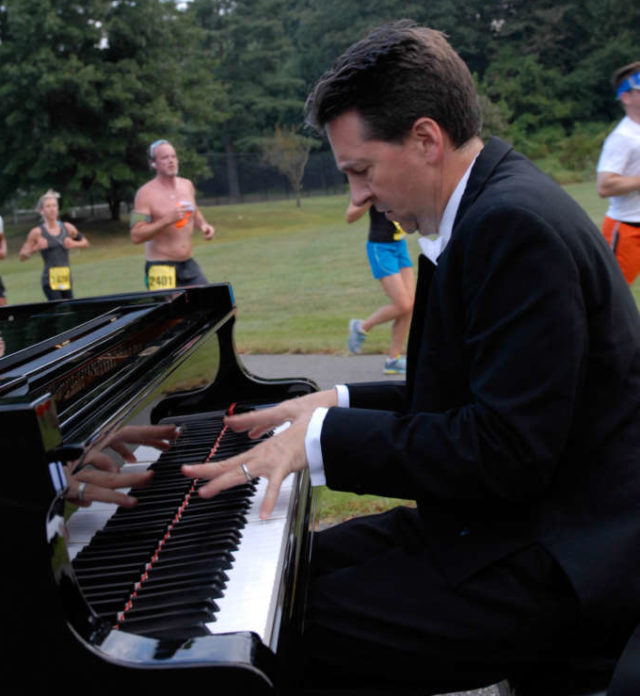 In the middle of mile six, the Parks Half Marathon went from sweaty brow to high brow.  It became the "Rachmaninoff 'n' Roll Half Marathon."
Heading into Ken-Gar Park, runners were greeted by George Gershwin as Shaun Tirrell tickled the ivories. In a tuxedo, paired with some Asics, seated at a concert grand piano.
"I don't usually play classical that early," he said. "It's more for night owls."
Nevertheless, he and his friend, race director Mike Acuna, conspired to get one of his Estonia pianos (Tirrell owns PianoCraft in Gaithersburg) out to a basketball court. He tried to get the Washington Conservatory Faculty to play, but they couldn't swing the scheduling.
Tirrell is no stranger to running, with a 14:50 5k to his name and some impressive times as a high school runner in Massachusetts. He had the chops to challenge a few of the lead African runners for a minute before heading back to the bench.
In high school, he would head to piano practice right after cross country was over.
"That was when I would learn the most, when my concentration was the sharpest," he said. "It was because of the endorphins."
In addition to his work restoring and customizing pianos, he performs frequently, and he has a secret technique for stressful performances.
"I run beforehand," he said. "It always puts me in the right mindset."
This was originally published in the November/December 2013 issue of RunWashington
Recent Stories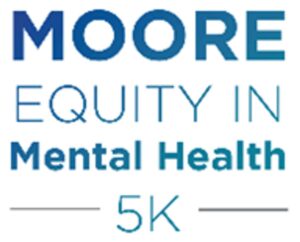 About APA's MOORE Equity in Mental Health 5k
The APA's Division of Diversity and Health Equity invites you to join us in combating mental health inequities facing young people of color and in honoring mental health advocate Bebe Moore Campbell.