Running again took a lot of faith for Vicki McGorty. 
Despite a running career that went back 44 years and took her to the high school cross country championship and a collegiate career at the University of North Carolina at Chapel Hill, as she launched herself in the air April 4, she wasn't sure what would happen when she came back down.
"I was so excited but a little nervous," she said. "When I go up in the air, is my leg going to catch me?"
It did.
She was nine months removed from a double knee replacement which repaired about seven years of damage that she pushed herself through. 
"I tore some cartilage playing tennis but didn't let that stop me," McGorty said. "I kept running anyway until a few years ago. My neighbor told me he wanted to take a video so I could see the pain on my face. I was limping while I ran."
Her orthopedist gave her the news — she'd need two new knees.
"I was heartbroken, crying in the office, in the car," she said. "I know it was just my knees, not cancer, but it was my sadness."
Her running network came to her aid, though. She and her husband Kevin have three sons, all stars for Chantilly's cross country and track teams in the last decade. Sean, the oldest, and now a professional runner for Nike, dates a former Stanford teammate, Elise Cranny, whose father, Bob, owns several physical therapy practices in Boulder. Bob Cranny saw her deteriorate over the years and suggested having both knees replaced at once.
Despite taking two years completely off of running before the surgery, going through with it took some emotional reckoning.
"I was not mentally ready to grasp that I had two bad knees," she said. "Then I thought, why wait? Why do this when I'm 70 when I could be living now."
When it came time for the June 18 surgery, Kevin's mother's health declined, and he went to be with her in New Jersey. Meanwhile, Sean was dealing with a staph infection in his ankle that required three surgeries. 
McGorty's father and stepmother came down to help her. Her dad, who brought 10-year-old Vicki to the "FBI's Most Winded" six-mile race, sat alongside her during her rehab appointments, taking notes on the improvement she was making.
She ditched the walker and cane quickly, but was determined to stick to the 9-10-month recovery schedule her doctor laid out. 
"I was going to be a rule-follower," she said. 
Eight weeks after surgery, she was back in her classroom at Lees Corner Elementary School, setting up for the new year.
"I'd come home and just sit with ice on my knees and cry," she said. "It was so hard."
But as she was wont to do, she adapted quickly. She spoke openly with her students about her challenges, including a 40-pound weight loss, but saw them as a sort of barometer in her recovery, too.
"When I do stairs with hundreds of elementary school kids going up and down around me, I knew I was getting there," she said. 
McGorty had planned to take her first steps running while visiting her youngest son, Brandon, at Stanford before heading up to Portland to visit Sean. Instead, Brandon was home and Ryan, who ran at William and Mary, had escaped New York. 
They headed to Franklin Middle School, where Ryan filmed his mother taking her first running steps in almost three years alongside Brandon.
"It feels good!" She said, flashing two thumbs up. "A little awkward, but good!"
She ran eight minutes total, starting with 15 seconds, then 30 seconds, then a minute.
A few days later, she ran 30 seconds four times, then one minute ten times.
"I can't wait until I can run Burke Lake again, a loop of the lake or the course," where she dominated as a high schooler at Langley.
McGorty knows she won't be running every day, but she learned to embrace vigorous walking, too.
"Running will always be my love," she said. "I feel like I won the lottery, getting to do it again."
Recent Stories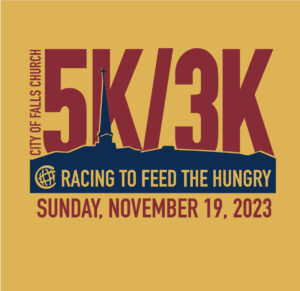 The out and back Falls Church City 5K/3K course is mostly flat on the W&OD Trail starting and finishing at 103 Columbia Street. Overall male and female winners earn free shoes and medals are awarded to all categories. Great family