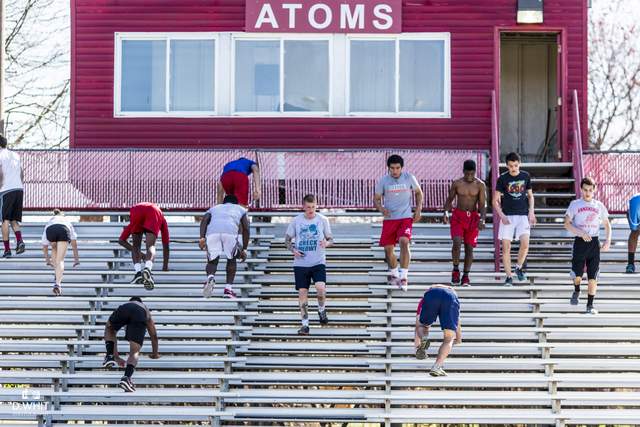 Carl Klein woke up one night to a police officer knocking on the window of his Ford Explorer. He was parked in a lot right off the highway, and the officer told him he couldn't sleep there. Carl started his car, drove to another location and fell asleep again.
He was 17 years old.
It was an unusual high school experience, one that running helped him endure. Now in his first year as an assistant track and field coach at Annandale High School, Klein's love of athletics is still strong.
Klein was born and raised in Perry, Mich., a small town northwest of Detroit with a little over 2,000 residents. Klein excelled in soccer, wrestling and track at a high school where each graduating class had about 30 students.
"I just fell in love with running," he said, although he didn't always feel that way. "I was honestly only doing it to keep in shape for other sports."
He specialized in the 800m, mile, and 3200m relay. "The competitive side of me wanted to beat other people in races. When you practice, you don't have to worry about all the stresses of school and work or anything."
His life at home was a different story. His parents, both drug users, were never around and his mom remarried multiple times. Klein relied on his uncle and grandfather as role models.
"They were the two biggest influences in my life," he said. "My uncle was around all the time and he kept me straight, telling me what I should and shouldn't do."
Then came the day when 17-year-old Klein told his parents to stop using drugs. His mother kicked him out.
"It was just a random day," he said. "There's nothing that really sparked it. For some reason I had had enough and I was like, 'You guys need to stop, this is ridiculous.' And it was as simple as my mom saying 'Get out.' And then that's literally all it was."
Klein packed up a few things — clothes, a blanket, and a pillow — and left. His friends and their families were aware of his situation and offered him a place to stay. He stayed with friends' families for a while, but was hesitant to accept the help.
"I was really stubborn," he said. So he resorted to sleeping in his car in park-and-ride lots by the highway.
In the mornings, he would work out at a YMCA so that he would have access to a shower. After practice, he would wash dishes at a restaurant so that he would have dinner and enough money to buy lunch at school. When asked if he was worried to be out on his own, Klein said "I wasn't that scared, really. I had so much going on with high school, sports, and work."
"When you're really young, you have energy all day," he said. "I've always had a lot of energy. Trying to juggle it wasn't a big deal."
Klein ran a couple marathons while he was homeless, too.
The first one came as a surprise. "My track coach was like, 'Hey, I'm going to do a marathon in a few Saturdays — wanna do it?' I was a young buck; I was just like, 'Whatever, I can do it.'"
It was a short-lived marathon career. Thinking back, Klein acknowledged that his life at home made him stronger in the end.
"It made me try a little harder," he said. "My parents never really gave me anything so I always had to support myself, so it just made me want to strive and do better."
Back then, his main concern was what to do after high school. No one in his family pushed him towards a college education, and he thought he could easily find work in one of Michigan's auto factories.
After a year of odd jobs after graduation, Klein walked into the closest Army recruiting center. His grandfather, his role model, had been a Marine and served in World War II. He used his old home address on his forms, but never contacted his parents about what he was doing.
Klein was guaranteed three meals a day and a roof over his head. His new life took him around the globe, including one-year tours in Iraq and Hawaii and about another year in Afghanistan.
"It's a little scary at first, but most people know since 9/11 that when you join the military, you're joining at a time of war," he said.
While he served abroad, his infantry ran early in the morning during physical training despite temperatures exceeding 90 degrees. A few times a month they would go on 10- to 30-mile hikes. Klein and his colleagues did Brazilian jiu-jitsu to keep in shape when they got bored of running.
"The summertime is definitely, definitely the worst," he said.
Between his deployments, Klein studied helicopter mechanics in Virginia, where he and his wife met for the first time.
While she was finishing her Master's, Klein moved to Hawaii and within a year she flew down to visit, when he proposed to her. A few weeks later, he left for Afghanistan and they skyped nearly every day.
Klein left behind the marathons of his teenage years to tackle 5ks, 10ks and half marathons during his time with the Army. Today, he still runs daily, but his new love is the Spartan race series, featuring as many as 13 miles of obstacles in challenging terrain.
"A half marathon is not too bad, I think. The recovery time after a full marathon is too much for my body, especially after all these years in the Army. That's why I got into the obstacle course races," he said.
"It's a pretty good workout," he said. "I've done the Warrior Dash, but for me it's just too short and it's really not that big of a challenge." His new training regime means he's not just logging miles but also chopping wood for two hours, carrying rocks, and dragging logs.
"The most random thing you can think of, that's what you try to do because the race is really random. They don't tell you exactly how long it is and what you're going to do."
He described one event in Vermont, where racers carried a huge rock two miles up a mountain, recited the names of the first 10 U.S. presidents, and raced back down. Forgetting a president sent racers back up the mountain to try again.
His wife started to run, too, and raced the Disney Half Marathon last January. Klein left the Army about two years ago, and they now live in Kingstowne, not too far away from their school. His wife, an Annandale alumna and teacher, was the one who saw the school's opening for assistant coach.
Seeing his athletes improve is Klein's favorite part of the job. In his first indoor track season this year, his 4x200m squad finished fifth at the Virginia state meet.
"They worked really, really hard at it," he said. "They kind of destroyed at states."
Klein also works as a security guard on campus during the day, which has helped him relate to the campus culture.
"It's just a great opportunity for me because the kids are going to be able to see me all day and so I'll be able to see them a lot more rather than a couple hours after school."
In some ways, his athletes enjoy the same benefits of running that Klein did at their age. He recognizes that running offers his athletes a constant in their often turbulent lives: "It gets them away from the stress knowing that they can just go and run. A lot of kids don't have the greatest family life so I think it keeps a nice stable position for them. They have somewhere they have to be everyday and they know exactly what they're going to do everyday."
"I haven't spoken to my parents in a very long time," Klein said.
It's been more than five years since Klein walked out of his house as a teenager, and running still gives him purpose. "Coaching somebody to make them faster or stronger is the easy part. The hard part is connecting with the kids and trying to dig out their competitiveness. A lot of kids are naturally fast; that's not the issue. The issue is getting 110 percent out of them."
"The way I grew up and the Army taught me it's really easy to talk to people, so it's pretty easy for me to get these kids to give me 110 percent."
This originally appeared in the May/June 2014 RunWashington.
Recent Stories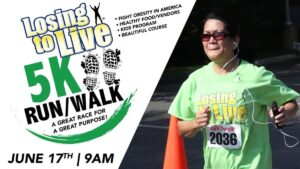 WHEN Saturday, June 17, 2023 at 9:00 am WHERE This convenient location is just minutes from your house located 1/2 mile inside the 1-495 Capital Beltway at exit 51. Spectators are welcome to watch and cheer on the runners. Capital