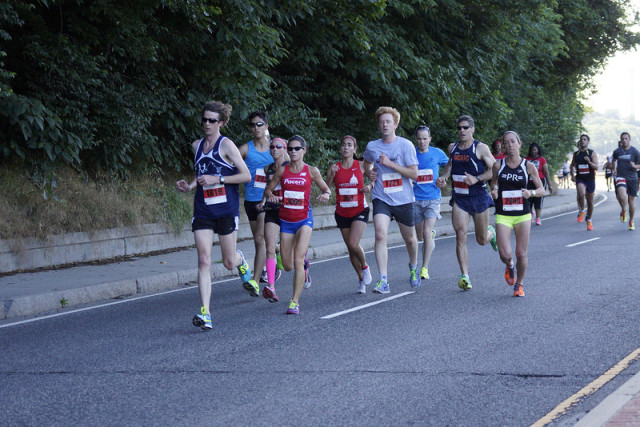 Colleen Smith showed up at Covington and Burling ready to put her legal studies to work as a summer associate. She found out pretty quickly that the partners were also interested in her background in distance running. She ran track at the College of Idaho.
"Alan Pemberton told me on my first day I'd be running on the Lawyers Have Heart team," she said. "The firm is pretty serious about it."
[button-red url="http://www.zippyraceresults.com/search.php?ID=3958″ target="_self" position="left"] 10k Results [/button-red]She ended up as one of the firm's 19 runners, and she was third among them across the line in 42:05. The race, a mainstay of June in The District, added a 5k last year. The June 14 10k drew 2,353 finishers and the 5k saw 1,216 people finish. The 10k had seven runners finish just under the billable hour mark- 59:59. From the start on K Street in Georgetown, the courses climbed Whitehurst Freeway and turned onto Canal Road before turning and coming back.
[button-red url="http://www.zippyraceresults.com/search.php?ID=3959″ target="_self" position="left"] 5k Results [/button-red]The races raise money for the American Heart Association and draw attention to the stressful lives attorneys lead. It's a kind of wake up call for lapsed athletes.
Stephanie Evans of McLean hurt her ankle last year after the race, but as this June approached, she got back into training. She and fellow WilmerHale partner Brent Gurney, of Bethesda, squeezed in training runs during work, and she finished in 41:40. Gurney considered not coming back, thanks to a few rough races marked by high temperatures and humidity. But team spirit got the best of him and he was surprised by cool breezes and plentiful shade, save for the last mile on Whitehurst Freeway.
"I dry heaved at mile five but after that, I got going," he said.
Sydney Taylor, a paralegal with Cohen Milstein's public client group, ran the 5k.
"It was a little early," she said of the race's 7 a.m. start time. "I might not have signed up if I knew how early I'd have to be here, but now that it's over I'm glad I did it."
On the competitive side, Susanna Sullivan of Falls Church cut three seconds from the women's course record, running 34:32, and made up for her late-race loss to Claire Hallissey last year.
Her mind set on the Twin Cities Marathon in October, Sullivan has been piling on the miles lately, and worried about feeling flat, but her 5:20 first mile, accompanied by Capital Area Runners teammate Matt Deters, dismissed those concerns.
"It was a little dumb to go out that hard, but coming in I didn't feel like it was going to be a PR kind of day, so I was focused on getting a good, hard run," she said. "I was going for the win."
Two minutes back, second place finisher Lindsay Wilkins of Arlington cruised along most of the race in a pack of women that included Kara Waters of Great Falls, Erin Taylor of Arlington and Barb Fallon–Wallace of Alexandria.
"Having that pack helped and made it fun," Wilkins said. She won the Capitol Hill Classic 10k  a month ago. "It's been a few years since I've run this course and I remember it being pretty hard, but the pack made it easier to run evenly."
Wilkins ran off with a mile to go and left Fallon-Wallace with a "welcome back" moment after almost six months of injury.
"It felt pretty good until the end," she said. "Then everyone gave it all they had, and I got passed. If was a comfortable race, considering not running much."
Neal Darmody planned to start pushing the pace on Mark Leininger at the 5k mark, but he started a little early.
"I took the lead at mile 2 and got in a little deep earlier than I wanted," he said. "By 3.5 miles, he took over."
Though Leininger put a 32 second margin on him to win — 30:50-31:22 — Darmody is encouraged after starting a comeback after a few years of meager training after his High Point University career ended. He drove up from Durham the night before, where he is a graduate student at Duke University.
"The races are so much better up here," he said. Darmody grew up in Maryland and ran at Quince Orchard High School.
Troy Miles and Carmela Wood, both of Bowie, found that out today. It was their first race, which they ran with the encouragement of their friend, Jullion Taylor, a paralegal. They trained for a month, hitting a long run of 4.77 miles. That meant the 10k would involve some new territory, and they both met the challenge.
"I think the last mile was my best," Miles said. "We turned the corner (with roughly a quarter-mile to go) and you could just launch toward the finish line."
Wood was less confident at first.
"After five miles, I was pretty tired," she said. "I don't know where I got to energy to sprint at the finish."
Not everyone was a lawyer, paralegal or prompted to run by one.
Jackie Kline rounded up three friends to form a team — the FLAWless Ladies.
"It's a little awkward," she said, "but we like to be clever."
Recent Stories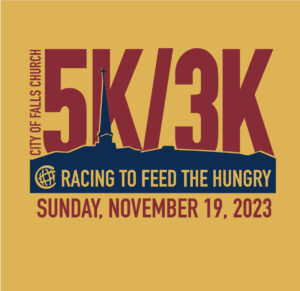 The out and back Falls Church City 5K/3K course is mostly flat on the W&OD Trail starting and finishing at 103 Columbia Street. Overall male and female winners earn free shoes and medals are awarded to all categories. Great family