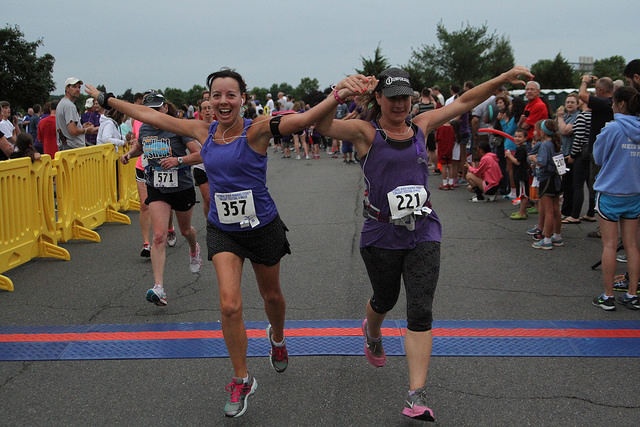 The sounds of laughter, music and families with friendly dogs and moonbounce-loving children filled the start area of the ninth annual Twilight Festival 4 Miler June 21 in Ashburn.
But a subtle somberness permeated the race and paralleled the evening's overcast skies.
[button-red url="http://www.zippyraceresults.com/search.php?ID=4075″ target="_self" position="left"] Four Mile Results [/button-red]On March 12 of this year, Ashburn area mom Jaime Rowley had her life tragically taken while out for a morning run. Her family and friends have created the Run for Jaime Foundation, which promotes runner safety awareness and raises money to help families who have also suffered the loss of a family member. The Twilight Festival this year will benefit the foundation set up in memory of Jaime.
Michele Wiggins, Jaime's older sister, said that the foundation was inspired by the community. "We were so overwhelmed with all the support and help that was given to us that we said, 'Okay, the girls (Jaime's daughters) are taken care of, and now all this money and support and events need to help someone else," Wiggins said.
More than 800 runners came out to show their support, many of whom sported purple t-shirts with the hashtag #RunforJaime on the back, while others came for the competition.
First male- and overall- finisher 24-year-old Neal Darmody of Durham, N.C. said he didn't expect to come out on top, after having taken last year off from racing.
So far, though, Darmody has seen nothing but success. Earlier this year, he finished first in Potomac River Running's Reston 10 Miler and came in second at last weekend's Lawyer's Have Heart 10k.
Darmody drove up from Duke University the night before the Twilight 4 Miler in hopes of placing in the top three.
"From the start, I didn't think I was going to win it. The lead runner was way ahead, but I slowly worked my way up to him," Darmody said.
Dromody ended up finishing in 20:06, nearly 50 seconds ahead of second-place finisher 32-year-old Teresa Fekensa Beyisa.
Beyisa, originally from Ethiopia, finished in 20:54. He appeared less competitive and was all smiles at the finish.
"I run 5ks, 10ks, half marathons, full marathons, everything. Today, the people here were very nice, the course was good, and so I am happy," Beyisa said.
Third in the men's division was 28-year-old Dustin Whitlow from Arlington, who finished 10 seconds after Beyisa at 21:04.
In the women's division, 26-year-old Danielle Orton of Washington, D.C. held a 6:15 min/mile average pace and finished in 25:03, nearly a full minute before second place finisher 26-year-old Anna Holt-Gosselin, who finished in 26 minutes even.
Thirty-one-year-old Elizabeth Heering of Rockville ran as part of Potomac River Running's racing team in her age division and finished in third.
"When I first came in, I just wanted to have fun with it, but I was pleased to find that I was able to stay with the front runners," Heering said. "I loved the course. It was flat and fast and a great race overall."
For many runners, though, competition was the last thing on their mind. Potomac River Running owner Ray Pugsley emphasized that the Twilight Festival is more about the family-centric atmosphere than the race itself.
"When we started the race in 2006, we wanted an event where people and families could hang out and have fun after, not just run on a Sunday morning then go home," Pugsley said.
As a family race, participants ranged from young to old and everyone in between.
Alexander Dvorznak, just five years old—or "five-and-a-half," in his words—ran the Twilight Festival's one-mile fun run option with his older sister and mom and dad. The Dvorznaks say they like to run numerous races throughout the year as a family as a fun way to stay healthy. And if there's one word to describe the Twilight Festival, Alexander says it's "fun."
At the other end of the spectrum was Robert Gurtler from The Plains, Va., who at 79 years old was the oldest Twilight 4-Miler runner this year. This race marked Gurtler's 56th race just this year. Gurtler had run a race earlier that day, had registered for a race the next morning, and he said he ran about 130 races in 2013.
"I'm not a competitive runner anymore, so I just run for fun," Gurtler said. "Now I'm at the back of the pack with the ladies pushing their babies or talking about their boyfriends," he said with a smile. "And now I can have a beer."
For Kurt Collier of Haymarket, Va, the Twilight 4 Miler marked Collier's 52nd race in 52 weeks—a goal he set out to accomplish to test his own limits and to help inspire others. But the race also held another special meaning.
Collier, 48, lost his left leg when he was hit by a car more than 10 years ago while training for a triathlon. Collier recalls, "I was found straddling my bike, obviously in shock." He was fortunate enough to survive his injuries and has since regained his strength and competed in numerous races and in the U.S. Paralympics while wearing a prosthetic leg.
"Everyone tonight had great energy, and to support the cause and raise awareness for runners' safety is so worthwhile," Collier said. "It's a tribute, and now for me it's time to sit back and reflect."
For Wiggins, the Twilight Festival offered the opportunity to reflect as well. In the spring and summer of 2014, 10 or so local races have Jaime on their list of registrants. Wiggins, who said was never into running, decided to run the races in honor of her sister.
"As a non-runner, I had no idea how tight the running community was and how cool they were and how giving and caring they all are about one another," Wiggins said. "Going to the events, I see why she liked it so much. It opened my eyes, and now I understand why she loved it so much."
"If Jaime could see everything the community has done and what's being done tonight, I can't even imagine what she would be thinking," Wiggins said. "I think Jaime would be amazed."
Recent Stories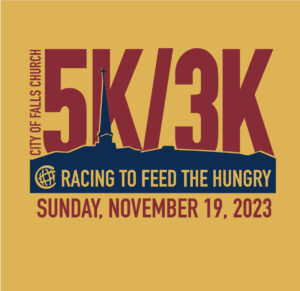 The out and back Falls Church City 5K/3K course is mostly flat on the W&OD Trail starting and finishing at 103 Columbia Street. Overall male and female winners earn free shoes and medals are awarded to all categories. Great family