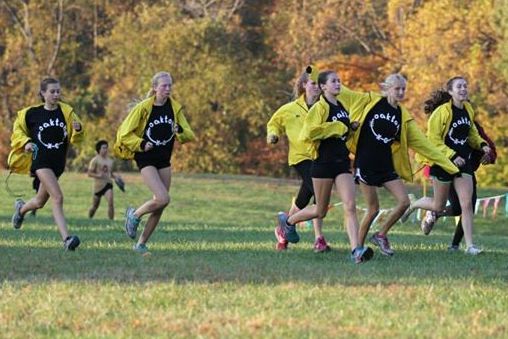 ---
Oakton kicked off the 2014 season with a solid win at the Great Meadows Invitational, with Allie Klimkiewicz (fourth), Casey Kendall (fifth) and Leya Salis (seventh) 
---
Don't try to get Alisa Byers to share her team's secret to success.
The Oakton High School cross country coach isn't spilling the beans.  But whatever the 35-year-old is doing at the Vienna school, it's working.
In four years at the helm, she's taken the school's girls squad from qualifying one runner to the state meet, to placing fourth in 2011, to being runner up two years ago and winning last year.
What's even more exciting for the Lady Cougars is they return all but one runner from the team that ran away with the state crown last November.
Byers and the Lady Cougars have been in preparing since late spring to defend their state championship in the 6A division, which includes schools with the largest enrollment. They may have their eye on a bigger honor, as well: a national ranking at the end of the season.
So really, what's Byers' secret?
"I'm not going to tell you," she said with an aw-shucks sort of laugh. "You'll print my secret."
Fair enough, but Oakton, which Byers has coached since 2010, is poised to continue being one of the best girls cross country teams in Virginia.
"Oakton on paper is as close to a slam dunk as you can be this year," said Chris Pellegrini, head coach of the West Springfield squad that finished fifth in the state last year. "There isn't anybody in the state that matches up."
Meanwhile, Byers reminds her talented team they still have to put in the work to stay on top.
"I've just been very fortunate to get the right kids out who want to work hard and keep improving and who are responsive," she said. "It's the kids."
And there certainly are talented kids returning this fall.
Senior Allie Klimkiewicz comes back after a fourth place individual finish at the state meet in 2013. She finished an agonizing two places away from making a return trip to the Footlocker Cross Country Championships last year, and she may not even be the best runner on the team, Pellegrini said.
Sophomore Casey Kendall, 14th overall at the state meet, was running better than Klimkiewicz toward the end of the spring track season. Sophomore Leya Salis hopes to improve upon her first year of high school competition. The two freshman helped Oakton dominate last year.
Senior Kara Kendall also returns after a top-30 finish at the state last year and scoring for the Lady Cougars.
Behind them, a couple of seniors — Maryn McCarty and Margaret Stack — are working to round out the five scoring runners. Byers also hopes incoming freshman will help spur competition, as well.
The loss of Hailey Dougherty to graduation, though, will be tough.
Dougherty was eighth overall at the state meet last year. The senior was not only a top runner for the Lady Cougars but provided key leadership as the only senior and only runner who qualified for the state meet four years ago when Byers first became head coach.
Dougherty, who will run cross country for the University of Pennsylvania Quakers this fall, was also consistent and led many workouts.
"It will be a big loss on a lot of different levels," Byers said.
The maturation of sophomores Salis and Casey Kendall will be key.
"Even though we're losing Hailey, I think that they're ready to set into her shoes and do even bigger things," Byers said. The only mileage they had in their legs last year, she added, was from soccer and basketball, so they spent the better part of last year's cross country season building a mileage base.
With such high praise heading into the upcoming season, it's easy to picture a scenario where the Oakton girls can let the past success get to their head and expect to walk through this year's competition.
The team's leading runner, Klimkiewicz, said that won't happen. The girls don't pay attention to the local running blogs or rankings, but approach the season like underdogs.
"It hasn't really crossed my mind," Klimkiewicz said of the praise and expectations for this fall. "Nobody really talks about it."
Their coach supports that mindset.
"Nothing is guaranteed," Byers said. "You have to look at each race as an individual. Cherish each workout that we have. Learn from everything. This is not the time to get settled just because you're coming off a winning season. As long as they absorb that, we can have a big year."
The only teams at the 6A level who can challenge Oakton might be Ocean Lakes in Virginia Beach and Lake Braddock in Burke, Pellegrini said. The two finished fourth and third, respectively, last year.
But each will be carried by talent found last year in track and field and who have never run cross country before, Pellegrini said. Both squads lost several seniors.
Additionally, are six or seven teams, including Washington-Lee in Arlington, could challenge Oakton if they find one freshman who can contribute in a big way this season. Oakton had that luck last year with Kendall and Salis.
With Oakton pegged as clear-cut favorites, it makes that they would draw attention on the national scene.
But Nolan Jez, who covers Virginia track and cross country for MileStat.com, said that talk may be a bit premature. Oakton made it to 26th last year in national rankings but may not even be the best team in the state this year.
Blacksburg High School, who competes at the smaller 3A level, may be even better than Oakton this year. "It looks like Blacksburg would beat them by having much more quality consistency through five runners," he said.
The National High School Coaches Association doesn't even list Oakton in their top 50 in their preseason national rankings. But there is no sense in looking at rankings, Byers said, opting instead to start the season with a team objective and work toward that.
"It'd be great to be number one in the country, but also I enjoy saying 'you know what? Look at how far we've come?'" Byers said. "We went from having one person in the state meet to going fourth to second to winning."
Byers walked on to the cross country team at Xavier University of Louisiana and ran all four years while at the small NAIA school. Even with that history, Byers says she's running personal bests in her mid-30s and describes herself as a "pretty bad" runner.
"I'm not a runner, I create runners from applying knowledge from successful coaches and of course what I've learned not to do from my former coaches," she said.
Byers came to Oakton in 2007 and began working under Phil Tiller, who served as head coach of both the boys and girls cross country squads but had greater success with the boys team, taking them to two state titles.
The girls team was state runner-up in 2005 and 2007 under Tiller, but couldn't quite break through. Now, Byers has reversed that trend and is having more success with the girls, having taken over both squads since Tiller moved to England in 2009 to be with his parents.
"I think a lot of times they seek someone they can relate to, female to female," Byers said of her success with the girls team.
She still helped cultivate a state-champion runner in Jack Stoney, who paced the Oakton boys team to a sixth-place finish last year.
"I think they're really willing to work hard for her and trust her training," Pellegrini said of her success as a coach.
Klimkiewicz described Byers as motivating and said she creates an individualized plan for each runner.
Byers also tries to rely on tradition, reminding runners they are not only out them for themselves but their teammates, community and the Oakton legacy.
"One of the more touching moments was, at the state meet, there were parents who came out whose athletes had graduated from before I even started coaching," Byers said. "You just had so many people who are still a part of the Oakton community who want to see the kids do well."
She gave her runners summer workouts and started practice in August. It's then that she starts pounding at messaging and motivation for the long – and hopefully successful – season ahead.
"I try to keep everything grounded and say we're doing okay," Byers said. "As long as we keep improving, that's a good thing."
 This article originally appeared in the September/October 2014 RunWashington.
Recent Stories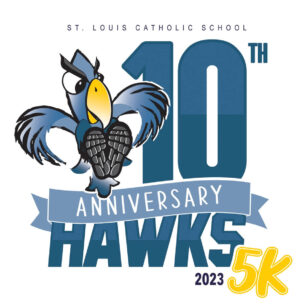 2023 will be the 10 year anniversary of the St. Louis Hawks 5K and Fun Run for Health & Wellness. The USATF certified course runs through the historic Hollin Hills neighborhood in Alexandria, VA.
The Hawks 5K goal, in conjunction