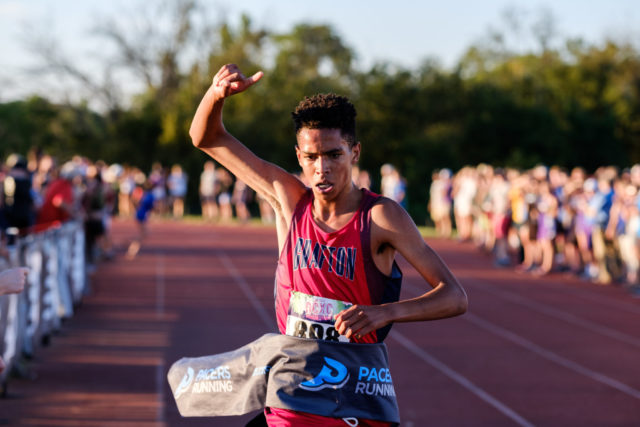 Basking in his 15:11 that led the day's times at the DCXC Invitational, Grafton senior Price Owens summed up the day's races without saying a word.
He threw back his head and guzzled from a gallon jug of water.
Owens was one of the fortunate ones – the senior boys' race, the last of eight varsity races divided by high school class, went off a little after 6 p.m., when the sun was setting and the temperature was waning from the 89-degree high. His female counterpart, Page Lester, sprawled across the finish line a half hour earlier, after hanging around the course all day. An hour before that, Nandini Satsangi stopped short of the finish line, woozy from the heat, and needed the crowd to tell her she wasn't done yet. She finished the race sprawled on the track and recovering in the medical tent.
"I could hear people, but I didn't know what they were saying," she said of the latter parts of the race. "I was just trying to keep going."
That heat, on a course in Northeast D.C.'s Kenilworth Park that offered little shade, tested runners who had kicked off their seasons with a mild late August and early September. The heat and an adjustment to the course that brought it back to a full 5k, slowed times across the board compared to 2016, but that didn't stop runners from chasing times and racing each other to break the finish line tape. Owens matched the fastest time the full course has seen (Kevin James, 2014) and Lester bested Weini Kelati's 17:45 mark, also from 2014, with her own 17:34.
For a place that barely had any invitational cross country meets a few years ago, Washington, D.C. showed off for a wide range of schools at DCXC, with 58 of 74 high school teams coming from outside of the District. Despite being outnumbered, the hometown teams defended their turf , with Lester (senior, National Cathedral School) and Gavin McElhennon (sophomore, Gonzaga) winning their respective races. Sidwell Friends School scored the most top-25 finishes among DC schools among eight varsity races with six, though Walt Whitman (15 top 25s) and T.S. Wootton (13) recorded the highest totals.
For the fourth year, the race gave each class its time in the unrelenting sun, allowing runners to race their peers and only their peers, likely for the only time all season. Novices in the freshman race get a chance to lead race that would otherwise be dominated by older, stronger runners. Experienced runners were less likely to see jagaloon new guys try to win the race on the opening stretch. On the other hand, the Whitman's sophomore girls and junior boys and Wootton's junior girls, with five top-25 medalists each, got to show what strong groups they have.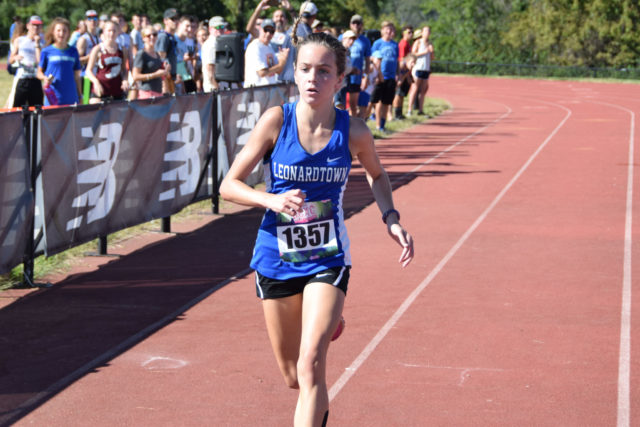 Freshman Girls
Leonardtown's Nelle Ray broke 20 minutes for the first time, winning the freshman girls' race in 19:58, a 36-second lead over Bishop O'Connell's Tess Brinkmann. It is mostly a lonely race for her.
"I was planning to take it pretty easy for the first half of the race and see how I was doing, but I saw my coaches (at roughly 600 meters into the race) and they were yelling at me to take the lead," she said. "I held on, but it wasn't easy in the heat. I said a few prayers to get me through it."
Brinkmann also felt like she lost a little something in the heat. The freshman girls' race started at 3 p.m.
"I wasn't really mentally in the race in the second half," she said. "Moved up after the mile but worried for a while I had gone too early."
She was confident enough in her position in second to try pushing the pace a little at the end, without the rest of blowing up.
"I had an edge in the spring in the end," she said.
Brinkmann was three seconds ahead of Joelle Sadd, from Clarksburg.
Though she has been running since she was 9, Sadd is only now getting truly comfortable with the sport. The high school schedule is still a blur, but while she might not keep track of the names of races she has run, she is conscious of her incremental changes in her performances.
"Today, I think my form was better than it has been, I used my arms a lot more," she said. "I focused on that, and I definitely saw the difference."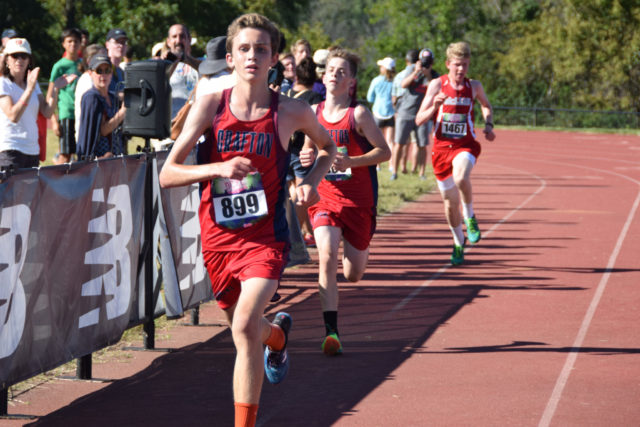 Freshman Boys
Not only was Grafton the only school to sport two overall winners at DCXC, the Clippers claimed the top two spots in the freshman boys' race, courtesy of Dylan Raney (17:39) and Rowan Etheridge's (17:40) teamwork.
Grafton has hit the road the last two weekends, previously racing the hilly course at the Oatlands Plantation. That re-calibrated the pair's estimation of cross country courses and prompted them to focus on  their times at DCXC.
"There were courses we thought were hard, but Oatlands changed our minds," Raney said.
The pair ran together until about a quarter mile to go, when Raney pulled ahead before roughly half a lap around a track.
Third place Siler Weaver (17:41), of McLean, is adjusting to life in Virginia after moving from La Barge, Wyo. a month ago. Despite the heat, he remained ebullient, with a grin that, if coach Meghan Ney hadn't confirmed was characteristic for him, would have been cause for concern that he had spent too much time in the sun.
"I really enjoyed it," he said. "There were lots of good runners out there and we had a good team of freshman out here."
He started out 20th at the first mile mark and started moving up. He eye the Grafton guys, but couldn;t quite close the gap.
In addition to adjusting to sea level after a life at 6,000 feet, he is learning some of the important differences between Virginia and Wyoming.
"You fish for bass out here, instead of trout," he said.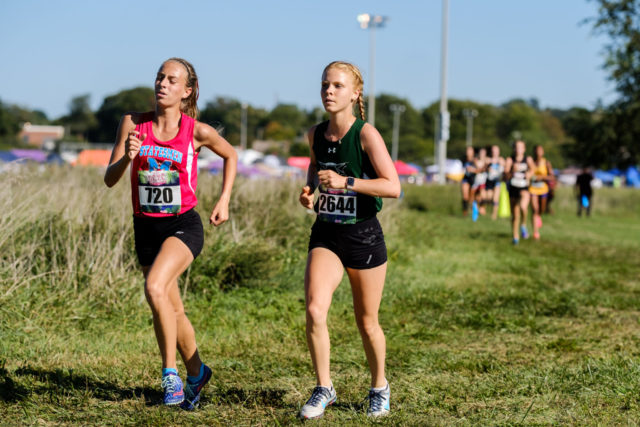 Sophomore Girls
George Marshall's Sophie Tedesco definitely didn't like the heat, but that's par for the course for her.
"I hate the heat – I don't like training in it and I don't like racing in it," she said. "I love the postseason because it's cold."
That said, she still had to survive the early-Autumn heatwave.
She didn't get a fast start, but that was okay, because she didn't want to lead the entire race. While Walter Johnson's Jenna Goldberg took the pacing, Tedesco moved up until moving to share the lead  over at about 2k. As they turned to start the loop of the course, Tedesco started pulling away, and won in 19:37.
"I just didn't feel great the whole race, I was concerned about leading the whole way," she said.
With Heather Holt sitting out, Tedesco felt some helpful pressure approaching the DCXC meet.
"She won the last two years (2015 sophomore race and 2016 junior race), and I wanted to make sure Marshall won at least one race today," she said.
She was the only freshman in a handful of Marshall runners who came out last year, but this year most of the Statesmen joined her.
"This year I want to make more of a statement," she said. "As a freshman I was in the races, but not a big part of them. Now I want to really be a part of them, be closer to the big names."
Thomas Jefferson's Sydney Szabos went out a little slower than she expected, but held on to finish second in 19:42.
"Last week I slowed down at Oatlands, today I stayed pretty consistent," she said.
She got a boost from the speed focus from her freshman track season, which she wants to keep developing during cross country.
Goldberg went out aggressively, taking the lead early on, and the heat wore her down so that she fell back one place per mile, ending up third in 19:47. She started to feel faint with a quarter mile to go, but was able to gut out a finish once she hit the track.
"It was weird not being on hills," she said. "We work so much on hills, so it was a big adjustment to not having anything like that on the course."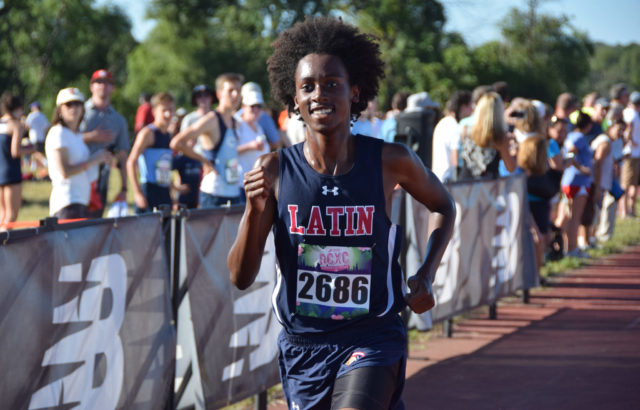 Sophomore Boys
The sophomore boys' race served as a preview of sorts for the DC state meet, with Gonzaga's Gavin McElhennon and Washington Latin's Luke Tewalt going at it for the first two positions. McElhennon's 16:24 was the fastest race by a D.C. boy all day, and Tewalt's 16:36, for second, was matched or slightly bested by three D.C. boys more than two hours later (and several degrees cooler) in the senior race.
McElehennon was riding the momentum from his seventh place finish at the Barnhart Invitational
"I was coming off of a pretty good finish, so I was pretty mentally focused," he said. "I'm more of a long distance runner, so I have a pretty good long kick."
JEB Stuart's Sem Asmelash (third in 16:50) and Quinn Early (seventh in 17:04) led early on, and Tewalt challenged for the lead a few times midway through the race.
"I don't think that was the greatest idea," he said. "I was trying to get in a better position but I never felt comfortable."
Meanwhile the Stuart pair soon began to fall back, leaving the D.C. duo in the lead.
"I could feel my mouth getting pretty dry a few seconds into the race," Asmelash said. "I knew that wasn't going to get any better."
Before the meet again, here, Nov 3 for the D.C. state meet, McElehennon and Tewalt have some things they want to work on in their races.
"I want to work on strategy," Tewalt said. "Last year I just ran hard, but I'm learning how to be more strategic about where I surge.
McElehennon wants to continue the speed development that is the hallmark of the track season.
"Cross country is a lot of base, but I need to get a little faster," he said.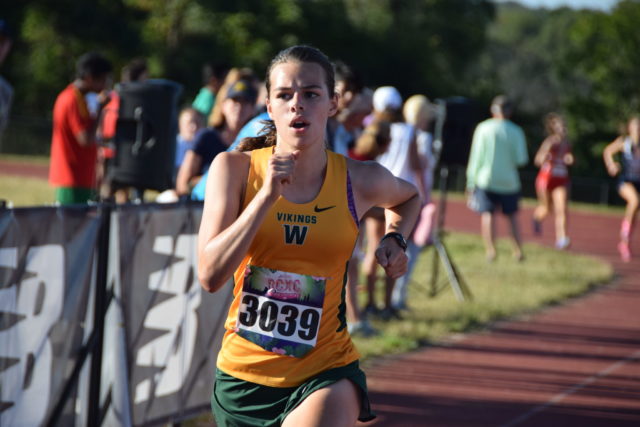 Junior Girls
In addition to the intrinsic value in winning the race, Satsangi had added motivation from the runner who beat her the last two years – Tuscarora's Ava Hassebrock.
"I saw her last weekend at (the Oatlands Invitational)," Satsangi said. "She told me she wasn't going to be here, but I had to win the race."
She was planning to break away after the first mile, but she delayed her move for another half mile.
"I think I played my strategy well today," she said. "I was feeling fine until the very end."
Woodbridge's Laura Webb felt nauseated by the heat, but managed to fight through by focusing on the second mile and reminding herself that everyone was running in the same heat.
"I got out a little faster than I am used to – I'm not usually in the top group," she said. She finished second in 19:16.
Eva Smith-Perry, of Washington-Lee, finished fourth in the sophomore race last year and decided she had to meet or beat that finish.
"I knew the time wouldn't be that fast, so I focused on my place," she said. "I usually go out slower, but it's a smaller race so it would be different from every other race I run."
She managed to outkick McLean's Caroline Howley, 19:24-19:25 for third.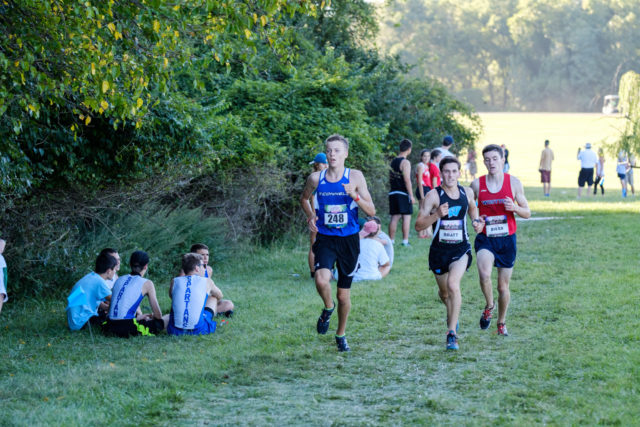 Junior Boys
Whitman's Aaron Bratt barely edged Wootton's John Riker to win last year's sophomore race, and the two expected this year's race to be close, too. What they didn't know, nor did many others, that Max Greczyn was quickly finding his footing as a first-year runner for Bishop O'Connell. A week after taking the lead, and paying for it, at the Oatlands Invitational, Greczyn took a more patient approach and was rewarded with a solid lead in his 15:48 win over Bratt (15:56) and Riker (16:04).
The two veteran races were going shoulder to shoulder until Greczyn caught up with them after a mile.
"We got a fast start, probably 5:05 for the first mile, and John and I had to cut in off the starting line," Bratt said.
Bratt tried to make a move at 2.5 miles, but didn't get much out of it. At the same time, at the bottom of a slight uphill, one of Greczyn's coaches yelled that it was time to go and despite his hesitance, he went after it. It made sense for him to switch his approach, after a fast start a week before at the Oatlands Invitational ended up in 47th place.
"I might has well have moonwalked the last mile," he said.
But this time, he finished strong.
"I didn't know he was in the race, so I wasn't expecting him when he came," Bratt said. "I tried to chase him up that last hill, but I had a feeling I wasn't going to be able to catch him."
Nobody knew much about Greczyn because he's pretty new to running, and still finding out what he can do. As sophomore, Greczyn finished second in his class in the Presidential Fitness Test mile, which caught the attention of a classmate on the track team, who got him to join.
"Winter track became spring track and now here I am, running cross country."
Though he faded to third as heat fatigue built up, Riker felt like he was in control of the race early on, which encouraged him.
"I haven't really been able to do that too much this season," he said.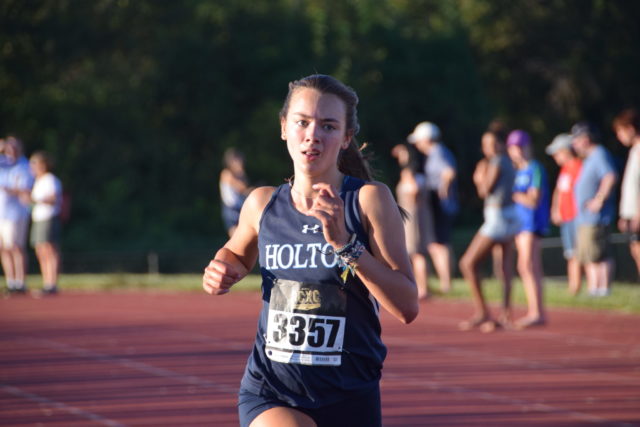 Senior Girls
The senior girls' race drew two Foot Locker finalists in Lester and Walter Johnson's Abbey Green. Both are starting their seasons late following nagging injuries and illness, respectively, but despite some rust, their dominance over the rest of the field was unmistakable. Lester ran 17:34 to win, with a 20-second margin back to Green. Green had a 63-second cushion on Geneviene DiBari of the Stone Ridge School of the Sacred Heart.
Despite a post-race tumble to the track, Lester had the wherewithal to stop her watch before getting back up.
"I don't even take splits," she said. "I don't know why I wear this thing."
Lester was a little worn down, having spent most of Friday yelling as a team captain during National Cathedral School's spirit days, then being outside for most of the day before her 5:30 race.
"I usually don't have much fun if I go out hard, but I definitely knew I couldn't do that today," she said.
She ran alongside Green for half of the race, then starting making a few moves to see how she would respond.
"She didn't come with me, so I just started pushing a little bit more to open up a good lead."
Lester cruised in to a 17:34 finish, the fastest of the day.
Green opened her season with a dual meet a few days prior, but DCXC was her first major competition.
"I wanted to make sure I could finish a race, and I didn't want to test that out at a big invitational," she said.
Famous for strong starts and consistency throughout the season, this year has been a challenge for Green.
"If I imagine the perfect summer training, mine was the opposite," she said. "It's helped me recognize that the end of the season is the most important, so I just hope I can be back to full strength by then and take a good shot at states and Foot Locker."
That said, her 17:54 at DCXC is among her five fastest times.
While Lester and Green gapped the field early on, Stone Ridge's Geneviene DiBari and Walter Johnson's Janet Scott ran most of the race together, behind Paint Branch's Yasmine Kass.
"I didn't really have expectations for the race," DiBari said. "I ran 30 seconds faster at Landon than I did the year before, but these class races are different. I didn't want to blow it in the first mile."
She didn't and eventually passed Kass on the track to finish in 18:57. Kass followed two seconds later and Scott ran 19:08 for fifth.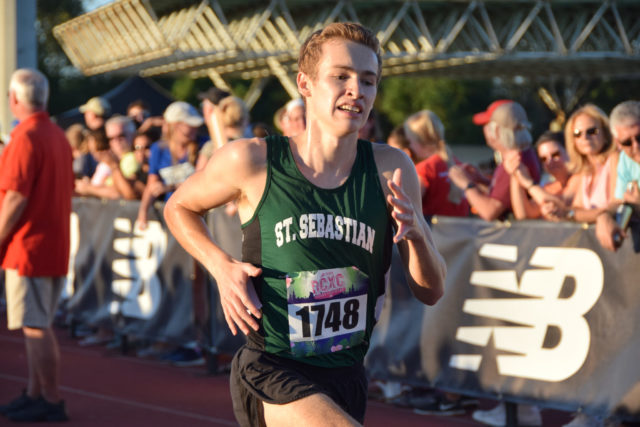 Senior Boys
By a little after 6, the sun had set enough that the heat eased up and let the senior boys have their time in the twilight.
Owens, a Foot Locker finalist last year, was aiming for a sub-15 time, but was a little worried about his chances, having suffered from a cold during the week.
"I was feeling slower from the start, I just felt out of breath," he said.
It didn't stop him from hitting the first mile in 4:55, and Caleb McCurdy from St. Sebastian's was right with him.
"My plan was to get out in the top 15 and make a move when I felt like it was the right time, probably after the mile," he said. "I ended up feeling pretty good a half mile in, so I chased down Price and went with him."
Owens picked up the pace in the second half, and was pleased with his execution as he cruised to a 15:11. McCurdy was second in 15:25.
Poolesville's Ryan Lockett was hoping to rebound after a few bad early season races by focusing on fundamental racing elements and not taking any big chances.
"I wasn't trying to kill myself in the first mile, I just wanted a good race for my confidence," he said.
Lockett won the freshman race at the inaugural DCXC meet, dropped to ninth as a sophomore before clawing his way up to third as a junior. His 15:39 as a senior is a PR, and he said his confidence has been restored, following a 17:42 misstep a week earlier at Oatlands.
He edged Bethesda-Chevy Chase's Adam Nakasaka (15:44) for third, and Natneal Asmelash from JEB Stuart joined his sophomore brother Sem as a top five finisher, running 16:04.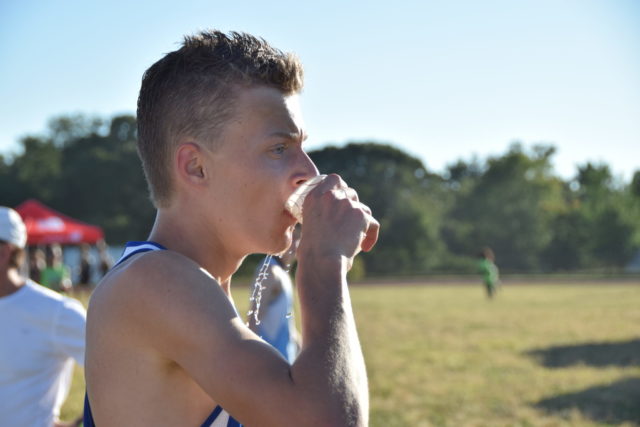 Recent Stories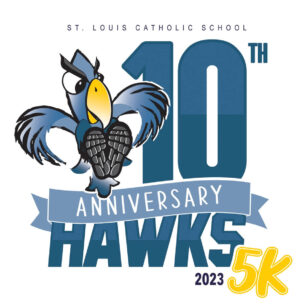 2023 will be the 10 year anniversary of the St. Louis Hawks 5K and Fun Run for Health & Wellness. The USATF certified course runs through the historic Hollin Hills neighborhood in Alexandria, VA.
The Hawks 5K goal, in conjunction