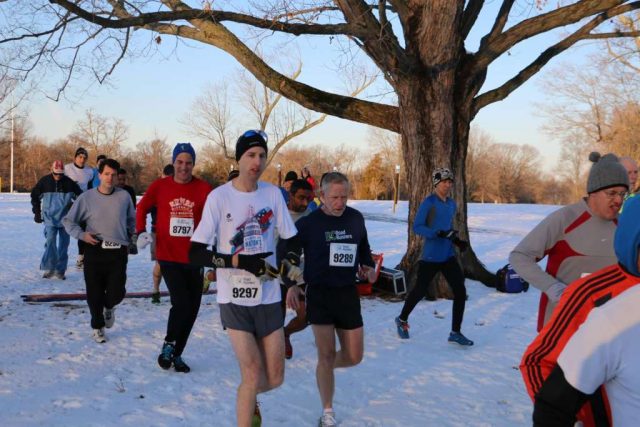 Jonny Pellish loathes running on the treadmill — even when temperatures drop below freezing in the D.C. area.
The VP of training for D.C. Road Runners said he would always rather run outside than on the treadmill, no matter the weather.
"For me, running is about getting outside," Pellish said.
When asked how cold is too cold to run outside, Pellish retorts bluntly: "I don't think it's ever too cold."
While other runners might not share Pellish's enthusiasm for running outside during the biting winter months, there are several ways to make it more pleasant.
Safety is the number one priority, said Pellish, who coaches D.C. Road Runners' marathon training programs. Conditions can be uncertain with slick roads and more dark hours, he warns. That's why being visible and carrying identification are so important.
"In winter you have to be more aware of your surroundings than during the summertime," Pellish said. "The chances that you're going to be able to go on a run and turn your brain off are diminished."
Aaron McCray, who coaches beginning runners at Potomac River Running and manages its Fairfax retail store, said dressing appropriately is a key to having a good run. McCray recommends wearing layers and dressing 15 to 20 degrees warmer than the outside feels-like temperature.
A base layer of moisture-wicking fabric will serve runners well, too, McCray said.
Pellish said with running experience, comes more knowledge about what works best for your body and your preferences with cold-weather clothing.
"I find personally that a vest is my preferred outer layer," he said. "… But having a number of things you can build layers with is the best way to go."
Runners should take off on cold-weather runs with a back-up plan and emergency plan, Pellish recommends. For example, if you start a run and the roads are too icy, the back-up plan might be to cut the run short or run on a treadmill if that option is available. An emergency plan would include what to do if you press on with the icy run, slip and hurt yourself. Carrying a cellphone or running with a friend could be the emergency plan in that case, he said.
Where to run
First off, RunWashington typically crowdsources paved path conditions ahead of weekends after heavy snowfall.
Snow and ice can threaten to sideline any runner, so it's important to know where reliable trails and sidewalks can be found.
When it snows in the D.C. area, agencies' first priorities are clearing major roads, sidewalks and access to public transit such as Metro stations and bus stops. But some multi-use trails are cleared too.
The National Park Service removes snow from two small sections of the Mount Vernon Trail that link to other paved trail networks — a second year for its pilot program to clear the areas.
"National Park Service staff are clearing snow from the Columbia Island Marina Parking lot (near the U.S. Navy and Merchant Marine Memorial) to the 14th Street Bridge and from Washington Boulevard to Memorial Bridge," said National Park Service transportation spokesman Jonathan Shafer. "These sections of trail are a secondary priority after the roadway and will only be cleared after the snow has stopped."
As much as runners may want clear running paths, it's neither practical nor economical for the park service to clear all of its more than 90 miles of paved trails on park service land in the D.C. area, Shafer said.
"Clearing multi-use trails is complicated by the fact that, with the exception of the Capital Crescent Trail, they do not accommodate the trucks and plows we use for the rest of our snow removal operations," Shafer said.
More than 5 miles of the Capital Crescent Trail's 11-mile path are in Montgomery County, and its parks department has been clearing that section since 2014, said Montgomery County Parks spokeswoman Melissa Chotiner. The staff uses special trail-clearing equipment and begins clearing within 24 hours from when snow stops.
"Staff aim to clear the trail so that it can be safely accessed by runners, walkers and bikers," Chotiner said, adding ice is not removed from the trails because of the potential damage it can cause.
Looking for a stretch more likely to be cleared? Montgomery County parks prioritizes a 3.5-mile stretch that begins at Bethesda Avenue and extends to the D.C. line, she said.
D.C. Road Runners' weekend runs carry on despite how cold it is outside. Most long runs start and finish near the Marine Corps War Memorial and depend on access to routes around Arlington County — particularly Key Bridge, Memorial Bridge and the Mount Vernon Trail.
"Arlington County tends to be pretty good about taking care of the trails it has," Pellish said.
Other routes such as the C&O Canal Towpath are great options too, he said.
If conditions are dicey, a last resort is doing loops on the National Mall, Pellish said. "It's a very safe place to run and offers crushed gravel," which can provide extra traction, he said. Other roads in and around the monuments — Ohio Drive and Hains Point —  tend to be cleared, he said.
McCray, who has been running in the area for seven years, said Burke Lake Park in Fairfax  is one of his favorites, noting it's often cleared and has a mix of softer surfaces and harder surfaces to run on.
Finding motivation
It's cold and dark outside. Why leave the comfort of the warm, cozy indoors? It's an internal struggle many runners have to face in winter. So how can runners find the motivation to get up and face the brisk air?
Run in the morning, Pellish said.
"It's going to be dark and cold either way," Pellish said when comparing morning versus evening running. "What affects runners more in winter is motivation. It's easy to get overwhelmed by the events of the day. You don't want to sit around and think about [running] — just get up and get it out of the way."
Variety can add some excitement into your winter routes, McCray said, which can help you find some inspiration when it's tougher to get outside. Adding a mix of trail runs and asphalt runs can not only provide some variety, but also help your body too.
"Mixing it up is always a good thing," McCray said.
Recent Stories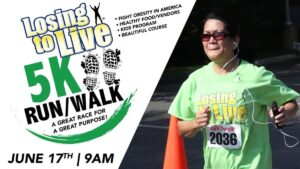 WHEN Saturday, June 17, 2023 at 9:00 am WHERE This convenient location is just minutes from your house located 1/2 mile inside the 1-495 Capital Beltway at exit 51. Spectators are welcome to watch and cheer on the runners. Capital