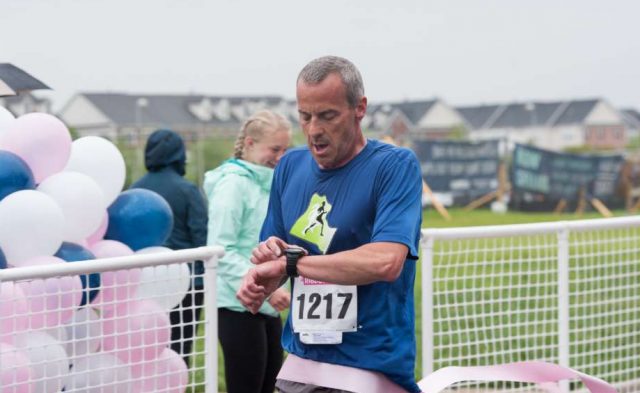 It's as inspiring as it is a little naughty.
T-shirts that say "Run like Schmidt," worn by dozens of runners at Rock Ridge High School in Ashburn.
Parents love it, though. The shirts aren't as self deprecating as you think, because Brian Schmidt, the school's cross country and track coach, is running again despite a traumatic injury a few years ago. He had been an avid road racer and ultramarathoner, and before Rock Ridge opened, had coached at Dominion and W.T. Woodson.
"I've been running since 1983 and when something gets taken away from you that you've been doing for 34 years, it's very difficult to come to grips with it," he said.
While on a bike ride on the Washington & Old Dominion Trail June 6, 2016, he was broadsided by a car. He only remembers portions of the day, recalling only crossing over Leesburg Pike on his way to Route 9. He doesn't remember heading to the outside of a roundabout, and he certainly doesn't remember being flung 40 or 50 yards away.
Emergency responders quickly airlifted him out to a hospital in Fairfax, which was news to him when he got the bill in the mail a few days later.
His laundry list of injuries were intimidating to an avid runner, let alone someone who had been scheduled to coach his team a day later at the state track championships.
"My first thought was, 'I'm going to miss my track meet! I've got to get to the track meet,'" he said.
Schmidt had a lengthy list of injuries including a broken pelvis, a broken sacrum, a right collapsed lung, shattered ribs, a broken clavicle, a fractured right eye socket, a concussion, and a traumatic brain injury, along with multiple abrasions from sliding across the pavement.
For years, Schmidt's motto had always been, "The relentless pursuit of forward progress", a motto he says was inspired by his ultramarathon running. Even with this devastating injury, Schmidt was not about to let this stop his forward progress. He wanted to be up and running again.
Schmidt's worries were soon put to ease thanks to the care and understanding of the doctor he had just recently met.
"I had a trauma surgeon who said to me, 'Listen, I know your background and what kind of runner you were. Just give me time. Just follow my directions. Don't walk right away and do the wheelchair and I'll get you back to where you were.'"
Schmidt followed his trauma surgeon's directions every step of the way, relying on him for guidance to recovery. His instructions were carefully catered to Schmidt's goal to be running again. Where regular patients would be sticking to the wheelchair for a longer duration, Schmidt was told to walk two miles. After following his directions carefully for about 12 weeks, Schmidt was up and walking regularly again.
Schmidt credits the doctors for the reason he is alive today, along with his helmet.
"I can't say enough that the doctors and the helmet have saved my life. If I was not wearing my helmet, I'm pretty sure that I would not be here because I would have too much brain injury to be lucid."
All along the way, Schmidt received incredible support from the school and his community. He was surprised by numerous visitors, from his athletes, to the individuals he works with, even athletes and staff from his previous school he had worked at four years prior.
Ashley Campolattaro has two sons at Rock Ridge, and and runs a K-8th grade youth running program in Brambleton. She recalls the incredible outpouring of support for Schmidt.
"It's a tight-knit group of kids. Everyone visited him over the summer," Campolattaro explains. "There was a Go Fund Me Page [for the coach's medical bills] … I think we raised like $20,000. There was a complete outpouring from the community."
"I'm just a PE coach and I didn't think I impact that many kids, but this showed me that they do pay attention and that they do worry about their teachers and it was just so, so heartwarming," Schmidt said.
But still seeking that "relentless pursuit of forward progress," Schmidt set some specific goals for himself. One of them was to be at the season-opening cross country practice, Aug. 1.
Sure enough, once the first day of practice came around, he was there. In the beginning, he was still bound to the wheelchair, but as the season progressed, the community saw him improve from his wheelchair to his walker to no walker.
"I know it's inspired the kids," Campolattaro said. 
Once school started in 2016 the school honored Schmidt at a pep rally, selling shirts with his motto written on them. "Relentless pursuit of forward progress," not "run like Schmidt."
"The school took [my motto] and realized that our mascot is the phoenix and they used that," Schmidt said. "It's just a great moving slogan that the kids can rally around and understand and relate to."
Proceeds from those t-shirt sales now go to a college scholarship.
Schmidt says he is still proud of that motto and that he is considering getting it tattooed on his body.
Rock Ridge's running program has enjoyed great success since Schmidt's injury. That season, both the girls' and boys' teams went in to the cross country state meet. The girls team finished fifth and the boys finished seventh in the 4A division. 
After a successful season, Schmidt was eventually able to run again. He participated in his first race since the accident on his birthday in the Step Sisters' Ribbon Run 5K, a race Campolattero directs.
With such an incredibly journey behind him, Schmidt says he has learned one big piece of advice from the whole ordeal: "Just don't take things too seriously. Things can change in the blink of an eye and you just have to have fun," he says. "Keep moving forward … You're going to have bumps in the road, but you just have to get over it and just keep moving forward."
But most importantly, he says, "Enjoy the small moments."