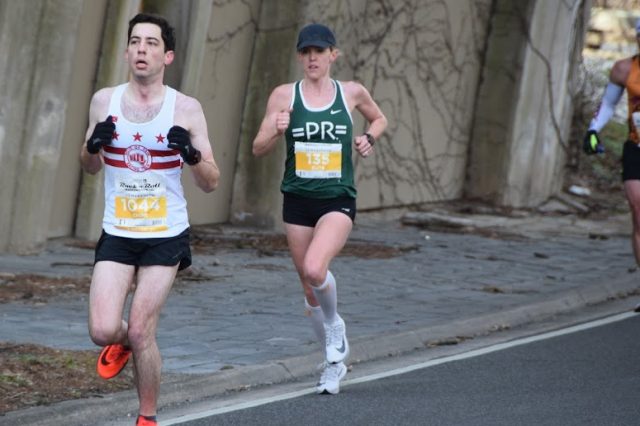 She won races at Oakton. She was a several-time All-American at American. Now more than a decade later, Keira Carlstrom is moving up in race distances and continuing to win.
Now Keira D'Amato, 33, she won the Rock 'n' Roll Washington D.C. Half Marathon in 1:16:31.  Even though she lives near Richmond, she said she felt like a "hometown girl" running the D.C. race.  
Rock 'n' Roll DC Half Marathon
March 10, 2018
Washington, D.C.
13.1 miles
She's running longer distances since having  children — she has a 3-year-old son and 1-year-old daughter. She's drastically decreased her marathon times and is now looking to beat the Olympic Trials standard of 2:45 at the Boston Marathon in April.
Humbled by the last six miles of her first marathon in 2012, she did better at the Shamrock Marathon in March 2017, hoping to qualify for Boston with a time of 3:35 or faster, and ran 3:14. At the Anthem Richmond Marathon in November of the same year, she wanted to break three hours, and ran 2:47.
Her performance at Saturday's race made her more confident going into Boston, although she is thinking about things she could have done differently. Still, she wanted to break 1:17, and she did.
D'Amato and the second-place runner in the women's half marathon, Rebecca Spellman, 34, realized they had the same goal and ran together for the first five miles or so, D'Amato said.
"I was really excited to have her to run with," D'Amato said.
Around the steep hill nearly halfway through the course, D'Amato lost Spellman — but Spellman didn't end up too far behind her in the end, with a time of 1:17:05.
D'Amato said she got helpful advice from mentor Ray Pugsley of Potomac River Running (where she is the marketing director): to break the run into two six-mile tempo runs with the hill at mile six-to-seven as a recovery section.  
She also works  also a realtor in Northern Virginia and Richmond.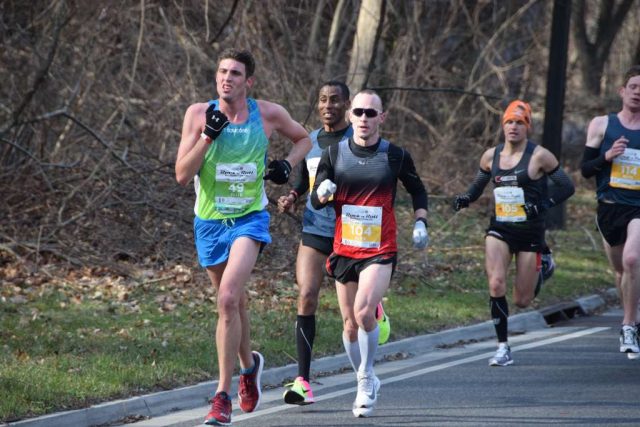 The men's Rock 'n' Roll Washington DC Half Marathon winner was Ty McCormack, 25, of Orlando, Fla. He ran the course in 1:08:05, coming in less than half a minute before the second-place runner, Zachary Barker, 26, whose time was 1:08:33.
During the half marathon, there were about three to six men running together, McCormack said. Early in the race, one of the other runners sped up the pace.
Around mile nine, McCormack took the lead and worked to make his next two miles quality miles, he said. With only about two miles after that, he figured he'd be relatively safe if he could get to that point in front.
Barker was not far behind him, which McCormack said was good for maintaining his pace. Then, at the end, McCormack broke away, he said.
After running distances like the 5k and 10k in college, McCormack enjoys competing in the half marathon, as it isn't too short or too long.
"I've really grown to like the half marathon distance," McCormack said.
He's training for the Scotiabank Ottawa Marathon in May and hopes to meet the Olympic trials standard of 2:19.
He previously qualified for the Olympic marathon trials with a half marathon time, but he was unable to finish the race because of the weather conditions. So, he hopes to be able to return in 2020. McCormack also said he'd like to return to D.C. for races.
Recent Stories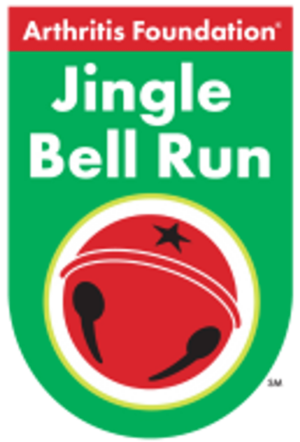 Be part of the original festive race for charity and signature Arthritis Foundation holiday event! Wear your favorite holiday attire and together, we'll jingle all the way to a cure! Register as an individual or bring a team of friends,