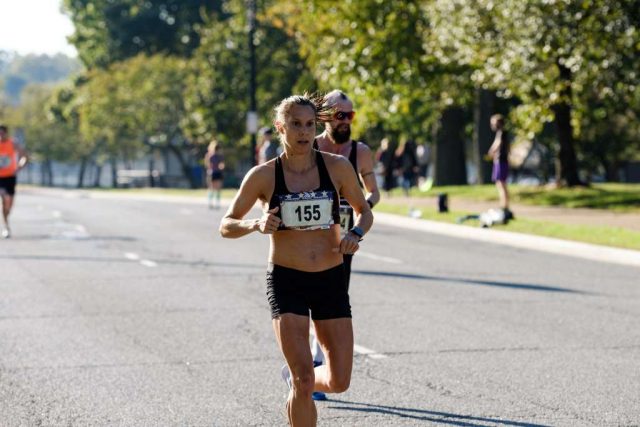 Sarah Bishop joins Chris and Charlie Ban to talk about her Marine Corps Marathon victory, fitting training into a busy lifestyle and her budding coaching career.
At (3:55) we talk about the word niche. Somehow, the subject does not change until (8:13) where we talk about the big wind storm.
At (15:30) frequent studio guest Charlie Ban sits in on an interview with 2017 MCM champion Sarah Bishop. Sarah talks about her race, her previous relationship with running and what inspired her to get back into running, her approach to training including finding the time to run, coaching, and so much more.
We are back at (51:58) with predictions and Charlie talks about his injury. At (54:50) we see if anyone notices that the hosts in studio change and Joanna talks about her upcoming already happened surgery.
At (56:58) we talk about a Joanna article that was posted on RunWashington. (Do not try to get to the park from the Greenbelt Metro station.)
At (1:01:58) we talk a little about the Track and Field Championships and Joanna's new gambling habit.
At (1:10:29) we talk about the passing of running legend Sir Roger Bannister.
We close out (1:16:53) with Docs talking about the Oscars which he did not plan to watch except they sucked him in with an Eddie Vedder performance.
Recent Stories

Both 5K and 1 mile courses are USATF certified. The 5K course has some moderate hills. The 1 mile course is flat making this a perfect PR course. We are really looking to get a broader participation base.
Funds go