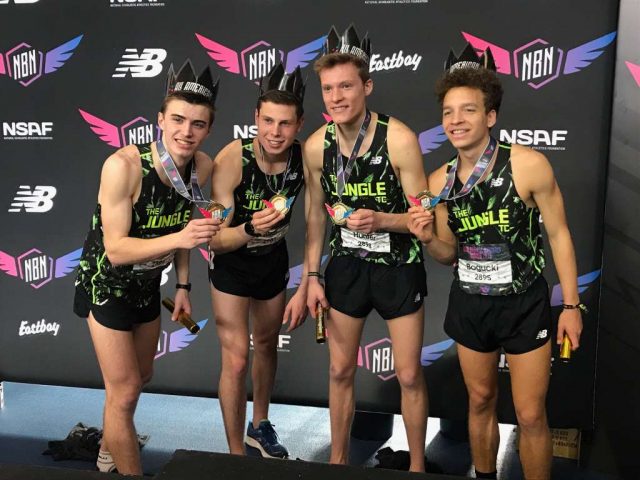 Loudoun Valley set the national high school indoor record in the 4xmile at the New Balance Indoor National meet, running 17:01.82. Connor Wells, Jacob Hunter, Sam Affolder and Colton Bogucki also won the 4×800 relay, running 7:39.30, the all-time second fastest indoor 4×800 time.
The Vikings also had a pair of relay teams earn All-American honors.
Affolder, Wells, Bogucki and Akere Simms ran 10:00.58 to finish third in the distance medley relay, and Peter Morris, Chase Dawson, Jacob Windle and Kevin Carlson teamed up to finish sixth in the 4xmile, running 17:46.
Poolesville's Ryan Lockett was second in the mile, running 4:08.82
West Springfield's Chase Kappeler, Lillian Stephens, Anna Marcucci and Sarah Coleman. ran 9:13.18 to finish sixth in the 4×800 relay.
In non-distance events, the Bullis School's girls won the shuttle hurdles, 4×200 and 4×400 relays, running national records in the first two.
Shuttle Hurdles 30.44 : Lauryn Harris, Masai Russell, Leah Phillips, Cierra Pyles
4×200 1:34.75: Shaniya Hall, Leah Phillips, Sierra Leonard, Sarah Walbrook
4×400 3:39.86: Leonard, Hall, Russell, Phillips
Sabrina Southerland, who previously ran at Georgetown, won the NCAA Division I championship in the 800 meters. Now running for Oregon, she ran 2:01.55.
Derek Holdsworth, formerly a member of the District Track Club, was named national athlete of the year at the National Junior College Athletic Association Championships, where he won the 800 meters (1:52.73) and mile (4:16.10) and anchored the second place distance medley relay team. He is a freshman at Trinidad State Junior College in Colorado.
Recent Stories

Both 5K and 1 mile courses are USATF certified. The 5K course has some moderate hills. The 1 mile course is flat making this a perfect PR course. We are really looking to get a broader participation base.
Funds go