Name: Robert Dewey 
Self-described age group: Fifties 
Residence: Bethesda 
Occupation: Government Relations VP, national wildlife conservation non-profit
Why I run: Running has been core part of my identity for over 40 years. I love to do it and it makes me feel great. 
When did you get started running: In high school, when I ran my first New York City Marathon. 
Have you taken a break from running: Several.  After running a half dozen marathons through high school, college and right after, it took me 17 years to do another and 13 more before running one again. In the first instance, I had tired of training intensely and shifted my focus to family and career. Taking up ice hockey kept me active during the second break.
Training shoe: Asics Nimbus series 
Coach or training group: Pacers 14th Street, a super fun and motivational group I was excited to find five years ago. 
The hardest race you've ever run: My last marathon (Marine Corps 2015) I finished but blew up in the last 10 miles and didn't run my goal time. 
Most adventurous decision you've made with your running: To join a running group and reconnect with my passion for running and racing, after a heart attack and triple bypass six years ago.
Running mentors: Many of the fine runners I've met at Pacers 14th Street. 
My favorite place to run in the D.C. area is: There are so many but Rock Creek Park, especially for fall weekend runs when the leaves are turning, is phenomenal.
Favorite local trail: Capital Crescent (I prefer paved trails) 
My best race was: Boston 1985, where I set my marathon PR (and no net times then!). 
Favorite local race: DC Ragnar 
Ideal post-run meal: Siggi's vanilla yogurt and a banana or beer and pizza (usually only evening runs) 
Favorite flavor of gel, gu, etc: Gatorade (I'm old school) 
Pet peeve: Not enough porta potties at the starting line. 
Goals: I got into running largely for the competition and I still enjoy motivating myself with new time goals, now primarily at the half marathon and 10K distances. 
Your advice for a new runner:  Join a running group.  They are fun and motivating. 
Favorite running book: Duel in the Sun: Alberto Salazar, Dick Beardsley, and America's Greatest Marathon by John Brant 
Song in your head during a run: I like to relate to my surroundings when I run but The Edge of Glory by Lady Gaga is a pre-run pump-up favorite.
Have you dealt with a major injury: Yes. I had a meniscus tear repaired last year. The first doctor I saw said I should have the knee cartilage removed, abandon running and only hike. I found another surgeon and had the knee cartilage sewn up which required six weeks on crutches. After a long recovery, I just ran my first race in 18 months and hope to run for decades more.
Running quote: "Marathoning is a metaphor for life, so there are a lot of parallels you can draw. I tell people to follow your dream, follow your heart, follow your passion, run your own race and believe in yourself. I think anybody who wants to succeed has to have passion. My love for this sport, you can't instill it in someone else." John Benoit, winner of the first women's Olympic marathon (1984)
Why is the D.C. area a great place to be a runner: DC is a beautiful city with lots of tree-lined running routes. And the running community is fantastic!
Recent Stories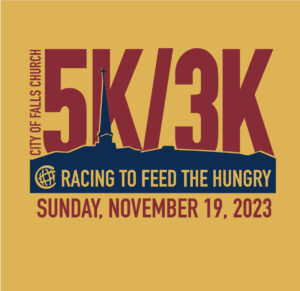 The out and back Falls Church City 5K/3K course is mostly flat on the W&OD Trail starting and finishing at 103 Columbia Street. Overall male and female winners earn free shoes and medals are awarded to all categories. Great family