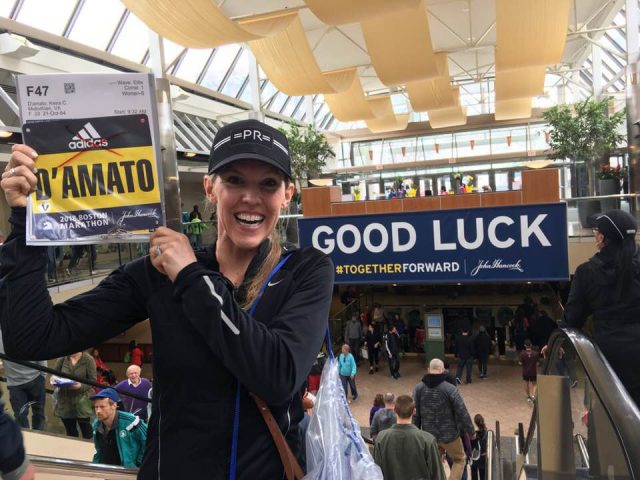 We open up with some coffee talk and anniversaries.
At (7:40) we Joanna and Farley are headed to Boston.  At (9:05) we talk about the Cherry Blossom 10 miler, where Farley notices the Cherry Blossoms for the first time.
At (20:11) we are joined by American University Hall of Famer Keira D'Amato who is running the Boston Marathon.  After discussing the pronunciation of her last names, we start out (21:29) talking about her time at Oakton High School and at (24:35) her transition and time at American University.
At (28:13) we talk about American University alum Andre Ingram's NBA debut.
At (29:22) Keira talks about her marathon debut in 2013, which was a bit different than her marathons today.
At (33:37) Keira talks about all the factors that came together and motivated her to flip the switch and become an elite runner.  At (38:20) she talks about managing her schedule and her huge support system.
At (39:16) we talk about the 2:45 target for the OT qualifying mark.  At (41:10) we talk about the 2:47 at the Richmond Marathon in the fall of 2017.
At (47:28) Keira talks about winning the Rock 'n' Roll D.C. Half Marathon.
At (48:15) we preview the Boston Marathon as Keira will toe the line with the elite women.
At (53:15) Farley asks Keira which song exemplifies Boston.
At (57:24) Keira tells us some of her favorite jokes.
We are back at (1:00:28) to wrap up the interview and then at (1:04:30) we talk more about the Boston Marathon, as Loren Zitomersky is attempting a world record by running the race backwards.
At (1:09:50) we talk about Joanna's BAA 5k streak.
At (1:15:10) Docs talks about Strava, Garmin and a recent run.  At (1:21:17) we have a where are they now segment with former guest Jamie Watts as she prepares for the New Jersey marathon.