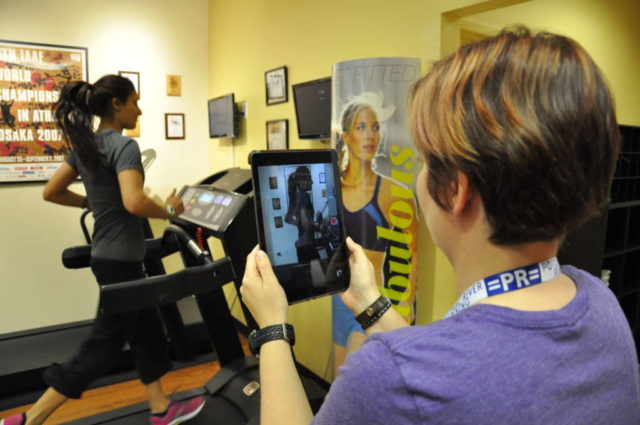 It doesn't take long in the D.C. area to see a flyer for a 5K, a social media post about a group run or a specialty running store. There are dozens of local outlets for runners, but the specialty running store industry is facing a changing landscape, as online competitors siphon business and customers adopt new shopping habits.
Potomac River Running is one of many stores that has felt the pinch. Owner Ray Pugsley said over the last five years, sales have been down 15 to 20 percent. He attributes some of that decline to a shift in consumer habits: more people are turning to online and big-box retailers for lower prices and convenience.
"Customers get used to something that's always on sale and feeling like they're getting ripped off if things aren't on sale or marked down," Pugsley said, adding that brands often limit the discounts running stores can put on their items. "We cannot, as a brick-and-mortar company, say we are going to compete directly on price — but we can compete in other ways."
It's a change in consumer habits and expectations — where the discounts and convenience associated with online and big-box shopping can outweigh benefits offered by smaller retailers, Pugsley said.
Many specialty running stores are having to rethink their strategies as more and more people turn to their computers to land their next pair of running shoes.
In 2016, 31 percent of runners purchased their running shoes online, according to that year's National Runner Survey, which gathered data from more than 10,000 runner responses. That number was up from the 2015 National Runner Survey, where 27 percent of respondents said they purchased their shoes online. The 2017 National Runner Survey did not delve into running shoe buying habits.
Pacers Running, with five locations in the D.C. area, has lost customers to internet sales, said president and owner Chris Farley. In the past five years, he estimates about 20 percent of the store's customers have turned to online or big-box shopping. He suspects customers may shop once at a Pacers store and then go elsewhere — often online — for their next pair.
"Overall, the internet is our biggest competitor. The internet has endless aisles of every single color, size, style, whatever you want. There's an unlimited amount of inventory," Farley said. He added that overhead costs favor online retailers too.
The internet has taken on another of duty that used to fall to local running stores: providing information to runners. When Farley started working at Pacers about 18 years ago, he said athletes came to the store for information about local races. They relied on the store to network with other runners and coordinate running groups. And getting someone in the door is the first step to making them a customer.
"We kind of cornered the market on information and running community [then]," he said. "It's different now. It's a more challenging time for us as retailers."
Pugsley said he hopes that community engagement and knowledgeable staff translate to sales and customer loyalty, but ultimately, profit margins are at the top of his mind.
"We watch the bottom line every single day and think about it every single day. But it's a constant struggle. It may not have been for the past decade; now it is for all retail."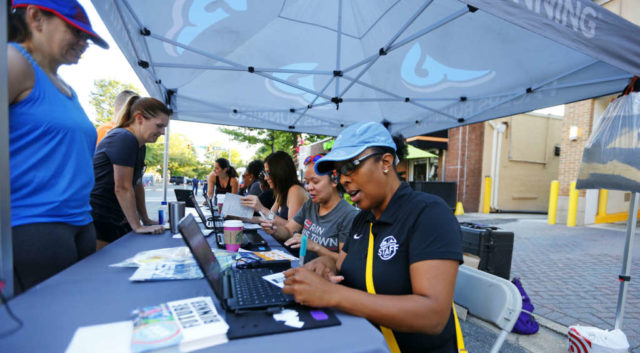 How races factor into profit
One way that specialty running stores have supplemented their earnings and engaged in the communities is by organizing their own road races.
"Races are an extension of retail that really are a huge part of who we are. It's an opportunity for our customers to celebrate their journey and accomplishments — and that's a huge thing for us," Farley said. Pacers runs more than a dozen races a year in D.C., Virginia, Maryland, and New Jersey.
However, over the past few years, fewer runners are participating in local races, according to data gathered by RunWashington. An examination of D.C.-area race results from 2013-2016, for timed races that catered to adult runners, found that after hitting a high in 2014, the number of local finishers dropped off by 5 percent in 2015, then fell nearly 10 percent more in 2016.
The 334,376 registered race finishers in 2014 fell to 284,400 in 2016, a 15-percent drop. At the same time, the 654 races in 2016 nearly equalled the 668 held in 2015.
"Most everything we do has to end up as a profitable venture," Farley said. "We want to reinvest in our employees and our stores and our communities… and you have to make money to do it."
Outreach like hosting races or timing for other large events helps Pacers connect with their target audience, Farley said. He estimates about 40,000 unique runners participate in Pacers' races every year.
RnJ Sports, with two locations in Montgomery County, Md., partner with races in the county, and holds group runs typically in spring and summer.
"We've always participated in races," said RnJ Sports' owner Reu Scherf. "You would hope that [runners] look at that and think about it and the advantages of shopping at the store."
Local running groups set up by specialty running stores can add value to runners' experiences and create brand loyalty, too. Thirty-four percent of runners who participated in the 2017 National Runner Survey trained with a local running group; but 40 percent of the more than 6,800 respondents were not involved in a running group.
Farley said getting someone involved in a Pacers running group can be a portal: it can draw them in to future events, push them to sign up for new races, help them meet new people or encourage them to listen to the company's podcast, Pace the Nation.
"Our goal is to get people into a couple of those communities," he said. "Our best customers are people who are involved in every single one of those. We have to find ways to connect with people on many different levels, with the ultimate goal to inspire them to run."
"If you do stay authentic and stay super passionate about [running], that's going to lead to sales."
Competition around every corner
"Runners are no longer just running," Farley also said.
Around the D.C. region, boutique gyms such as solidcore, Orangetheory fitness and Pure Barre are gaining popularity. The trend has reverberated through the specialty running store business, Farley said, grabbing the interest of runners who are looking to mix up their workouts.
"Around every corner there is something that you don't need shoes — or the shoes that we are selling — to do," he said. "We have to be bold, try new things, put ourselves out there, connect with runners who are trying new things."
For Pacers, that means working with some of these businesses and being prepared to "diversify what we are doing and who we are."
Meanwhile, Potomac River Running is working to rebrand itself as a "fitness place," Pugsley said. It's reaching out to schools, corporations, fire departments, walkers — anyone who wears shoes — to let them know "we aren't just for runners," he said.
"Everybody has a pair of athletic shoes in their closet, and everyone wants them to be comfortable, so every one of those people is a target audience for us," Pugsley said.
Performance sneaker sales were down 1 percent in 2017, but casual sneaker sales were up, said Andy Polk, Senior Vice President at Footwear Distributors and Retailers of America, a trade organization. The rise of what Polk calls "brunch shoes" are a reflection that "America is becoming more casual, but not more performance driven."
Trendwatching like that is high on RnJ Sports' priority list. Knowing what's hot and keeping a product selection that reflects it is one of the things Scherf strives for.
"We are constantly learning new things and keeping up with what's happening," Scherf said.
What are runners looking for?
So what exactly are runners looking for in a shoe- or apparel-buying experience?
Pugsley said all customers value price, convenience and service — the last of which is where specialty running stores can thrive.
Farley has a similar philosophy: "We have to be more purposeful and our connections with individuals, more than ever. When you come into our store, we have to make a connection and make a memorable experience. It has nothing to do with sales, but that's the key to meeting our bottom line."
The D.C. market is a different one, too, Pugsley added. Because of its transient nature, it's difficult to establish a large core group of loyal customers. Also, D.C. is a time-stretched, commuting population where people want to know "if they stop in our store, we will have what they are looking for and with great service and a good experience?"
"People spend so much time commuting around here they don't seem to want to be wasting any extra time getting what they want where they want it," he said.
Potomac River Running's answer is an online store where customers can shop for what's at the locations and reserve a shoe to try on later at the store or complete their purchase and have it shipped directly to their house.
"We want people to come in when it's convenient and then blow them away with our service," Pugsley said.
Looking toward the future is crucial for all store owners, Farley said. He envisions a world where running stores "are no longer going to be just at the corner of your Main Street anymore." They will have to come to the customers… and be available on their smartphones, too."
"More than that, we have to bring connection, personality and authentic energy for running to you. I think that's where we really win," Farley said. "But if we can figure out a way to deliver authentic energy to you the same day in a box, we can't be beat."
Despite the new challenges they're facing, one place where competition is not flourishing is between the local specialty running stores, Pugsley said.
"I'm a cheerleader for all of us," he said. "By having other strong specialty running stores in the general geography, it really builds a strong community and helps all of us in the long run."