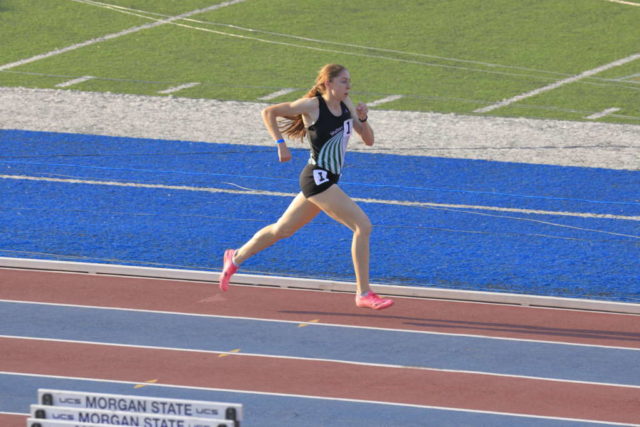 Walter Johnson senior Abbey Green won three titles at the Maryland state track championships, headlining local winners and two 1-2 local sweeps.
800 meters
4A 1. Abigail Green Walter Johnson 2:12.64
4A 1. Eldon Phillips Northwood 1:56.35
2. Chase Osborne Northwest 1:56.39
1,600 meters
4A 1. Green 4:51.43
4A 1. Josh Fry Bethesda-CC 4:19.43
2. Obsaa Feda Northwood 4:19.88
2A 1. Nandini Satsangi Poolesville 5:10.83
1. Ryan Lockett Poolesville 4:20.13
3,200 meters
4A 1. Green 10:22.23
2A 1. Lockett 9:31.20
Ten collegiate distance runners with wither high school or college connections qualified for the NCAA Track and Field Championships
1,500 meters
Diego Zarate – Virginia Tech, Northwest
Nicholas Wareham – Georgetown
Amos Bartelsmeyer – Georgetown
3,000 meter steeplechase
Katy Kunc – Kentucky, Lake Braddock
5,000 meters
Weini Kelati – New Mexico, Heritage
Sean McGorty – Stanford, Chantilly
10,000 meters
Caroline Alcorta – North Carolina, West Springfield
Sara Freix – Virginia Tech, Westfield
Jonathan Green – Georgetown
Michael Crozier – Georgetown, Gonzaga
Recent Stories

Both 5K and 1 mile courses are USATF certified. The 5K course has some moderate hills. The 1 mile course is flat making this a perfect PR course. We are really looking to get a broader participation base.
Funds go