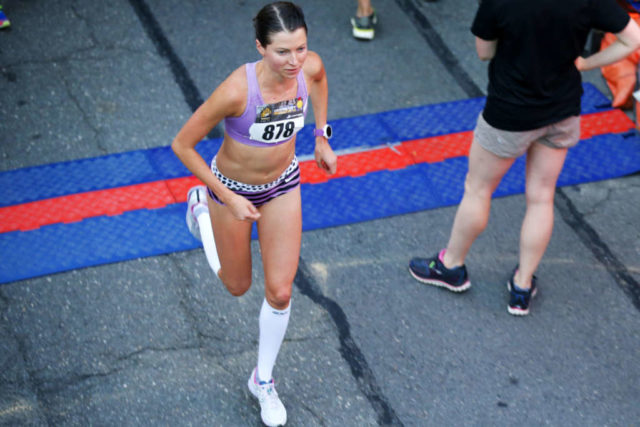 Charlottesville-based runner Ann Mazur discusses how she turned to yoga to help her running.
After a brief discussion about World Cup viewing, at (7:40) our hosts shock the nation and talk about the weather.
At (9:56) we are joined by Ann Mazur from Runners Love Yoga.  Ann explains how she ended up in Charlottesville.  At (12:32) Ann talks about her running past and how she added yoga into her routine and her time running for Notre Dame and former teammate and PTN guest Molly Huddle.
At (17:30) Ann talks about running after undergrad and how her love for running helped shape some of her post collegiate decisions.  At (20:08) Ann explains the pigeon pose, which has helped her with her IT Bands.
At (22:05) Ann talks about her transition from collegiate running to graduate school and how her workouts changed and the benefits of adding even more yoga to her training program.  At (27:10) we ask for advice for the everyday runner who does not have an hour a day for yoga.  At (29:16) we talk about Runners love Yoga.  At (30:30) we talk about the mental benefits that yoga can provide.
At (32:35) we explore the ornithological names of yoga poses.  At (33:12) we ask Ann about her favorite races in the DC area.  At (34:45) Ann talks about whats going on in her life, including building her brand, her classes, writing her yoga book for endurance athletes and training for the marathon.
At (36:15) Ann talks about her classes at Formula Complete Fitness, the UVA gym and Azalea Park in Charlottesville.  We are back at (38:41) to wrap up the interview and admit that some of the hosts might not have gotten a heads up on the interview.  At (41:50) Joanna talks about how yoga has helped her running and talks about how she is using yoga during her current rehab.  At (43:33) Docs talks about his complete failure on the track last week.
At (47:15) we check in where are they now and give an update on last week's guest at NCAAs.  At (50:29) we talk about the Washington Capitals being up 3-1 in the Stanley Cup playoffs, as we recorded the show before game five.
At (54:46) Docs is bothered by the White House dis-invitation of the Super Bowl Champion Philadelphia Eagles and the poor media coverage of the non-event.  At (58:48) Farley abruptly transitions out of the political rant with a Pacers promo.
We close out at (59:22) with a story about the Rock 'n' Roll Marathon in San Diego that shut down the race for about 11 minutes.
Recent Stories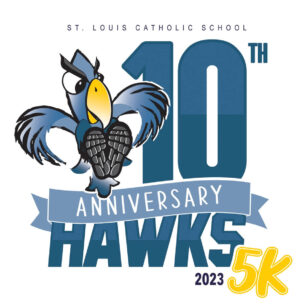 2023 will be the 10 year anniversary of the St. Louis Hawks 5K and Fun Run for Health & Wellness. The USATF certified course runs through the historic Hollin Hills neighborhood in Alexandria, VA.
The Hawks 5K goal, in conjunction