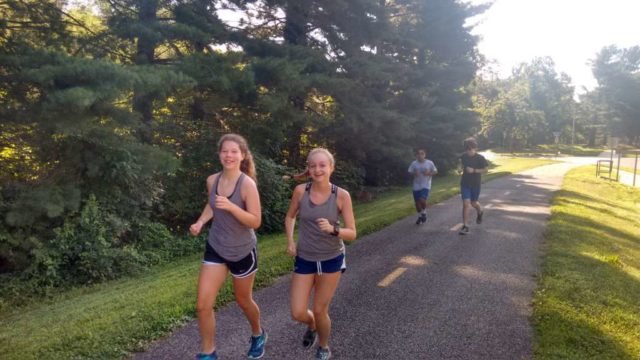 For most high school students, summer is a time to kick back, relax and finally turn off that annoying alarm clock. But for runners on the Northwest cross country team in Germantown, the summer season is when they set the alarm clock even earlier. The team holds summer practices on weekdays at 5:30 a.m., just before sunrise.
"At the beginning it's so difficult," senior Marissa Branham admitted. "You know that it's supposed to be summer and here I am waking up earlier for practice than I do for school. I wake up around 5 to get ready and when I drive to school it's literally still dark out. But by the time I warm up and stretch, I'm pretty much awake and ready to run so it's not that bad. At the beginning it's hard, but you get used to it after a few weeks of waking up at 5 a.m."
Northwest may be an outlier with their early morning runs, but summer training is an essential component of the high school running experience and holds a special place in the hearts of the area's young distance runners. While cross country and track seasons are loaded with frequent competitions, the summer is primarily a time to train and to build an endurance base. The summer training itself differs from runner to runner with unique styles and components, all with the intention of preparing runners to perform their best in the upcoming season.
Bethesda-Chevy Chase head coach Chad Young sees the summer season not only as a time to build physical fitness, but also to build a strong team atmosphere. Throughout the summer, his team's runners have the option of attending senior-led morning training runs on weekdays and Saturdays.
"I think the biggest thing is run with your teammates, because if you're running with your teammates you're going to hold each other accountable," Young said. "For us, that's the number one biggest thing, because if you're holding each other accountable we're going to build more sense of team and will be more likely to get out and do the run."
On the other side of the spectrum are teams without organized practices but with the same level of drive and commitment to summer training. Yorktown junior Bowen Shuttleworth organizes training runs on his own with teammates and friends from other Northern Virginia schools and bases his training around a plan from his coach. His favorite summer training traditions include a 7-Eleven day in which he runs to as many 7-Eleven stores as possible to take advantage of the free slurpees and a 800 meter Chipotle burrito relay with teammates.
"[Summer training is] a mix of work and pleasure," Shuttleworth said. "Try to get the work done, but also realize it's the summertime where fun is to be had… It's a time where we can bridge grades to a common goal of getting better."
Running camps provide another outlet for passionate runners to bolster their summer training. Former Good Counsel coach Tom Arnold has worked with the Concord Retreat Running Camp in the mountains of West Virginia for almost three decades. His camp, which typically hosts between 90 to 120 runners, aims to boost campers in both the physical and mental aspects of the sport.
"What we kind of hope that camp does is toward the end of the summer both physically and mentally help the kids start to really goal set and focus for their upcoming cross country season," Arnold said. "The idea is to use camp as a springboard to get them physically ready but also mentally focused because they're up there with no access to outside communication, no internet, no cell phones, no television. It is supposed to sequester them a bit so they can focus completely on other runners and their own training, plus all the running topics you can think of. We do nutrition, injury prevention, we have guest speakers come up. So just a week to get away from the rest of the world and focus completely on running."
The summer training plans themselves can fluctuate as much as the types of practices. At B-CC, Coach Young provides plans to each runner dependent on their number of years with the sport, with more experienced runners receiving plans with higher mileage and those new to the sport easing in with lesser workloads. Many teams also mix in occasional tempo runs and cross training days to build endurance, while supplemental activities such as strength training and stretching are added to help with form and injury prevention. For some elite athletes with heavy mileage plans, running once a day isn't even enough and is replaced by two-a-day running sessions.
Whether at practice, with friends, or at a running camp, runners complete their summer training with one goal in mind- to put themselves the best position possible physically and mentally when mandatory practice rolls around in mid-August and for the racing season afterward. Without the structure of the school day and after school practice in place, summer can be the most difficult time to train, but for those who put in the necessary time and effort, summer training can also be extremely rewarding.
In the case of the dedicated Northwest runners, the benefits can make even an early morning worth it.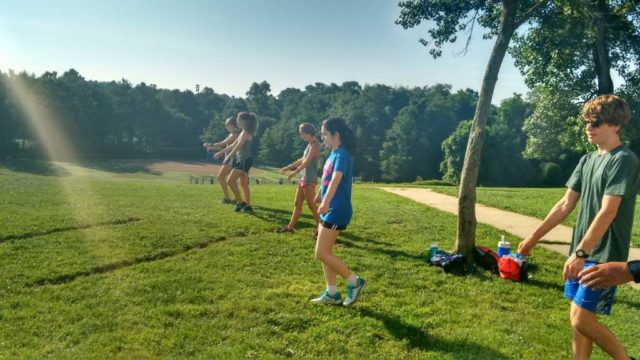 Recent Stories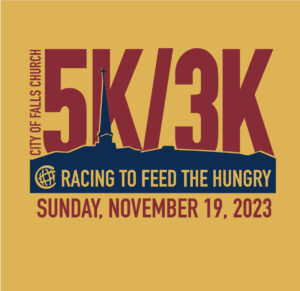 The out and back Falls Church City 5K/3K course is mostly flat on the W&OD Trail starting and finishing at 103 Columbia Street. Overall male and female winners earn free shoes and medals are awarded to all categories. Great family