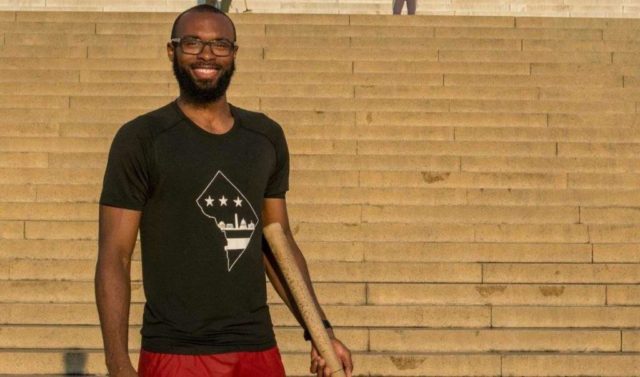 Name: Christopher Jolly
Self-described age group: 27, so between 20-30
Residence: Washington, DC
Occupation: Turnover Agent
Volunteer roles in the running world: Feeding the homeless at the Convention Center for Thanksgiving & various cheer stations 
Why you run: to become faster, fitter, accomplish bigger goals. Eventually BQ.
When did you get started running: I ran track briefly in high school, recreationally in college and just recently put it in overdrive these last two years.
Have you taken a break from running: I did when I was helping someone with a long run of 17 miles 6 days after Marine Corps Marathon. Shortly after 9 miles I couldn't run let alone walk straight. So a lot of lonely miles on the way back into Georgetown from the Capital Crescent with no hat, no headphone, no bike share or any quicker means of getting into town. I came down with runners knee really bad and took about a week and a half off. Been foam rolling ever since and haven't had any issues.
Training shoe: Hoka One One Bondi 5 and 6z
Coach or training group: November Project, District Running Collective, Lululemon Arlington Run Club.
The hardest race you've ever run: The Northface Endurance Challenge 50k April 28, 2018 My first ultra marathon which was six months after my first marathon MCM 2017. This race was hard simply because of the terrain, I've never trained in mud and didn't think it would be that hard. 25 miles later I was mentally over it and just wanted to reach the finish line.
Most adventurous decision you've made with your running: Signing up for the 50k after increasing my mileage weeks prior and thinking this'll be a breeze. Unfortunately that was not the realization after a few miles in on race day.
Running mentors: Jason O., Katie E., Caitlyn T., plenty of motivators my run clubs and the members such as Steve H, Mike L., Kym J., and Patrick C.
My favorite place to run in the D.C. area is: The National Mall, there's some many beautiful sights.
Favorite local trail: Rock Creek Park, I do not know my way around there. Just know when it's time to turn around lol
My best race was: Marine Corps 17.75k
Favorite local race: Gar Williams Half Marathon on the C&O Canal Towpath. It's completely flat minus two insignificant, barely noticeable hills. Definitely hit my goal of running sub 1:45. Felt great.
Ideal post-run meal: Founding Farmers' chicken and waffles.
Favorite flavor of gel, gu, etc: Just started trying Spring Energy. I typically do without gel or gu up until 15 mile for my training runs or even half marathons.
Pet peeve: People not keeping to the right during a race.
Goals: Sub-3:30 at Marine Corps Marathon 2018. Boston Qualify 2020.
Your advice for a new runner: YouTube and listen to other runners but do what feels best for you.
Favorite running book: I'm currently reading Jack Daniels' Running Formula.
Song in your head during a run: Big Sean – Go Legend
Have you dealt with a major injury: Nope
Running quote: Life quote: You have winners and those that are not them.
Why is the D.C. area a great place to be a runner: There's so much motivation around with other runners, the scenery, the trails, the run clubs… everything is here.