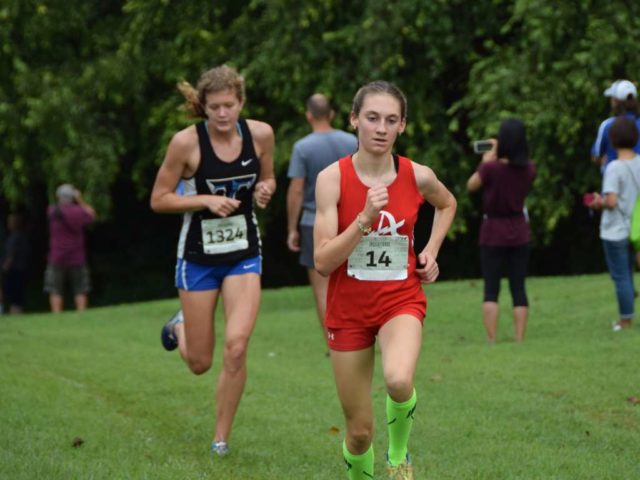 After a week of being forced to call audibles on practices in the face of oppressive heat and humidity, runners were treated to a cooler day at the Monroe Parker Invitational Saturday at Burke Lake.
Stifling humidity on top of late-summer heat coupled with new school district policies to cancel outdoor practices in the week leading up to the race, with teams opting for morning, late-night or independent practices. When runners at Osbourn Park couldn't do morning practices, the Yellow Jackets wound up running stairs or laps around the hallways.
"That was tough because the kids have to take those turns slower," said coach Mike Shuster. "I'm hoping the silver lining is it will keep us fresh a little longer, since we couldn't have regular practice for seven out of nine days."
Changes in plans like that left some runners and coaches a little unsure of how they would open their seasons. The September ACT testing date conflicted with this year's race, to boot.
Monroe Parker Invitational
Sept. 8, 2018
Burke Lake, Va.
2.98 miles
Boys
1.Jack Leech Woodson 15:28
2.Edward Cerne Lake Braddock 15:39
3.Max Greczyn O'Connell 15:59
1.W.T Woodson 92
2.West Springfield 134
3.Chantilly 147
Girls
1.Julia Ghiselli Annandale 17:49
2.Ava Hassebrock Tuscarora 18:03
3.Natalie Bardach Marshall 18:21
1. Tuscaora 117
2. Washington-Lee 128
3. James Madison 137
Once the races started, preseason favorites still managed to run like normal. Woodson senior Jack Leech ran away from Lake Braddock's Edward Cerne in the second mile, hoping to put him out of range of Cerne's kick.
"Half a mile in I knew I had to take a chance and go and see what would happen," Leech said. "Nobody followed me. I hit a mile in 5 minutes and put in another surge at two miles."
All the while, Cerne, with his 1:51 800 meter speed, was lurking behind him, on his home course where Lake Braddock runs twice a week. Cerne was playing it safe early on, not wanting to blow up early on, but gave chase in the last mile, dropping Bishop O'Connell's Max Greczyn. Leech held on, winning in 15:28 over Cerne's 15:39 on the 2.98 mile course. Cooler, but still humid with wet grass, the day was a little slower than 2017's near-perfect conditions, when Cerne won in 15:22.
Leech's Woodson team outpaced West Springfield 92-134, with Alejandro Posadas-Nava (12th in 16:16) and Robert Johnson (21st in 16:36) also finishing in the top 25. The Cavaliers had a few independent practices over the week leading up to the race, but opted for 6:30 a.m. workouts on Wednesday and Thursday.
"We have some kids who are dependent on the bus to get to school, so getting there was tough for some of them, but kids who made it a priority managed to make it to practice," said coach Dave O'Hara.
On their own, the guys ran several times at night, after temperatures had cooled.
"Our parents didn't really like it, but they didn't understand how much better it was then," Leech said.
Cerne tried to get a few evening runs in at Burke Lake, but closing time got in the way. He added in a morning workout and a bike workout, but wound up running on a treadmill at home.
"We usually do an 800 meter workout on the course the week before a race here, so it threw me off a little, not having that," Cerne said.
All of the runners returned from the team that finished fourth at last fall's 6A state championship, with the addition of Tyler French, a senior who returned after spending his junior year focusing on soccer. He finished 26th in 16:44.
"It's good to be back out there with the guys," he said.
On the girls' side, Annandale sophomore Julia Ghiselli repeated her individual win, after surprising Marshall's Heather Holt. She led Tuscaora's Ava Hassebrock for two miles before pulling away to in in 17:49, with Hassebrock holding on for second in 18:03, a 22-second improvement over her time last year. Ghiselli was 20 seconds slower than last year.
Annandale opted for 8 p.m. track workouts during the hot week.
"It was a nice change, I hadn't worked out much at night," Ghiselli said. "I don't think I'd want to do it all the time, though."
Tuscarora took the women's title over Washington-Lee, with Katie West (19th in 19:30) joining Hassebrock in the top 25. Meanwhile the Generals were led by two Evas, Smith-Perry (18:22) and Arnade (18:35) in fourth and fifth places.