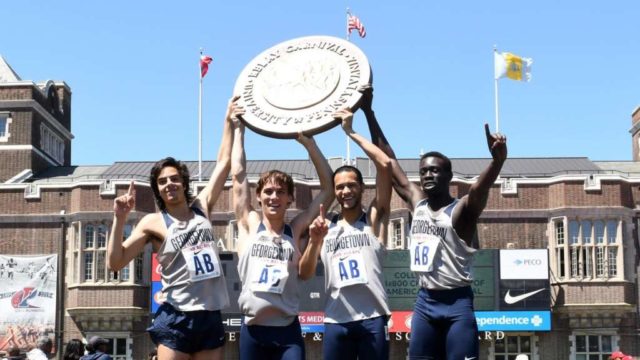 Local runners picked up some gold watches at the Penn Relays:

Georgetown's 4×800 meter relay team Kenneth Rowe (1:52.46), Ian Delgado (1:52.25), Ruach Padhal (1:49.57), Joseph White (1:50.91)
Sprint medley relay  (200m / 200m / 400m / 800m)  3:17.53       Nate Alleyne, D'Andre Barriffe, Lawrence Leake (48.2), Joseph White (1:46.45)
Two Northern Virginia natives ran on Villanova's winning 4×1500 meter team: Patriot alumna Rachel McArthur (4:18.4) and West Springfield alumna Caroline Alcorta (4:28.0).
Northwood senior Eldad Mulgeta won the high school boys' 3,000 meter championship in 8:29.05.
Oakton and American University alumna Keira D'Amato won the Olympic Development 10,000 meters in 33:43.86.

Vienna's Perry Shoemaker qualified for the 2020 U.S. Olympic Marathon Trials, running 2:43:33 at the Eugene Marathon.
Herdon alumna Hiruni Wijavaratne broke her own Sri Lankan marathon record at the Dusseldorf Marathon, running 2:34:09.
Road reconstruction in Rock Creek Park has reached Wise Road, which is now closed. This will interrupt the Western Ridge Trail, and runners will have to detour west to Oregon Avenue NW to avoid trespassing.
The Rock Creek Hiker-Biker Trail near Ray's Meadow Local Park and Jones Mill Road will experience intermittent closures through May 2 to accommodate Purple Line Project construction.
Construction of a pedestrian bridge over Route 29 in Falls Church is forcing a detour near mile 5.5 of the W&OD Trail through Fall 2019.