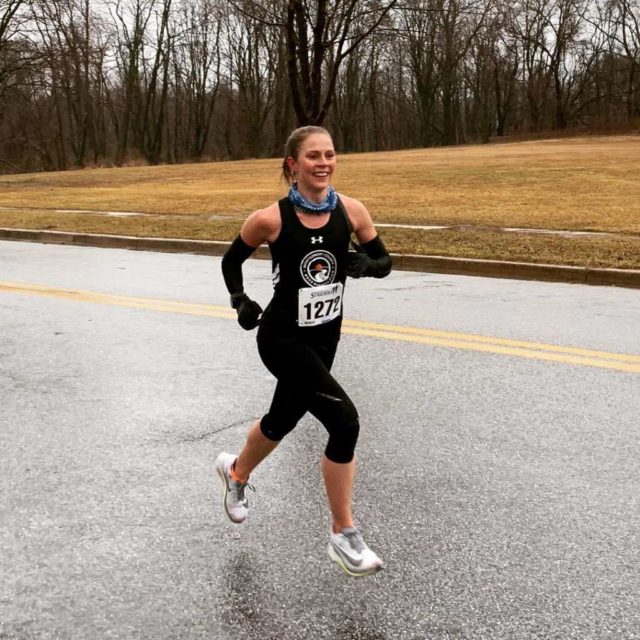 Name: Kristen Serafin
Self-described age group: 30-34
Residence: Gaithersburg, MD
Occupation: Associate Director in Market Regulation Technology at FINRA
Volunteer roles in the running world: I was recently elected as a Board Member At-Large for Montgomery County Road Runners. I also volunteer as the assistant director and pace coach for MCRRC's Summer Half Marathon Training Program. You'll often see me at MCRRC's low key races, volunteering for everything from course marshaling to parking.
Why you run: I find that no matter how I'm feeling, running is always there for me. I can run alone or with friends, on trails or road, fast or slow. The reliability of this sport and a love of being outside motivates me to get out the door.
When did you get started running: In the spring of 2014 I was rushed to the emergency room with pneumonia so bad that I was initially tested for a pulmonary embolism.  After years of repeatedly getting pneumonia and bronchitis I was finally diagnosed with severe asthma and GERD.  My pulmonologist put me on six different medications and asked me to build up my lung strength through running or swimming. I picked running because I figured that if you stop swimming, you drown, but if you stop running, you just walk.  The first day I was well enough to run I made it two blocks, sat down on the sidewalk in Pentworth, and cried.  I was wheezing and had to take my emergency inhaler.  After a few minutes I decided that the next day I would try to run three blocks.  Eventually I worked my way up to a 3 mile loop, and decided on a whim to sign up for the Marine Corps Marathon.
Have you taken a break from running:  Fortunately I haven't had to!  I've been lucky enough that my breaks have been limited to the now-rare lung infection, which requires only a couple of weeks off.
Training shoe: Mizuno Wave Shadows
Coach or training group: Dojo of Pain is my primary training group, supplemented with MCRRC's Experienced Marathon Program and Speed Development.
The hardest race you've ever run: Boston 2018.  I had a great training cycle and was so sure that I was going to PR, even after reading the weather reports. Unsurprisingly, during the race I just couldn't seem to click in to my marathon race pace.  The weather was just unbelievable.  I was so demoralized after that experience.  Luckily, I decided to go back to Boston this year and learned how magical it really is!
Most adventurous decision you've made with your running: Signing up for the Death Valley Trail Marathon in 2016 with a childhood friend who was trying to cross Nevada off of her 50 states list.  I ran trails exactly one time ahead of that race and wondered how hard it could possibly be.  Then a tour bus dropped us off literally in the middle of the desert, next to a line of port-o-potties and a folding sign that said "Start".  The race director pointed us towards a cattle path that went towards some mountains in the distance and said something to the effect of "See you on the other side. If you get injured, you'll need to be choppered out, at your expense."
Running mentors: My three big mentors are Alan Pemberton, Barry Hauptman, and Jenny Paul.  It's unbelievable to me that they take time away from their own goals and commitments at the drop of a hat to help me become a better runner.  They provide me with advice, challenges, and support in a way that I can't really explain.  It's solicited often, but some of the best advice they've given me has come completely unsolicited. I admire and am in awe of the way they all continue to relentlessly pursue their own goals while still making time to help others.
My favorite place to run in the D.C. area is:  Hains Point and I have a deep love/hate relationship.  The Dojo of Pain is aptly named because we voluntarily run circles around it twice a week (sometimes three times if we run it as part of a long run or race).  I've had my best workouts there, and my worst days as well.  The point is beautiful, quiet, unforgiving, and challenging.  If I don't run it for a week or two, it feels like reconnecting with an old friend when I go back.
Favorite local trail:  Muddy Creek and Great Seneca.  I love how long they are and how you can feel so remote but be so close to D.C.
My best race was: The New York City Marathon in 2018.  I jumped from a 3:23 to a 3:11 PR and negative split that race.  It's the first (and only) marathon that I didn't stop once to walk during.  I  perfectly executed my strategy, finally found a mantra that worked for me – Joyous. Optimistic. Relentless. (thanks Alan) – and was picking people off left and right in Central Park on the hills.  The crowd support was amazing and I just enjoyed every second of it.
Favorite local race: Suds and Soles 5k.  The course isn't particularly fast but is definitely challenging.  The neighbors all are so supportive and their kids offer to spray us down with hoses from their front lawns. Plus, it's the only race where I barrel down the last 200 meters staring directly at a pint of beer.  The atmosphere is so much fun – it's like a great big (sweaty) family reunion.
Ideal post-run meal: Some sort of bacon avocado cheeseburger, with an entire side plate of fries.  And of course a beer.  Followed by cake.
Favorite flavor of gel, gu, etc: Salted Caramel Gu
Pet peeve: Bikers who ride on or cross the center line on Hains Point.  Sorry, but I said it.  I don't think the bikers realize how fast they're going compared to us runners, or how unnerving it is when they get so close!
Goals: My goals for 2019 are to break 3 hours in the marathon and podium at Stone Mill this fall (I was fourth female last year, two weeks after New York).  After that, who knows?  If you had asked me what my goals were at any prior point on this crazy five year ride, I would have undershot and maybe wouldn't be where I am today.  I never thought I would qualify for Boston, much less PR there and run a 3:05.  I never thought I would complete an ultra, much less Stone Mill.  I never thought I'd be good enough at running to be on the MCRRC's Racing Team.  I try not to set goals longer than one training cycle, because they could actually end up being limiting.
Your advice for a new runner:  I have three pieces of advice: 1) Progress is not linear!  At some point, one workout or an entire season is going to be bad.  It's okay, embrace it as part of the process.  Over time you'll look back and wish you had told your past self to keep trying.  2) Work smart, not hard!  A lot of my personal injuries have been from burnout or over use.  Running with patience and not treating every workout like a race will get you a LOT farther (and make you a lot happier)! 3) Just show up. There are plenty of workouts that I made plenty of excuses not to even try.  But I find that when I just show up and commit to doing something I feel a lot better, even if I fail.  Occasionally I even surprise myself with what I can do.
Favorite running book: I really enjoyed 26 Marathons by Meb. I heard Meb speak at Cherry Blossom a few years ago and just am in awe of his grit.
Song in your head during a run: UGH.  "Down by the Bay" gets stuck in my head all the time. It's so similar to my cadence that it is a nightmare.
Have you dealt with a major injury: If I say no, I'll probably get one.  So, I'll say that for a while I had terrible shin splints.  I grew up as a ballerina, and danced in an adult ballet company, so for a while when I started running I was teaching Pointe and taking class 5 days a week.  Add in running 5 days a week and my calves were NOT happy.  Ultimately I decided that I am much better at running than I ever was at ballet, and gave it up.
Running quote: "To give anything less than your best is to sacrifice the gift" ~ Steve Prefontaine.  This quote is really meaningful to me because the use of my lungs IS a gift, and some days it's taken away.  A lot of doctors worked together to get me to where I am today, not to mention the lengths I've crawled to get here.  When my lungs are working well, I owe it to myself to try my best.
Why is the D.C. area a great place to be a runner:  The community.  If you're not running with a group, I strongly suggest you try it out.  People in the DMV are so smart, so talented, and so determined to succeed.  I've met some of the most valuable people in life through running, and my net has grown so strong. I'm really proud of our community and what we've built together.