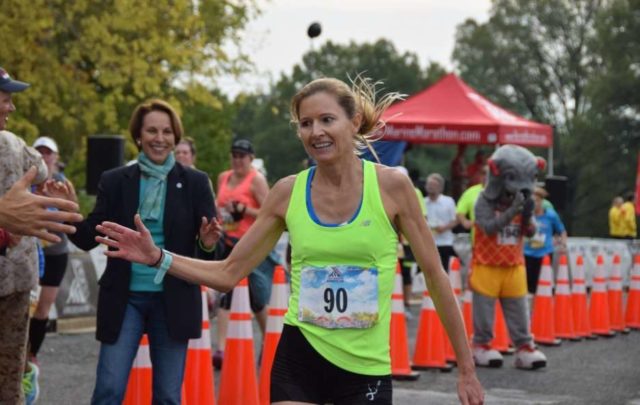 Though she had kept a relatively low profile since winning the 2016 Marine Corps Marathon, Perry Shoemaker is back after qualifying for the 2020 Olympic Marathon Trials April 28 at the Eugene Marathon. Her 2:43:33 was a PR of more than eight minutes.
"I'm still shocked that I did it," Perry said a little over a week after the race. "And of course I'm still very excited."
For years, Perry, 48, has challenged the notion that results slow down with age. She says that qualifying for the Trials became a dream when she realized she could do it with the right conditions and without injuries. "Without injuries" turned out to be a key challenge.
After her 2016 Marine Corps Marathon victory, Perry had set her sights on hitting the 2:45 standard for the Trials once the marathon qualifying window opened in September 2017, but an Achilles injury set her training back. She shifted her focus to the Chevron Houston Marathon in January 2018, which shifted again after a bout of plantar fasciitis.
She dropped to the half in Houston, where she was the first non-elite finisher, running 1:15:35. She was close to the half marathon standard of 1:13 that would get her in to the trials, but had more work to do.
She considered a late spring marathon — maybe Eugene in April or Grandma's in June — but issues with her IT band after the Credit Union Cherry Blossom Ten Miler in 2018 forced another delay. The Chicago marathon in October may have worked, if she hadn't torn her soleus muscle in her calf that August.
Incredibly, Perry says she stayed motivated through every setback. Fortunately and unfortunately she is familiar with injuries, and credits physical therapy, strength training, and cross training for helping her bounce back feeling stronger after every one.
"I don't mind being on the bike, I don't mind doing the elliptical," she said.
Pool running, though, required some distraction.  For 60-90 minutes she'll mimic the motion of running up and down the pool lane, allowing her to train her legs without any of the impact.
Cautiously, she resumed running in November 2018, trying to maintain the stretching and strength training routines that got her back on her feet. Her workouts and long runs showed early promise, as did her race results. Fargo and Grandma's were on her list for potential marathons in mid-2019.
Mid-March. Perry fought the wind to be the second place woman at the Anthem half marathon in Virginia Beach, running 1:17:45.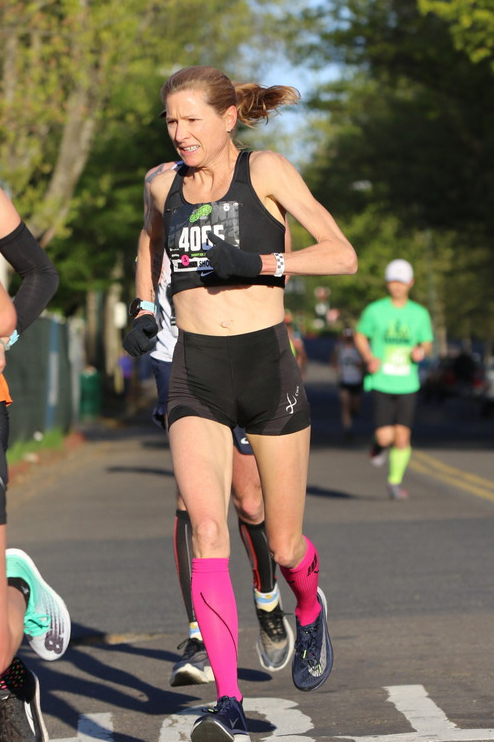 In early April, she ran 57:29 at Cherry Blossom, and even though the course ended up measuring a little short she still dropped more than a minute from her time in 2018. She was closing in on her dream.
Running well and injury-free, Perry started to recalculate. "I was afraid that if I trained too long, I would get injured again," she said.  Even racing the 2016 Marine Corps Marathon had been in doubt in the two weeks leading up to the race.
By this point, Perry had started working with Ben Bruce, a coach and athlete with the HOKA Northern Arizona Elite team based in Flagstaff, AZ. Perry's husband Jon — who previously wrote her workout plans for her — came up with the idea as a way to help Perry achieve her goal.
"I was completely caught off guard," Perry said. "[Jon] is always going above and beyond trying to come up with training plans." He discovered Ben and his wife, Stephanie, after researching possible coaches for Perry online. Ben and Perry communicate with each other over emails and texts, and when Perry mentioned that she was feeling good in spring they considered the pros and cons of choosing an earlier race like Eugene.
"I definitely think of the marathon as one of those distances where you have to put all your eggs in one basket. You can't have backup marathons because that just leads to an 'out' during a race," Ben said. He wanted Perry to go into one race with one goal in mind.
"Let's just go for Eugene, and if that doesn't work out we can figure out a plan B," he remembers thinking. "Going with Eugene was just taking plan B off the table."
She had picked her battle, and now it was time to race.
After her daughter's prom on Friday and a flight delay on Saturday, Perry arrived in Eugene later than expected but ready to run the next morning. Perfect, sunny weather without wind greeted her.
In total, about eight women were attempting to qualify for the Trials that day, and three pacers were assigned to the 2:45 mark. Four women finished under the 2:45 standard, with Perry finishing third.
There was a sense of camaraderie during the race. Perry joked with Seattle's Claire DeVoe, who finished in second place, that they could share the energy from their friends and family's cheering.
"We kind of kept it a little bit light and tried to encourage each other," Perry said. "I normally never run with anybody, so actually having a couple people to run with was nice."
At 21 miles, the field was spread out to the point that Perry was running solo, but that didn't phase her. She figured, "I can do this, because I always run by myself."
And she did. At the finish, she met up with Claire, the pacers, and her "super happy" husband and enjoyed congratulatory phone call from her daughters.
"It was really incredible," she said, thinking back on her family's support during the hours she spent out on a run or on the treadmill downstairs.
They never needed a plan B after all. As it turned out, Fargo was cold and rainy.
"It's a fairly simple course, there's not a section you have to specifically prepare for," Bruce said, and he should know. He and his wife lived in Eugene from 2008 to 2011. The course features a wide bike path, no significant hills, and nothing to interrupt pace, which made training more simple.
Atlanta will be a different story. With rolling hills and a loop course, Perry and Ben are already thinking what will be required to get her ready, and healthy, at the starting line.
To start, Bruce isn't putting too much emphasis on the weekly mileage itself. "I don't really like to go by trying to hit numbers on a week because sometimes you could have a really quality week that for her could be 60 [miles per week], but at the same time if we wanted to just get a few weeks in of light running she could probably run 80 miles per week if she wasn't doing any hard workouts and that might almost be easier on her body," Ben said.
About five weeks before her Eugene race, Perry said one of Bruce's workouts involved alternating between 6:10 and 6:40 miles for about 15 miles after a three-mile warmup. She was dreading it beforehand, but the fact that she got it done gave her a boost in confidence.
At 48, Perry recognizes that she's in her own league. The average age for female runners in the 2016 Trials in Los Angeles was 30.5.
"She goes out and does the work," Bruce said. "The fact that I don't see her having to change the planned schedule very often is a good sign. She definitely has that focus that she's trying to make the schedule work."
"She has to rely on the accumulation of training she's done over the years and recognize that everyone's training is going to look different," he added.
Looking ahead, Perry has a few races in mind for the summer and fall, including the 10K Peachtree Road Race on July 4, which will give her the opportunity to scope out Atlanta ahead of time.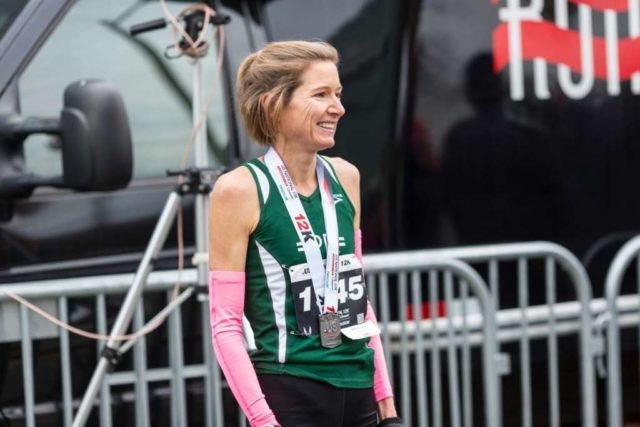 Recent Stories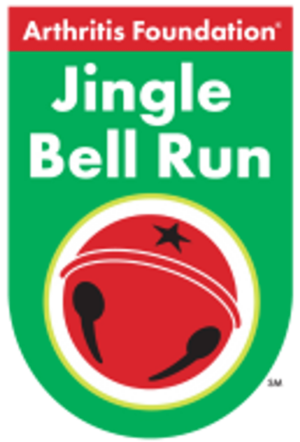 Be part of the original festive race for charity and signature Arthritis Foundation holiday event! Wear your favorite holiday attire and together, we'll jingle all the way to a cure! Register as an individual or bring a team of friends,