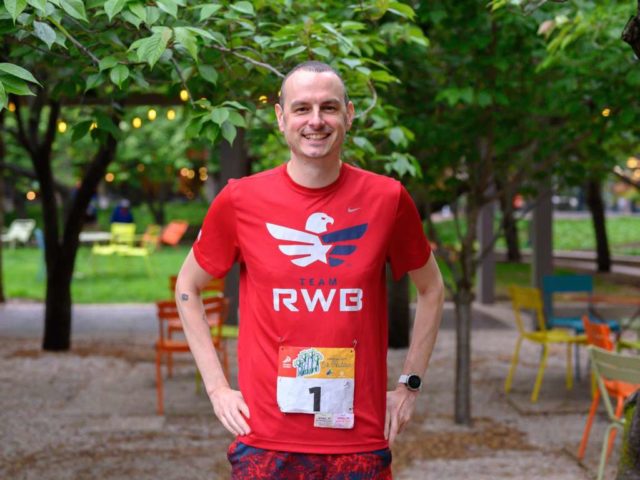 Race in Arlington or Washington often? Michael Lynch may be a familiar face.
In addition to running races regularly, Lynch leads weekly group runs from Lululemon in Clarendon, served as the running coordinator for Team RWB's Washington, D.C., chapter for two years. 
Jason Taylor, the current running director for the local Team RWB chapter, described Lynch as an "amazing asset in the running community, both for Team RWB but also for Pacers as well."
Lynch, 40, of Arlington, served in the Air Force from 1998-2007 and now works for the Department of Defense as an IT contractor. He ran a little during his time in the military, but he really got into it after being drawn to the Crystal City Twilighter 5K and its tech shirt in 2008.
Now, he has a bunch of race bibs and medals from years of racing. He said running also serves as a stress reliever.
"It's my vice, but I consider it a good vice," Lynch said.
Team RWB — which stands for Team Red, White & Blue — helps get veterans engaged in the cities and towns in which they live, and the Washington, D.C., chapter offers numerous group run opportunities. The run that Lynch leads at Lululemon is one of the Team RWB runs. Some runs, like that one, were existing store-based runs that Team RWB members are invited to join, he said.
Those runs are Monday nights at 6:30 p.m. and attract about 15-20 people during the warmer months, he said. He's been leading the group runs for about a year and attended them for about two years before that, he said.
Rather than split off at individual paces, Team RWB members generally stay together or form smaller groups at group runs, he said.
"We try to be very social on our runs, so a lot of the group runs are actually literally groups," Lynch said.
And, people don't have to be members of the military — or even have a military connection — to join Team RWB, he said. It's free to join, and the D.C. chapter is made up of about half military and half civilians, he said. Veterans get the team's well-recognized red shirt for free, and civilians can purchase one.
Lynch has been a member of Team RWB since 2015. He said he considers his "crowning achievement" as running coordinator for the local chapter to be bringing Pacers Running and Team RWB together for a partnership that includes Pacers race discount codes, store events and VIP treatment at the Parkway Classic. Team RWB, which is a nonprofit, also benefits from Pacers' Veterans Day 10K.
"I've enjoyed seeing it continue on as I left the role I was in," Lynch said.  
Taylor now has that role, and the person who held the role in between them moved, so Lynch has been able to help Taylor when he has questions, Taylor said. Falling under his position are the fun runs, which are led by run leads like Lynch, and coordinating opportunities with different races, Taylor said.
Taylor, who also works as a senior salesperson at Pacers Running and as a running coach, missed being part of a group once he retired from the Air Force after 21 years in 2016.
"I think that's something that Team RWB is great at is giving people that sense of community that are no longer in the military," said Taylor, who lives in Alexandria.
Lynch served as an ambassador for Pacers Running, and even though the program no longer exists, he hasn't changed his tune. When heat forced the cancellation of the inaugural Wayfarer's Annapolis Half Marathon, Lynch battled back on social media when naysayers criticized race management.
"He was just so nice and I feel like that is such a snapshot of who he is," said Heather Jeff, event manager for Pacers Running. "Where he shows up, he brings a great energy, he encourages others, yet he's very loyal and thoughtful about his own voice and where he puts it in, and I think that's really cool."
Jeff said she sees him often at events and he's the kind of runner that has goals but that is also able to not take running too seriously — a good thing.
He also makes sure to express his love for the organizations he's involved with when he's out there on the roads.
"One thing I think is really sweet about him is when you see him racing or running, he is very cognizant to rep all of his brands, so he often is in RWB shirt, a Pacers hat and maybe Lululemon shorts," Jeff said. "He is loyal to a fault and I think the way he presents himself is absolutely adorable."  
Recent Stories

Both 5K and 1 mile courses are USATF certified. The 5K course has some moderate hills. The 1 mile course is flat making this a perfect PR course. We are really looking to get a broader participation base.
Funds go