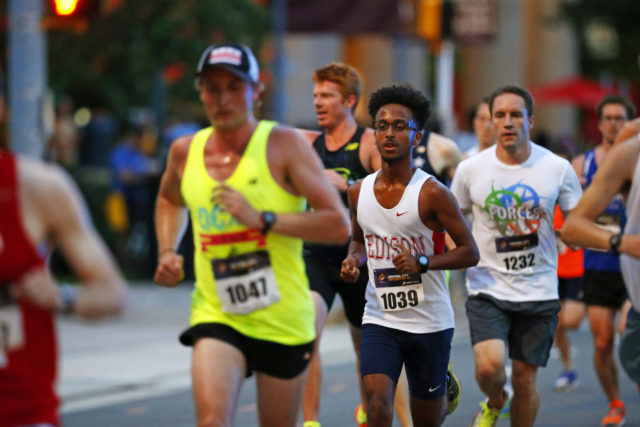 Road racing is a different world from cross country and track.
It's harder on knees, ankles and feet than other surfaces. But the crowds are bigger, the runners potentially faster and the atmosphere at many races is a wild diversion from dual meets and invitationals.
For high school runners, the road is a place to experiment, learn and challenge themselves. It is also where many will continue their running careers later in life. For coaches, many of whom raced at one time, the road is fraught with risks and dangers. There is a conflict between athletes' enthusiasm and coaches' wisdom.
Berni Flynn, the coach at Thomas A. Edison High School in Alexandria, is a former 400-meter runner and hurdler who moved up to distance events in college. She is clear with her athletes: she does not want them racing on the roads during the season because she worries about injury and burnout.
"I don't think some athletes or parents understand that for most of them it is too many miles for their experience level, nor do most understand that running too much, too soon often is a common cause of injury," she said.
In her 36-year coaching career, she has seen her younger athletes be most eager to try road racing. A few years ago, a freshman ran the Las Vegas Half Marathon as part of a family trip and spent the rest of the spring season recovering from overuse injuries. Nevertheless, she does allow off-season road running, particularly when athletes treat an event as a tempo run, and she brings members of her team to the Crystal City Twilighter 5k as an optional activity.
There are also special cases. Last year, Patrick Brown, a junior, asked to run the Navy-Air Force Half Marathon, which was scheduled for the day following the Oatlands Invitational. Initially, Flynn told Brown he could run one or the other. Brown agreed to run the half marathon as an easy, long run and Flynn agreed to let him race at Oatlands. She then adjusted his workouts for the following week in order to ensure proper recovery. Brown was Edison's Most Improved Runner in last year's cross country season and will run both events again this fall.
Brown likes road racing because there are no roots on the course and he can focus on speed rather than his footing. As he and Flynn agreed, he kept the pace easy and ran the half as his weekly long run. The experience helped him.
"Whenever I am running a 5k for cross country or the 3200 meters for track and I feel tired, I know for sure I can run a lot farther than I am currently running," he said. "Road racing provides a big confidence boost for racing during the season."
Lake Braddock coach Mike Mangan gave up road racing about 20 years ago. His athletes do not race on the roads during the season and he does not actively encourage it during off-season training.
"My worry for those that want to race more is that the focus is supposed to be training in the summer and not racing," he said.
Still, he does allow them to race on the roads once or twice during the off-season as long as the focus is on having fun. His team ran Crystal City this year and several of his athletes did well. Mangan sees their Twilighter success as the effect of good summer training rather than racing. Mike does not want his athletes to risk fatigue or injury for the fall, given that is it basically the start of a nine-month season, when cross country is paired with indoor and outdoor track.
One of his former athletes, Andrew DelVecchio, used road races during the summer to work out at near-race-pace and to compete with his teammates in a low-stress environment. He enters his senior year named to the 2017 Virginia All-RunWashington Preseason Team. Last spring, he ran the 3.2 Mile Run in Remembrance at Virginia Tech with his brother, and he ran the Twilighter this year. Andrew finds that road racing can simulate cross country races, especially for practicing race strategy.
"Road races can be crowded and claustrophobic at the start line and this is good practice for getting off the line and jockeying in a pack during cross country races," he said.
Chad Young, the coach at Bethesda-Chevy Chase High School, got his start while running for his high school. His coach used an early summer 8k as a baseline to see how everyone was doing and to identify goals for summer training. Today, Young occasionally runs the Army Ten-Miler or Cherry Blossom, and enjoys local races that support local causes.
Now in charge of his own team, he doesn't complement or supplement his athletes' training with road races, and prefers that they stick to the training and racing plan. But he is not an absolutist.
"I will work with them if there is a race they are passionate about running," he said. "In the off-season, I encourage them to run in a few road races and to have fun with them, but I don't place any expectations on them."
His willingness to accommodate road races in-season wanes as the championships near.
Laura Webb, a then junior at Woodbridge High School, also ran the Twilighter. She sees road racing as a way to compete with different people in a low-intensity way while gaining experience for the regular season. This has been especially important for her in the transition from track in the spring to cross country in the fall.
"Every race is a chance to gain experience, so by adding in extra races before the school season I am more prepared to compete when it counts for my school," she said. "By running a 5K road race now I am setting myself up for success this fall."  
The experiences of these coaches and athletes suggest that the conflict between coach and athlete over road racing can be managed. It is all about balance: manage the experience to avoid injury and fatigue, while having fun and learning important lessons.
This story originally appeared in the Fall 2017 issue of RunWashington
Recent Stories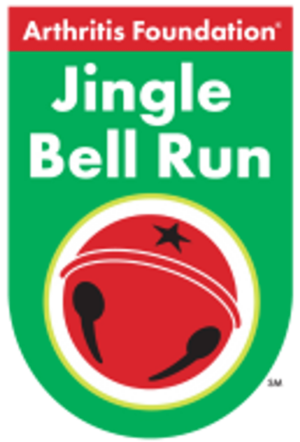 Be part of the original festive race for charity and signature Arthritis Foundation holiday event! Wear your favorite holiday attire and together, we'll jingle all the way to a cure! Register as an individual or bring a team of friends,