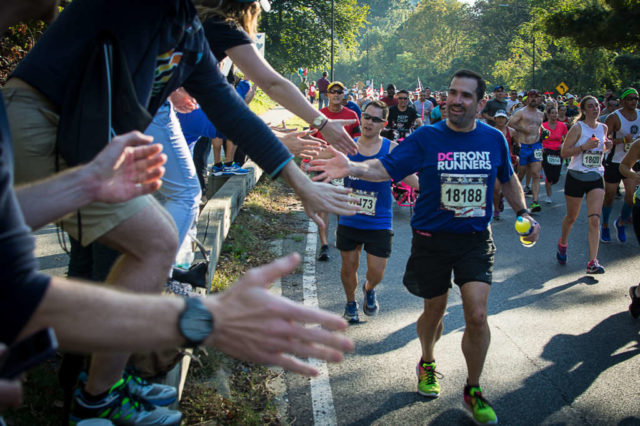 Name: Norman B. Reich
Self-described age group: M 50-54
Residence: Arlington
Occupation: Owner of an IT Consulting Company
Volunteer roles in the running world: (as applies) I have been an active member of the DC Front Runners for 3.5 years, and serve on the board as co-race director finishing up my second term.
Why you run: I started running for health reasons.  I continue running because I love it and because I'm addicted.  During my March 2015 physical I was given some news about some serious health issues.  I immediately changed my lifestyle including healthier eating and walking.  At some point I decided to try running.  I thought it was just for my health, but a few weeks later I fell in love with it.  It has completely reversed the health issues that I was concerned about and lost over 50 lbs.  Running is not only good for me, but it's a good way to clear my head, challenge myself, and also to enjoy the social aspects of doing many of my runs with the DC Front Runners and with friends.
When did you get started running: I started running in the spring of 2015.  I then signed up for my first race, the Marine Corps Marathon 2015 which I ran the entire distance without any breaks in October 2015.
Have you taken a break from running:  I have not taken any breaks since I started running about 4 years ago, and have shown no signs of slowing down.
Training shoe: Nike Lunarglide (the pink-yellow gradient style, of course), but I have been looking into new options since that model has been discontinued.
Coach or training group: I am a part of the DC Front Runners.  I don't have a coach, but I have many more experienced friends who have helped me and answered questions as I learn and grow as a runner.
The hardest race you've ever run: The Disney Marathon in 2017 as the fourth race in my first Dopey Challenge (5K, 10K, Half, Full on four consecutive days).  On day three, before the marathon, a storm dropped the temperature by 40 degrees, I had a fever (which I didn't realize until after), and I had to wait in the cold at the start line for two hours.  Somehow I pushed through to finish the marathon and the challenge.
Most adventurous decision you've made with your running: Registering for the Marine Corps Marathon 2015 as the first race I ever signed up for, only months after my first run where I could barely run a mile without walking more than half of it.  My latest is that I am registered for the Marine Corps Marathon Inaugural 50K for 2019.
Running mentors: I don't have specific mentors, but I have had several friends from the DC Front Runners help me with advice, answering questions, and joining me on some runs.
My favorite place to run in the D.C. area is:  I love running most of the trails in D.C., but my favorite is running routes that include Roosevelt Island.
Favorite local trail: Rock Creek Park
My best race was: New York City Marathon 2017.  I ran it 2 weeks after the MCM where I got a PR by almost 10 minutes, and still got a new PR in NYC by another 10.
Favorite local race: Marine Corps Marathon, the first race I ever signed up for, and one that I would like to do every year.
Ideal post-run meal: After long runs it often takes me hours to get hungry, but once I do I can always go for prime rib.  The night before many races my friends and I often go to Sette Osteria for their Eggplant Parmigiana.  (I'm not getting paid to say that, but I go often enough that I probably should.)
Favorite flavor of gel, gu, etc: Honey Stinger Cherry Blossom Energy Chews
Pet peeve: Finding scooters carelessly left on trails, sidewalks, etc., making it dangerous for runners, bikers, and everyone.
Goals: To make sure that no matter what I do, I continue to enjoy running.  I would also like to be able to qualify for the Boston Marathon one day.
Your advice for a new runner:  Make sure to do your own run, run your own pace, set your own goals.  It's ok to look to others and to get advice from others, but take that and adapt everything to make sure you do what's best for you.  If you think you're not able to run as fast or as far as others, remember that they likely have different goals and are at a different place than you are with running and in life.  And most of all, enjoy it!
Favorite running book: I haven't read any running books.  I get most of my info from more experienced friends or reading articles online.
Song in your head during a run: I haven't listened to music while running in a couple of years, but when I think about music, it's often Erasure and/or Showtunes.
Have you dealt with a major injury: Yes, I have, but luckily none of my injuries have stopped me from running.  The most major injury was falling during a run, breaking my wrist and hand, and then running a half marathon three days later.  It was a challenge to hold my hand above my heart to minimize the pain for 13.1 miles, but I did it.
Running quote: "26.2 because 26.3 would be crazy"    (I reserve the right to adjust this after the Inaugural MCM 50K in October, which will be my first and probably my only Ultra.)
Why is the D.C. area a great place to be a runner:  D.C. has a lot to offer.  There are trails everywhere, national monuments, parks, and other sights.  It never gets old running around so many amazing places every day, and I never forget how privileged I am to be able to do so any time I want to.  DC also has an amazing running community and support, especially with my friends with the DC Front Runners.
Recent Stories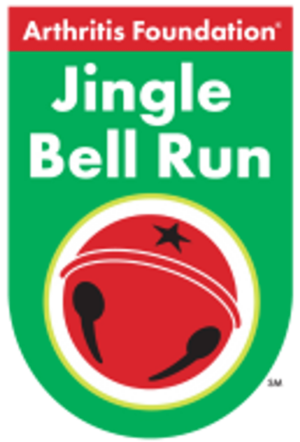 Be part of the original festive race for charity and signature Arthritis Foundation holiday event! Wear your favorite holiday attire and together, we'll jingle all the way to a cure! Register as an individual or bring a team of friends,