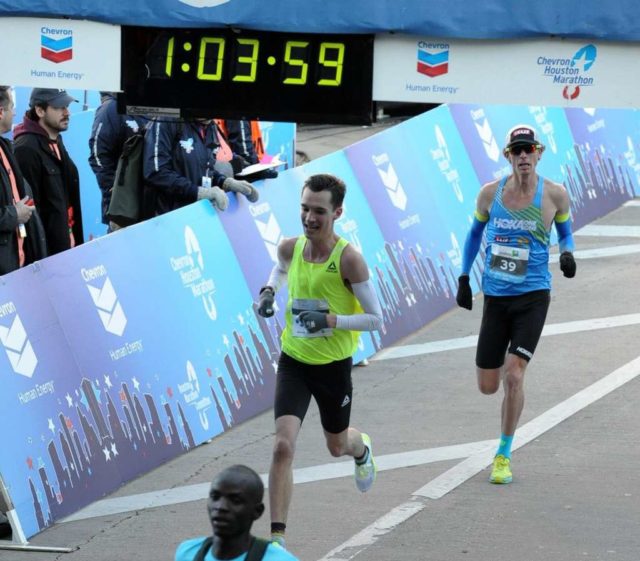 If Chase Weaverling didn't think he was going to qualify for the US Olympic Marathon Trials before starting the Houston Half Marathon, it definitely didn't help his confidence when he hit the ground a half mile into the race. He clipped the heels of a marathoner he was drafting off of, then stumbled once that the marathoner went down.
Weaverling, who graduated from Poolesville in 2014, was a few months into his post-collegiate running career following a solid four years at the University of Virginia.
But in less time than it would take to explain that his Reebok Boston Track Club is actually based in Charlottesville, he was back on his feet and catching back up to a pack which included two pacers aiming for 1:04:00. That's the time he needed to qualify for the trials and that's what he ran, tying him for the slowest time qualifier, and at 23, making him one of the youngest. It was another example of him making the most out of his opportunities.
"I just told myself not to freak out," Weaverling said. "My left side was pretty scarred up, but I didn't even realize I was bleeding until afterward."
When he started running in 2010, he wasn't initially the fastest freshman on Poolesville's team, but by the end of the season he was enough of a contributor that he took a trip to New York for the Foot Locker Northeast Cross Country Regional meet with some of his older teammates.
"He wasn't an amazing runner, he was a scrawny freshman, but a few weeks in when we got to know him better we became pretty close," teammate Jordan Psaltakis said. "He didn't have the natural talent you see in a true phenom, but he loved the sport and worked at it."
After his freshman year, Weaverling joined teammates Psaltakis, Eric Holmstead, Joey Werble and coach Presad Gerard to run the Laurel Highlands Ultra Relay in Pennsylvania.
About a year after first making the Poolesville varsity seven, Weaverling started leading the team at more races than he didn't. The confidence added up.
"You could see something click for him in workouts," Psaltakis said. "He knew he belonged up there."
In the grand scheme of the postseason, the Montgomery County championships don't mean anything, but they are often the proving ground where careers are made. That happened twice for Weaverling. First, after a sophomore spring of trying to break 10:00 in the 3200 meters, he ran 9:37 at the county championships for third place.
"I was so excited, on my cooldown I was talking to Gerard about how I was going to run Division I and he had to tell me to calm down, I wasn't that good yet," he said.
The next, Psaltakis remembered, was the county cross country championship in 2012.
"The epic showdown between him and (Clarksburg senior) Will Bertrand," Psaltakis said. "We used to joke that Chase had no foot speed, he'd get outkicked by absolutely everybody.
Weaverling outkicked Bertrand by 0.34 seconds, with a 35-second gap to third place.
"That was the first time he outkicked someone," Psaltakis said. "That's what he was missing, but he has it now."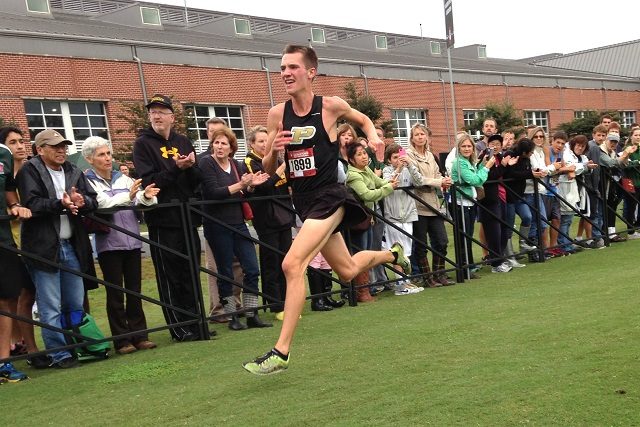 Though plantar fasciitis limited him to seventh in the state as a junior in cross country, he came out of that on a tear, winning state titles on the track at 1600 meters and 3200 meters and dominating the 2A cross country state meet at a senior. His bid for the Foot Locker Cross Country Championships fell 0.3 seconds short at the Northeast Region meet, but his body of work was enough to get him recruited to the University of Virginia. He was later named Cross Country Athlete of the Half Decade (2010-2014) by MoCoRunning.
"Pete Watson took a chance on me and I tried my best to make good on that," Weaverling said.
He debuted at the NCAA southeast regional, notching an all-region finish and helping Virginia to a team championship. A week later, he was the Hoos' fourth man at the NCAA Championships. He closed out his freshman year with a third place finish at the Pan Am Junior Games in the 10k.
"Coach Vollmer used to always joke that I'd be a 10k runner in college, but I didn't want to believe him," Weaverling said.
Though he admits his development stagnated — his 10k PR improved by just 0.92 seconds from his junior to senior years — he came out of college with PRs of 8:11.28 in the 3k, 13:54.46 in the 5k and 29:28 in the 10k. He also led the team at the 2015 NCAA Cross Country Championships with a 55th place finish, and earned a partial athletic scholarship.
When plans for a fifth year at UVA didn't pan out, he put doctoral programs in mechanical engineering on hold and looked into post-collegiate training groups. The day he was planning to commit to one, he got news of Reebok's new Charlottesville-based training group through a teammate who was competing in Europe and investigated it.
"I emailed coach (Chris) Fox and told him I don't need anything, I just want to train with you guys," he said. "They've given me a little gear and travel money."
Now he works out with a slew of former Syracuse runners who ran for Fox in college, some of whom, like Phil Germano and fellow qualifier Colin Bennie, are working their way up to longer distances and others, like Fredericksburg's Tim Young and Philadelphia's Martin Hehir, offer marathon experience.
"It's great to have a bunch of guys to just roll with, because not everybody has that on the pro level," Germano said of the Reebok group.
Weaverling is living in the same house as he was in college, making coffee at Shenandoah Joe and running a training load that is considerably more favorable to him on roads he knows well. After years of three workouts a week plus a long run, he's now doing at most two, which gives him more time to recover.
"It's a lot more strength-based stuff, hilly tempos, but I haven't had a lot of the little things that used to interrupt me for a few days every now and then," Weaverling said. "Oddly enough, I'm healthier now than when I had access to a training room, which leads me to believe it was a little mental."
He's also racing less than in college, opening up with a pair of shorter races at the Richmond 8k and Alexandria Turkey Trot 5 Mile (which he won) in November before heading into Houston.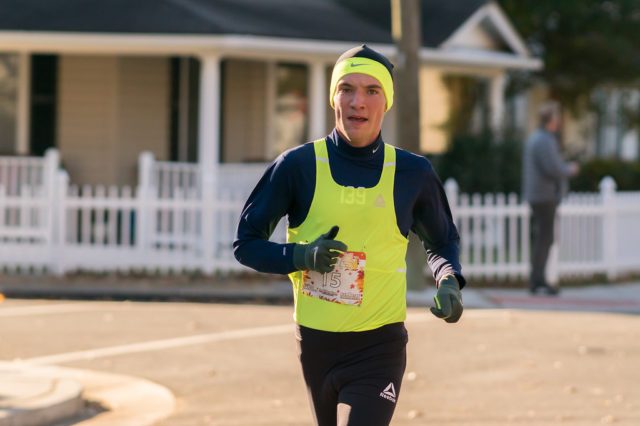 "Going into that race, I didn't feel like I had knocked any of the workouts out of the park," he said. "Training has been consistent over the last year- I'm getting in the miles, getting in the work."
He put that to the test in Houston, where he just planned to hang on as long as he could.
"I figured it would start to catch up with me around 10k, but it never really hurt," he said.
He hit 5k in 15:14, sped up at bit for 30:18 at 10k, then to 45:29 at 15k and 1:00:44 at 20k before out kicking ultarunner Jim Walmsley and 2014 and 2015 Credit Union Cherry Blossom Ten Mile Run champion Stephen Sambu. Though his chip time was two seconds faster, the clock time determined his trials qualification .
"It was a perfect day, one of those days where you feel like you could just float forever," he said.
He'll float a little longer February 29, but probably not before. He most likely won't run a fall marathon, and start up his trials preparation in October or November.
He plans to stay in Charlottesville through the trials before considering his future in engineering.
None of this success has been a surprise to Psaltakis, who early on saw traits in Weaverling that would become strengths.
"He has a very good perspective on everything – he's simultaneously cocky and humble about his running, but he also knows how to turn off the running part of his mind when it's time to do something else," he said. "A lot of runners can't do that, they dwell on things. He's confident enough to trust the work he's done. And he's put in a lot of hard work."