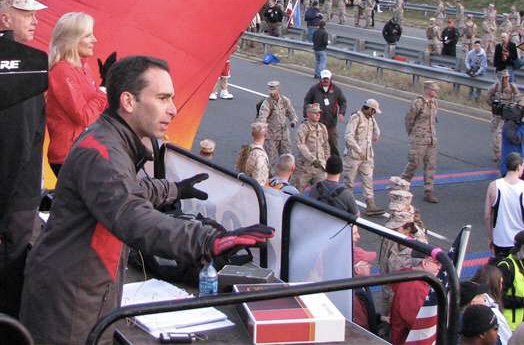 You can hear it bellowing from speakers as soon as you arrive at a race: directions to gear check, instructions to get into corrals and details about the race course. And when you finish: encouragement, commentary and pleas to keep moving beyond the finish line.
Race announcers play a huge role in running events — from keeping the race-day timeline to interacting with spectators and informing and encouraging participants. And there are scores of D.C.-area announcers who dedicate their weekends to help make races run smoothly and see that runners have fun and feel a sense of accomplishment no matter their finish time.
Creigh Kelley's voice may sound familiar if you've run one of the more than 20 races he has announced for around the country, including the Chicago Marathon, the Walt Disney World Marathon or many in the popular Rock 'n' Roll marathon and half marathon series. In the D.C. area, he serves as the announcer for the D.C. Rock 'n' Roll races as well as the Credit Union Cherry Blossom Ten Mile race.
Kelley, who has been announcing just shy of 40 years, said race announcing days can require long hours, but you can never let your energy dwindle.
"You're there at the very beginning until the mic drops," said Kelley, who is based in suburban Denver, Colorado. "You have to be the most enthusiastic person around."
Kelley said his announcing career was a logical spin-off from his days as a U.S. Army Combat Officer and his interest in running. He opened a running store in Colorado in the '80s and got involved in area races to help promote the store. It was there he sensed an opportunity.
"I'd go to races and didn't think there were many people talking. And if they were it was on bullhorns. I just thought it was stupid," Kelley said. "Because I had been comfortable being in front of groups as a lieutenant and captain, and never was mic shy, I said, 'Mind if I get on the mic and talk?' And people liked it for some reason."
Now Kelley serves as a race announcer for up to 25 events a year — most of which are half marathons or marathons. While each event is different, there is a sameness to them, he said. The objectives and messaging may be similar, but he can't take his foot off the gas.
"That moment, that day, has to feel as special to me as it does to them," he said. "That runner has made a commitment, so I've got to make them feel like it's all about them and it's all about the race — you have to make them feel jazzed."
That enthusiasm and understanding of a race's theme is crucial to announcing, said Marc Goldman, who has been announcing for a variety of sporting events for more than 20 years. He's been with the Marine Corps Marathon since 2002 and announces for its series of races as well as many of Pacers' events.
"I want to enforce the theme, give people a framework to engage in the experience — I do that through tone and language and music and just building excitement and energy around the feel of the event," said Goldman, a Fairfax resident. "There's a different theme between down-and-dirty with our mud run and patriotic and reverent with the marathon — so it's striking that right tone."
Goldman began his career as a radio DJ in Pennsylvania. After moving to D.C., he put those talents to work becoming the voice of the now-defunct Washington Warthogs indoor soccer team and later calling Georgetown University basketball games. When he joined the Marine Corps team, the event series expanded and he filled the role as race announcer. You can hear him at the start and finish line of the marathon, which he has announced for since 2008.
Announcing isn't always as easy as it looks, Goldman said — it requires a certain level of finesse.
"It's a battle to get people to appreciate good announcing instead of just talking — I try to work hard at it as a craft so there's showmanship to it and it's informative and interesting and not just rattling off information without creating a sense of place and the feel for the day," he said.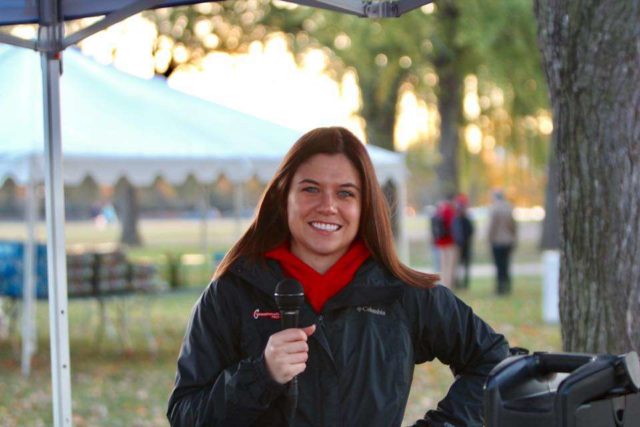 After a running career at Robinson, Kelly Kavanaugh carries a different baton these days – a microphone. Photo: Courtesy of Kelly Kavanaugh
On your mark, get set …
Runners and spectators need certain information as the race is set to begin, said Kelly Kavanaugh, who has been a race announcer with Potomac River Running events since 2013. She announces about 50 road races a year — most of which are 5K and 10K races. 
Before a race starts, Kavanaugh — a Fairfax resident — is focused on informing participants about course and race details and hyping them up for the race ahead. She learned the ropes from her mentor Keira D'Amato, who announced at PR events. Kavanaugh worked on the timing crew and helped out D'Amato any way she could, and when she moved, Kavanaugh filled the position.
In addition to announcing race details, Kavanaugh serves as the event DJ as well — playing songs that appeal to runners and spectators young and old and setting the mood for the race to come. At first it was a challenge to serve the dual role, but Kavanaugh said it gets easier as the years go by.
Race announcers use creative ways to inform runners, too. Kelley said he keeps the audience and runners involved by constantly chatting with a co-announcer. 
"It's a conversation, so I might say, "It's dark out here, where are those portable restroom?' and that can help elicit a helpful response. People hear a question and are looking for an answer." he said.
Ahead of a race's start "it's pretty scripted," Kelley said: there's a timeline and a series of things that need to happen to get the race started on time. But "once the race starts, the edge is off and we can have more fun."
Then the focus shifts to encouraging runners who are coming in to the finish line. Most race announcers use spotting maps and tracking technology to help call out finishers by name and push and congratulate them. That's allows runners to feel like they've had a personalized experience, Kelley said.
"If it's Sarah or Mary or Jody, they think they are the only one out there. They will look at you and say, 'He's talking about me' and their eyes light up. And you start celebrating them … They are in the last 100 meters of the race, and that's such an important time," Kelley said.
He said he's always trying to pick out something to make participants feel special — their shirt, their running club or a cause they are supporting.
"You have to find a way to identify them and make them feel special in that moment, and then move on to the next person," he said.
Some runners coming into the finish line may be strong and giddy, while others are struggling. Kavanaugh said she uses her positivity to help motivate people whether they are having a PR day or fighting through pain.
"They are out there running and that's more than people who are staying home. I say things like, 'Even if [you] made it to the course, [you] already won.' I throw in some humor — if they don't look like they are enjoying the race, I try to make them laugh," she said.
Goldman also employs some humor, most of which is observational rather than canned jokes.
"There are some announcers who have booming voices and that's the role they play. I try to get up there and speak with authority. I feel like I'm talking to people and they are enjoying the banter as I'm enjoying the event and watching it unfold. I'm offering commentary and insight, if I find things that are funny I just offer that up," he said.
Once runners cross the finish line, announcers are asking them to keep moving through the chute, grab their gear and reunite with friends and family in a specified location.
Announcers are communicating more than just race information, they are also reminding participants and spectators to thank a volunteer or those in uniform who are helping make the race run smoothly. Kelley said this action creates a well-run race and appreciation for the running community.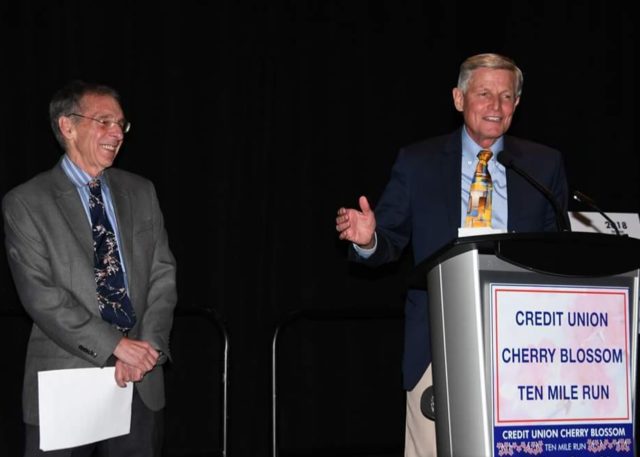 Training for the race
Much like training for a race, the announcers have to do some serious preparation to do to be ready for the big day.
It requires understanding the course map, knowing the start line area and answers to important questions about bag check and race-day timing, Goldman said. He puts himself in the runners' shoes and walks through how they're going to get from places like shuttle buses to packet pickup to gear check and to the start line — just so he can anticipate any questions or concerns they may encounter.
"Do your homework," Kelley said. It's vital to know most information on the race website. And it there's an elite field, he works to know all of their stats. Also, knowing sponsorship information and any scripts surrounding that makes him feel more prepared.
The race announcer should know the race's emergency event plan — whether it's brought on by bad weather or a security issue, Kelley said. If there's an emergency, it's a race announcer's job to help communicate the plan and keep participants and spectators calm, safe and informed.
Prep work, traveling and weekends dedicated to events can be time consuming. And this is not most of these announcers full-time jobs either — Kavanaugh is a Fairfax County Public Schools teacher and running coach; Kelley is a race director for Colfax Marathon in Denver and previously an elite athlete agent; Goldman's jobs with Pacers events as well as other D.C.-area announcing gigs fall outside his Marine Corps Marathon duties.
Kavanaugh said that while she enjoys race announcing, helping kids is her real passion — and announcing "is fun job on the side to do something supplemental."
Kelley said announcing has always been a secondary source of income and helped put his kids through college.
"I think most seasons announcers, we cannot imagine anything more fun or interesting than being an announcer," Kelley said. "You mean you'll pay to me do what I love doing? That's just such a bonus."
'It's this orchestra I'm conducting'
There is a lot of work that goes into announcing at a race, but the payoff is great, Kavanaugh said. She loves making a positive difference, challenging participants and helping people enjoy the race — and hopefully come back again.
For Goldman, it's about moving the crowd — both emotionally and physically.
"My favorite moment of announcing is standing there before the start and sensing the rise in energy and watching people — it's this orchestra I'm conducting. And then people go and a lot of it occurred because of directions I have given people," he said. "I get great satisfaction in seeing people go, and then I say, 'OK now we've got to bring them all back.'"
Kelley says he savors when an event is over and he receives positive feedback from the organizers and participants. But runners at the finish line can often be an indicator of if he's done a good job, he said.
"I'm happiest when I know I've connected with people who are finishing," he said. "When people are finishing with a smile and their arms up in the air, you know you've made it extra special to them."
Recent Stories

Both 5K and 1 mile courses are USATF certified. The 5K course has some moderate hills. The 1 mile course is flat making this a perfect PR course. We are really looking to get a broader participation base.
Funds go