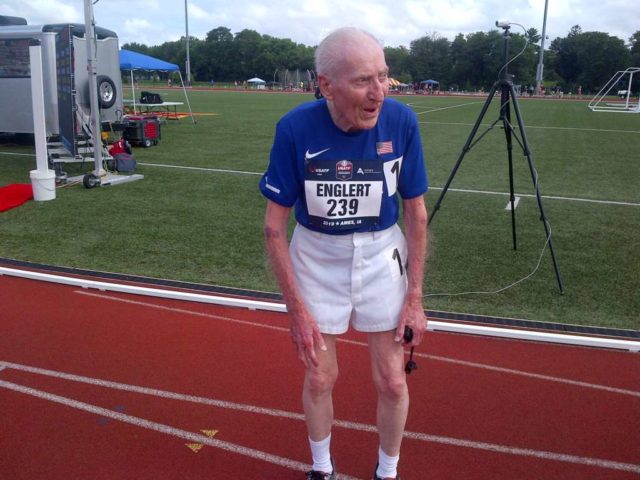 Springfield resident Roy Englert, 96, ran 42:20.33 to shatter the 5k world record for men 95-99 at the USATF Masters Outdoor Championships July 11 in Ames, Iowa. The previous record was 50:10.56.
This article was initially published in June 2018.
At age 95, Roy Englert may not have competition in his age group. But he does have the clock.
"I was running against time, actually," Englert said of his recent performance at the USATF Masters Indoor Track & Field Championships, where he broke three age group world records.
It isn't difficult for him to compete in multiple events during a meet, he said.
"It's fun. It's not fun while you're doing it," he said, laughing. "It's fun when you're finished. It's hard work, actually."
At the three-day indoor championships, held in Landover, Md., in March, Englert ran for the Potomac Valley Track Club. He set world records in the 800-meter, 1500-meter and 3,000 meter races, with times of 6:03.84, 12:07.63, and 26:01.24, respectively, according to USATF.
"Englert's time crushes the previous record by nearly four minutes," a USATF news release said about his 3,000-meter time.
In addition to those three victories at the championships, Englert also won his age division for the 400-meter race with a time of 2:36.29, although he noted he was the only one in his age group at the meet.
Englert lives in the Westminster at Lake Ridge Retirement Living Community in Lake Ridge. He does much of his running on the treadmill and only has to walk a half-block to the fitness center for those treadmill runs, he said.
"I try to train at least three days a week, and if I've got competition coming up, then I do at least four days a week," he said.
He usually runs about two to three miles on his running days, he said, upping the mileage to three or four if a competition is nearing. He'll also use an indoor track if he's getting close to a meet.
Jay Wind, secretary for the Potomac Valley Track Club, said at meets, the announcer will make a point to note if a world record has been broken.
Wind is 68 and estimated he's known Englert since he was about Wind's age — nearly 30 years.
"Roy is an avid competitor," Wind said. "He's a joy to be around. He's always happy and ready to jump into whatever event is next. And he's a great team member."
Craig Chasse, the club's president, said Englert contributed to three team wins for the Potomac Valley Track Club at the USATF Masters Indoor Track & Field Championships — in 2013, 2015 and 2018.
The club is now open to all ages, but Chasse said when it was founded in 1972, it was known as Potomac Valley Seniors and geared toward masters runners. Even though runners of any age can now be part of the club, Englert isn't the only one who's older than 90.
"We are very lucky in the D.C. area to have such a large cluster of really dedicated athletes over the age of 90," Wind said.
In addition to Englert's successes at USATF meets, he has also competed in each of the National Senior Games, held every other year, since the Games started in 1987.
As one of eight people who had competed in each of the National Senior Games, he was honored as part of "The Great Eight" at the 2017 competition in Birmingham, Ala., he said. He received a shirt and a medal as part of this honor.
It's things like this, he said, that make the sport fun — along with perks like travel.
"Best thing about it is it gave my wife and me an excuse to go travel all over the country," he said.
Englert said he began running at age 60, after reading the book Aerobics by Dr. Kenneth Cooper. He began by running around his basement, and he at first struggled to run a quarter-mile, he said. He decided to enter a local meet, where he ran the 400- and 800-meter races and won a both a gold and silver medal, he said.
Now, his favorite event to compete in is the 5,000-meter race.
Englert's outdoor 5,000-meter time of 36:13.57 as a 91-year-old in Winston-Salem, N.C., in 2014, earned him the American record in the men's 90-94 age group, according to the USATF website. He's also listed as an American record holder in the men's 90-94 age group for the indoor 3,000 meters and the outdoor 4×100-meter relay and 4×400-meter relay.
In 2015, five athletes ages 90-plus formed teams of four to earn three age group world records for the Potomac Valley Track Club in the 4×200-, 4×400- and 4×800-meter relays — an effort that both Wind and Chasse spoke about. Englert was part of each of those indoor teams, as well, USATF records show.
So what's it like to be a world record holder?
"It doesn't feel any different," Englert said — although he did say it's nice to see.
Englert credits his health at age 95 in part to the fact that he has kept running.
"My only advice to them is just keep doing it," he said of his advice for younger runners. "Keep moving. Keep doing it."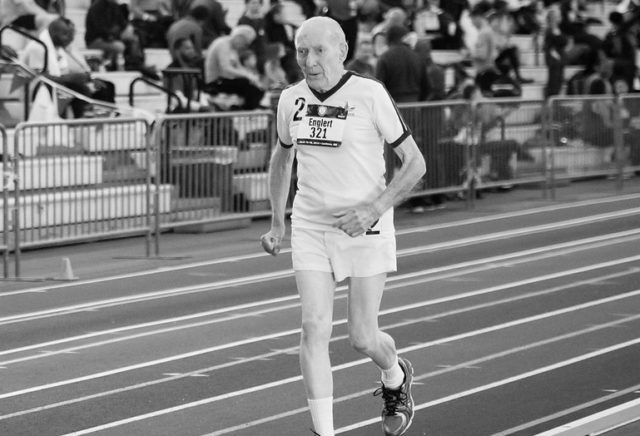 Recent Stories

Both 5K and 1 mile courses are USATF certified. The 5K course has some moderate hills. The 1 mile course is flat making this a perfect PR course. We are really looking to get a broader participation base.
Funds go