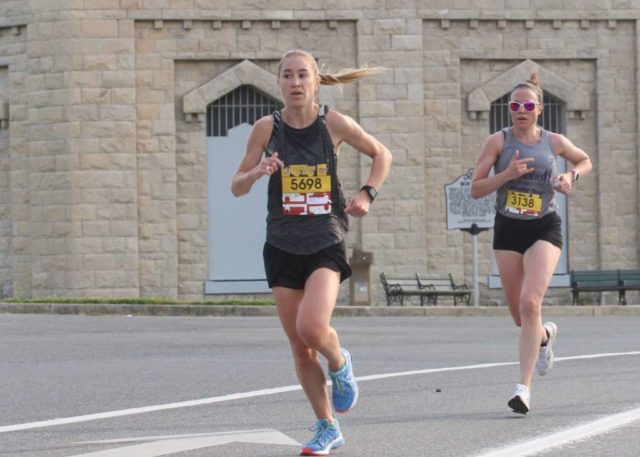 Name: Natalie Atabek
Self-described age group: F 25-29
Residence: Washington, D.C.
Occupation: Director of Communications at AFS Financial Group
Why you run: I run because I never feel more like myself than when I'm running. No matter what kind of day I'm having, I know that once I start my run, nothing else matters and everything else can wait until I hit stop on my watch.
When did you get started running: My first memory of running is kindergarten track. I think that involved more games than actual running on the track but I remember always being so excited for practice. My mom was also a runner when I was growing up, and I would join her for the last mile or so of her runs around our neighborhood during my younger years. In middle school, I started joining her for three to four miles of her runs whenever I didn't have practice for the other sports, and before I knew it, I fell in love with running.
Have you taken a break from running: The only breaks I've taken from running have been because of injury; and those have been quite difficult times for me. I honestly cannot ever imagine having running not play a primary role in my life.   
Training shoe: Asics Gel Nimbus
Coach or training group: I've been self-coached since college, but my boyfriend has started to write me weekly plans to help me re-incorporate speed work into my training. It's been about five years since I've involved speed work in my training, so I'm excited to see where that takes me.
The hardest race you've ever run: The Philadelphia Marathon in 2015. It was my first marathon, and I very much underestimated the challenge of the distance. The race left me excited to really train for the distance and feel ready for the next time I toed the line for 26.2.
Most adventurous decision you've made with your running: I spontaneously signed up for a 50k trail race this November. It will be a fun introduction to the ultra-trail running scene!
Running mentors: My college teammates and best friends, Abigail Thibeault and Allison Kelley. We've put in countless miles and races together and supported each other through all the ups and downs that running sometimes brings. We're each other's number-one fans and support system, and they inspire me through their training every day. I also immensely look up to my boyfriend for daily guidance and motivation. He's always there for me to talk me through a bad or tough run, meet me with Gatorade on long runs, and celebrate with me after the good runs and races.
My favorite place to run in the D.C. area is: Rock Creek Park and Klingle Valley Trail (the Klingle hill is tough but rewarding!)
Favorite local trail: Western Ridge Trail in Rock Creek Park.
My best race was: This year's Baltimore Ten Miler. It was my first post-collegiate win after being the runner-up in quite a few races.
Favorite local race: The Bethesda Turkey Chase. My mom ran this race when she was pregnant with me!
Ideal post-run meal: A breakfast sandwich or breakfast burrito with an IPA. I'm a huge fan of all breakfast foods and craft IPAs! 
Favorite flavor of gel, gu, etc: The Espresso Love Gu – the little boost of caffeine always feels good in a long race.
Pet peeve: Headphones that don't stay in! I enjoy listening to music or podcasts when I run by myself, and it's always a bummer when you have to keep shifting your headphones around.  
Goals: I really want to have a breakthrough in the marathon. I've only run two marathons and got injured training for my third, so I am very eager to figure out the distance and snag a sub-3 PR.
Your advice for a new runner: Enjoy the process and find a positive in every run. Running will undoubtedly be difficult and challenging – at times, more often than you would like it to be – but it is also the most rewarding experience. You will never regret going for a run.
Favorite running book: The Extra Mile, about Pam Reed and her dominance at the Badwater Ultramarathon.
Song in your head during a run: Right now, it's "Rainbow" by Kacey Musgraves – ask me this question a few weeks from now and the answer will most likely be a song from a totally different genre. My playlists can be quite eclectic at times.
Have you dealt with a major injury: Yes – unfortunately quite a few, but I have always been able to bounce back stronger than before, and every injury has made me more and more thankful for having the ability to run when I'm healthy.
Running quote: "To give anything less than your best is to sacrifice the gift." – Pre (a classic quote than never gets old). I also have a poster signed by Shalane Flanagan with the words "Dream Big!" on it, and I often think of those words when I set my running goals for the year.
Why is the D.C. area a great place to be a runner: The running community and the amazing network of trails and running routes in the area. The camaraderie here makes you feel like you have an automatic network of friends, teammates, and fans every time you step out the door for a run or toe the line for a race.   
Recent Stories

Both 5K and 1 mile courses are USATF certified. The 5K course has some moderate hills. The 1 mile course is flat making this a perfect PR course. We are really looking to get a broader participation base.
Funds go