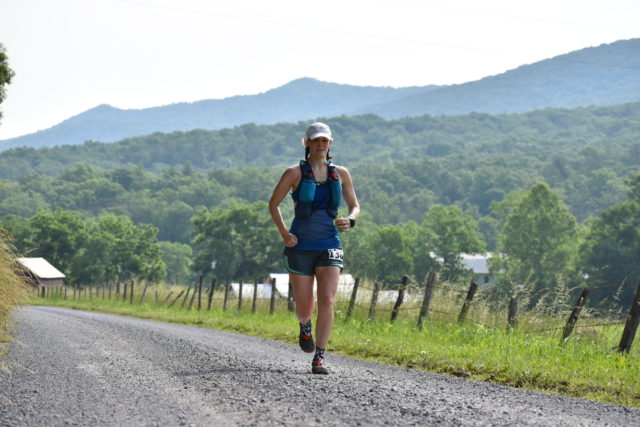 During the pre-race brief, organizers of the Old Dominion 100-Mile Endurance Run described the race as a battle of the runner against the course against the clock.
Runners have to conquer 100.01 miles of all types of terrain, 14,000 feet of elevation gain, all in Virginia's oppressive early June heat and humidity. To count as a finisher, they must complete the course in less than 28 hours; but those who want to go home with a coveted silver belt buckle must do so in less than 24.
Runner. Course. Clock.
My goal was ambitious, I wanted the sub-24 finish and didn't intend to go home without my own silver buckle.
A sub-24 100-mile finish is a little like a sub-4 marathon; it's a common milestone, but tough to hit. Old Dominion would be my seventh 100-mile start and I'd only finished sub-24 once. That happened at the Umstead 100, a race with easier terrain and less elevation gain, on a day where the high never topped 50 degrees.
So in June I went to battle the most prepared I've ever been for race to give myself the best possible chance of finishing fast. I knew what to expect from the course and had trained specifically for it, I was ready for the heat, and I had lined up enthusiastic crew to get me through the aid stations as fast as possible.
Course-Specific Training
Ultra courses fall on a spectrum of "runability," which boils down to how one course compares to another. A mile on buttery smooth pine needles with gradual grades is more runnable than a mile on steep and rocky terrain. Throw "technical" on top of either and you can expect sharp rocks, roots, and other obstacles that require agile feet.
Most courses lean one way or the other and it's crucial to tailor your training to the type of trail you'll be facing. Courses with monster vertical gain require lots of time power hiking up hill, while flat-and-fast courses call for miles of endurance-effort training to prep you for pressing forward on tired legs.
But Old Dominion is all of it: Rolling Shenandoah Valley country roads, ATV trail, technical Massanutten Mountain single track trails, and everything in between.
Because of this diversity, my coach and I knew I needed to put in a variety of types of training so I could conquer all parts of the course. We knew I needed endurance strength to run for miles and miles (and miles) late in the race when it would feel so good (SO GOOD) to walk. And we also knew I needed to be able to climb strong and move efficiently on the race's 30+ miles of grueling Massanutten single track.
And it was going to be HOT. I spent several weeks leading up to the race running outdoors in my winter running gear to mimic running in June's sauna-like temperatures.
Training-wise I felt ready, or as ready as you can feel starting down the start line of a 100.
But in addition to the course challenges, I knew I needed to plan for all the other external factors
that come with running 100 miles: Fueling, hydration, heat management, foot care, and more.
For this I knew I could use some help.
Crew and Safety Runners
I'd met Jackie Fritsch the way I meet most of my running friends: on trail. She and I crossed paths last summer and reconnected at March's Lower Potomac Marathon in Piney Point, Maryland. She was going to be out at Old Dominion with her boyfriend, Walt, and asked if I'd be interested in crew support or a safety runner.
Unlike most 100s, Old Dominion doesn't allow pacers — non-registered runners who can join you on course, typically from the halfway point on. Instead, runners can have a "safety runner" to accompany them up and over the very technical — usually in the dark — Sherman's Gap and Veach sections from Miles 75 to 86.
So did I want help? YES.
Jackie met me at several pit crew points throughout the race, always ready to trade my empty water bottles for new ones filled to the brim with ice and Tailwind. She reminded me to change my socks, gave me intel on upcoming sections of course, and kept tabs on how I was doing against the clock.
She was a task-focused machine and got me in and out of the aid stations in mere minutes, which saved me valuable time throughout the day. And I knew that at some point she'd jump in to run with me which would be a much-needed mental boost.
All I had to do was keep running.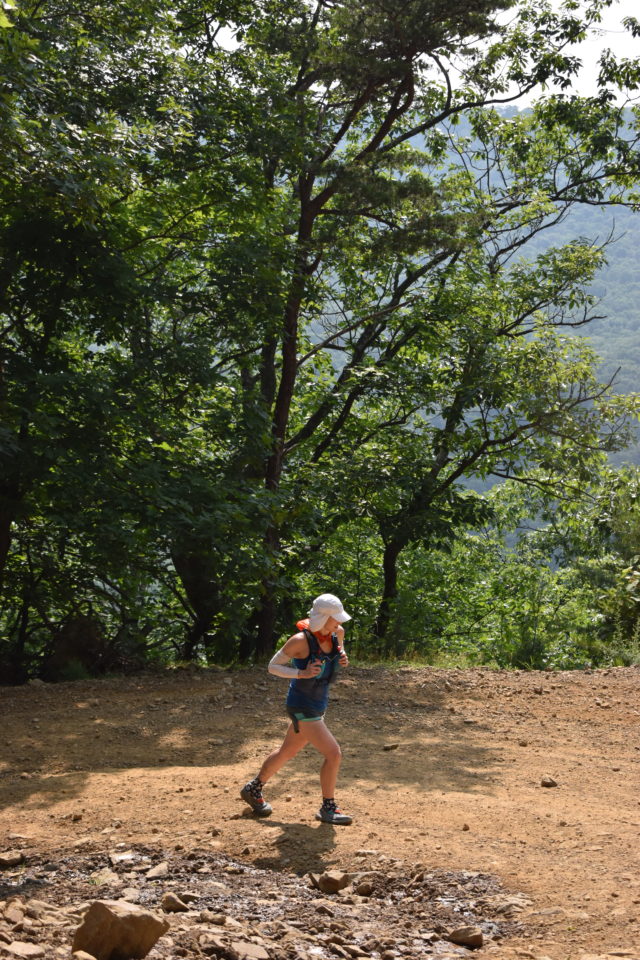 Sara Davidson climbs mile 57 of the Old Dominion 100. Photo: Karsten Brown
Runner. Course. Clock. Check check check.
Did the prep pay off?
When I finally hit Mile 75 I was hot, tired and a little bored from running completely alone most of the day. But I'd been running most of the day so I took a minute to savor that I was at Mile 75 in the daylight.
Running into the loud and enthusiastic atmosphere of the Elizabeth's Furnace aid station was a huge mood booster, as was knowing I wasn't leaving alone. I grabbed some food, picked up Jackie, and we set off toward Sherman's Gap as the sun set.
From there we had to climb the rockiest, steepest section of trail I'd seen all day. We climbed strong, or at least it felt strong, and I knew that when Jackie and I parted ways at Mile 86 I'd have only a "Sunday run" to the finish. Those final 14 miles up and over the last mountain would be second-to-last test of my training.
The last test would be if I could still run my way back down the flat roads of Woodstock to to the finish.
Surprisingly — or not, given all my focused training — I could.
The race ends by running a loop of the half-mile horse track inside the fair grounds. I couldn't see them, but I could hear my friends cheering me alllllllllll the way around that track. That was the farthest half mile I've ever run but I managed to find one last reserve of strength and power on to the finish line.
I finished in 22:25, a time wildly faster than I'd ever though possible and a full three hours faster than my Western States time from last year.
All the prep work, especially course-specific training, paid off huge. Maybe there is something to this specificity thing after all.
Lessons Learned (for any race)
Know your course.

Read race reports, devour the official website, and

—

if you can

—

go do some sightseeing runs on the actual course. Knowing what you

'

ll be up against will help focus your training for your exact race.

Have a flexible plan.

I like to decide certain things ahead of time, like when I

'

ll change socks, where I hope to stash my headlamp, or if I

'

ll want dry clothes. But then be prepared to adapt because nothing goes as planned, ever. Still, having a loose idea of what you want where will help you be more prepared.

Stay local, because suffering is better with friends.

It

'

s nice to know that you can run solo if you need to, but running is so much more fun with friends.

Go crew or pace.

We

'

ve written about the benefits of being an official race volunteer, but crewing and pacing for others is another great way to learn from experienced runners. I

'

m more than a decade into trail running and still learning new tips and tricks from others. Plus spending time at a race you might run in the future will give you valuable intel for when it

'

s your turn to pin on a bib.