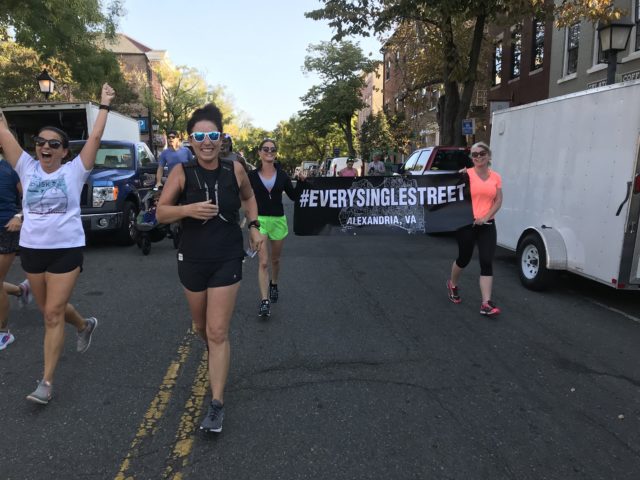 If you happened to be at the Old Town Farmers' Market or one of the first to be strolling down King Street at the annual art festival last Saturday, you may have seen a small, spirited group celebrating a milestone occasion unbeknown to anyone but them.
Stephanie Lasure, the Alexandria woman who earlier this year set out to run every single street in the City of Alexandria, ran the last mile in the 330-mile journey that has taken her through every inch of the place she calls home.
She had been inspired by a professional ultrarunner she follows on Instagram, Ricky Gates, who last year set out to run every street in San Francisco, ultimately covering over 1,300 miles in 47 consecutive days. The effort caught the attention of runners worldwide, including Lasure.
"As runners, we always travel to go see a place. We want to pick a marathon where we haven't been or want to go find another place to go run. Every time we go to a new city, the first thing we do is go run to get to know it," Lasure told RunWashington in April. "What a great way to just reconnect with your community and your neighborhood — and get to know where you live. It's been a great way to connect with my home."
Several of Lasure's friends and neighbors joined her for the final mile, which took them from the southwest corner of Waterfront Park, north on Strand, a quick left on King to North Union, down a dead-end street on the northern end of Founders Park (this was, after all, an effort to run every single street), and then a few blocks on Oronco until the final stretch down North Fairfax.
All the while they carried a banner reading "#EverySingleStreet Alexandria, VA." The banner — along with the group's "Join us! She's running every single street in Alexandria!" callouts — drew curious glances, a few thumbs up, and even a couple of runners out training for the MCM50K.
The run ended at the corner of King and Fairfax near City Hall, a nod to the place where, 10 months earlier, Lasure had picked up a zoning map to use as a guide as the slowly checked off each street in the city. A copy of that map hung on the wall of her home in Old Town, while she cut another copy into smaller pieces that she carried during each run to ensure she didn't miss any streets.
"It's going to be very weird not to run with a map because I've been carrying this around," she said, holding up the final piece of the puzzle. "It's like a little safety blanket."
When Lasure finished her #EverySingleStreet journey at approximately 8:15 a.m., she was overcome by emotion, crying as she hugged those that had support her along the way.
"I'm a little sad it's over because it's been such a great, amazing journey," she said, adding that people have continued to ask her what's next. "I'm just going to sit here and enjoy this for a while."
When Lasure reflects back on the last 10 months of running, she's thankful for the opportunity.
"It's just made me fall in love with running all over again," she said. "I just love our little town. Every piece of it, every single street."