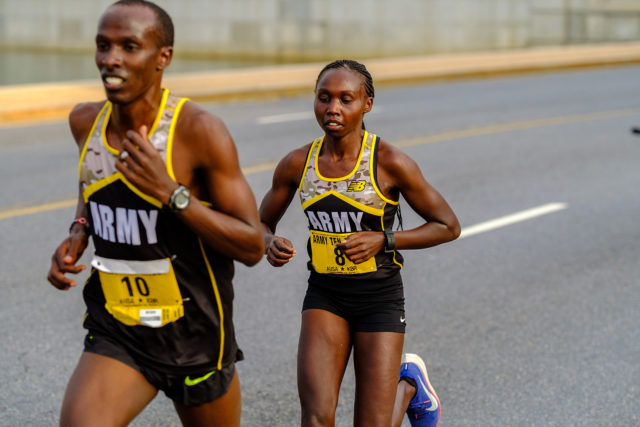 Army Spec. Elvin Kibet did in her first try what her husband, Olympic 10k runner Shadrack Kipchirchir, couldn't in three — win the Army Ten-Miler.
And thanks to cool weather that was a treat to runners who had suffered through the last two muggy editions, she broke Kerri Gallagher's event record, running 54:05 to Gallagher's 54:50 from 2014 on a course that was altered last year to avoid the deteriorating Arlington Memorial Bridge. She and men's winner Lawi Lalang (48:38) are both members of the Army's World Class Athlete Program. They were also college teammates at the University of Arizona.
Army Ten-Miler
Oct. 13, 2019
1.Lawi Lalang 48:38
2.Bernard Keter 49:04
3.Macdonald Ondara 49:31
1.Elvin Kibet 54:05
2.Hannah Cocchiaro 56:37
3.Maura Linde 56:59
"I wanted to win and I wanted to run faster than last year's winning time," Kibet, 29, said.
She targeted Susan Tanui's 56:33 and eclipsed it by almost 90 seconds, running away from Columbia. Md.'s Hannah Cocchiaro, 27, (56:37) and Sykesville's Maura Linde, 26, a 2020 Olympic Marathon Trials qualifier (56:59), from the start.
Her splits 5:20s for the first few miles felt comfortable until crossing the five-mile mark at 26:58 and starting to fall back from a pack she had been running with.
"I've never had so many people cheering in a race, but also other people running," she said. "Any time I would pass people or they would pass me, they'd say something like 'You got this,' and it got me going again."
She spent the next four miles chasing down Bryce Livingston, her commander.
"I wanted to at least catch up to him, if not beat him," she said. "I had a target on his back, and when I got him at mile nine, he encouraged me and I finished with a 5:15 mile."
The WCAP team, based in Colorado Springs, allows athletes to train full-time, but not without going through three months of basic training, which means putting their sport-specific work on hold. Kibet finished hers in March and was back racing in May, though her best result was a win at the Portland Track Festival in June with a 32:42 10k — the event in which she hopes to represent the United States at the 2020 Olympics, if she first runs 31:25 to qualify for the Trials.
"That's my goal," she said. "I want to be wearing red, white and blue in Tokyo. I run better when I am running for more than myself, and the Olympics is where I can do that for a country that has given me so much opportunity."
Being part of something bigger than herself motivated her to join the Army and WCAP. After her collegiate career at the University of Arizona, she found her motivating lacking and saw hints of jealousy seep in when she would watch Kipchirchir train and race.
"There were a lot of days I wouldn't even run," she said. "Now I know when I win, so does the Army, so does WCAP."
Cocchiaro ran her first Army Ten-Miler after transferring a bib from a registrant who couldn't run and used it as her final tuneup race before chasing the Olympic Marathon Trials standard (2:45) at the Richmond Marathon Nov. 16. She ran 2:52:30 at the Rehoboth Marathon last December.
Cocchiaro started running for fitness in college, and joined the Howard County Striders in the last year.
"Being able to run with some really fast girls is helpful," she said.
Those fast girls include Julia Roman-Duval and Caroline Bauer, both of whom ran under the Trials standard at the Chicago Marathon (2:35:41 for Roman-Duval, 2:44:03 for Bauer) while Cocchiaro was racing.
"I felt smooth throughout the whole race," she said. "I wanted to start out in the low 5:50s, but I felt smooth running 5:40s, so I ran like that as long as I felt comfortable."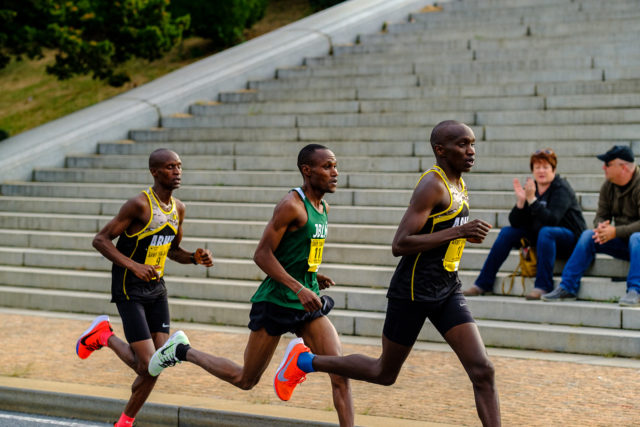 Lalang felt well-trained for the race, but was concerned about execution. He and WCAP teammate Bernard Keter ended up just fine, working together to run away from Macdonald Ondara in the fifth mile before the Lalang and Keter broke apart after passing the sixth mile mark.
"The course was nice, a few hills, but nothing too hard," he said.
Lalang, 28, finished in 48:38, Keter, 27, in 49:04 and Ondara, 34, in 49:31. Lalang and Keter are both specialists in the Army.
Lalang will be running in the World Military Games in China later this month, following a third place finish in the Pan Am Games 10,000 meters. He was also pleased with his 5,000 meter win at the USATF Distance Classic in May at Occidental College.
"It's been a great year for me," he said. "This was a good race and I feel like I am ready to go. Training has been consistent."
The fourth place finisher's training has been anything but consistent. Sam Chelanga, the NCAA 10,000 meter record holder, retired from professional running (turning down a contract extension offer by Nike) in 2018 in favor of a traditional military career. Now 34, he is a second lieutenant in the Army and a platoon leader stationed at Fort Jackson in South Carolina.
He decided to race the Ten-Miler to help his base's team. How much he would help was yet to be determined.
"I train whenever I can, but I don't have much time," he said. "I'll run three, maybe four days a week. If I have a good week, I can hit 50 miles.
"It's not something I spend a lot of time on, though. I have to go to work, and I come home tired."
He started with the leaders, coming through 5k in 15:10, before dropping back to ensure he was able to finish the race.
"I didn't really have a plan at all, I just went out and saw how it would go," Chelanga said. "I knew I wasn't in shape, so I just wanted to pace myself."
He was in shape enough to run 5:01 pace to finish in 50:18.
"I was surprised I ran that fast," he said. "It makes me wonder if I should try to come back for something, but I'm putting in a lot of work every day that's different from running. I really don't have time to train like I used to."
Recent Stories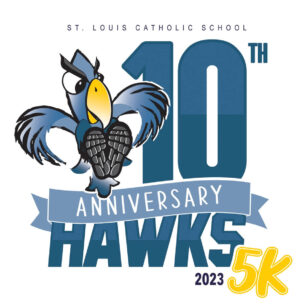 2023 will be the 10 year anniversary of the St. Louis Hawks 5K and Fun Run for Health & Wellness. The USATF certified course runs through the historic Hollin Hills neighborhood in Alexandria, VA.
The Hawks 5K goal, in conjunction