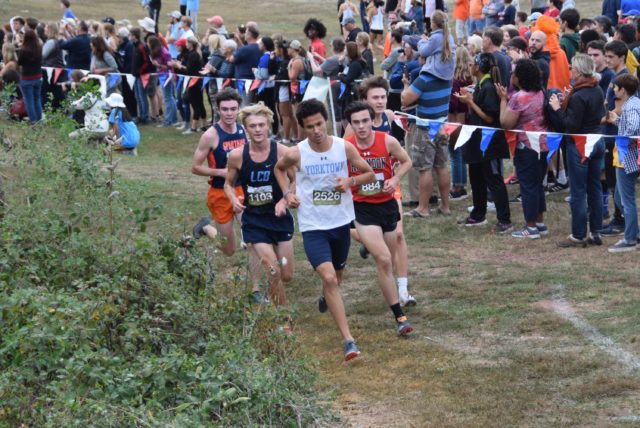 Tight packs kept spectators guessing throughout the Glory Days Grill Invitational, as no runner took over the race until very late, with some top-five finishes in boys and girls races jumbling even in the last 200 meters.
Ultimately, Yorktown senior Albert Velikonja won his second invitational of the season and Centreville junior Camilla McKinstry won her first ever invitational.
Glory Days Grill Invitational
Oct. 12, 2019
Bull Run Regional Park, Centreville, Va.
5k
1.Camilla McKinstry Centreville 18:51
2.Gillian Bushée Herndon 18:52
3.Zoe Edelman Washington Latin 18:56
1.Albert Velikonja Yorktown 15:44
2.Sean Stuck West Springfield 15:50
3.Colin McCauley Herndon 15:50 
The last time Velikonja crossed the line in first, at the season-opening Monroe Parker Invitational, he shook Herndon senior Colin McCauley loose with 800 meters to go. This week, McCauley wanted to try to tire Velikonja out well before that and pushed the pace for a group of five that also included Lloyd C. Bird senior Jake Plummer and West Springfield seniors Sean Stuck and Sam Pritchard.
"It didn't work as well as I wanted to, but it did work better than before," McCauley said. "I've never made the first move in a race like that before."
Plummer tried to take advantage in the last mile, but wasn't quite sure where it was.
"I heard someone say 1,000 meters left, but then someone else, about a minute later said we had 800 left, so I didn't know what to think," he said. "Maybe I messed up."
Stuck wanted to try his luck kicking, but Velokonja got the jump on him, going again with 800 meters left and opening up a gap on Stuck, McCauley and Plummer. Plummer had an edge with 200 meters to go but the other two caught him.
"I'm not trying to be so predictable, but I also don't want to start too early and wind up with more of the race to run when I run out of my kick," Velikonja said. "This is a good preview because a lot of these guys will be out there for the state meet."
Pritchard was hurting from 200 meters in, but he hung on to help West Springfield take the boys team title 144-159 over Herndon, despite sitting four of the top seven who raced Great American a week before, when the Spartans had finished five points behind 6A rival Oakton. Luke Hawkins (27th in 16:43), JJ Comley (55th in 17:16) and Isaac Brown (63th in 17:21) rounded out the Spartans' scorers.
St. Albans junior Damian Hackett was the first D.C. finisher across the line, running 16:25 for eighth place and Eleanor Roosevelt senior Brandon Lewis was the first D.C.-area Maryland finisher, in 23rd place, running 16:46.
The upside of being in a drought watch throughout Virginia is that Bull Run Regional Park, typically a mud-fest every other year, was dry and back to normal, after roughly a quarter-mile of the course was unusable in 2018.
McCauley was the only one of the top-five guys to race here in 2018, but he let the others know how tough it was in the old days.
"You had to make sure your shoes were still on every few steps," he said. "I like classic cross country courses, but not like that."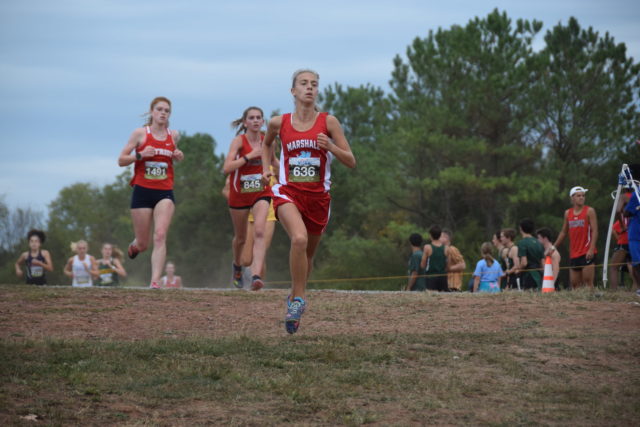 As a result, the course not terribly chewed up for the girls race, which also didn't have a prohibitive favorite.
George C. Marshall senior Sophie Tedesco led much of the middle parts of the race.
"I didn't have a super-clear race strategy, I just wanted to push it and go for the win," she said. "I felt strong on the uphills, so I felt safe taking the lead there."
Heading up the course's largest hill, approaching two miles, she had Patriot junior Hailey Yentz,  Herndon freshman Gillian Bushée, Robinson senior Caroline Beard, Yorktown sophomore Anna Macon Corcoran, Georgetown Visitation sophomore Lili Grant and McKinstry following closely. The three dressed in red, Tedesco, Yentz and Bushée, broke away down the long hill, with Beard and McKinstry following, and Patriot senior Emily Graves and Washington Latin junior Zoe Edelman pulling up next to Cororan and Grant. As the leaders in red kicked up dust on the dirt road with about a half mile left, McKinstry and Edelman steadily moved up.
Edelman decided to start slower, but was stymied by the narrow path through the tall grass one-third of a mile into the race.
"I think I was back in 35th for a while," she said. "It was narrow and the pack was pretty tight, so I was struggling."
She started picking off packs of runners in the third mile, as early leaders tired out. She, however, did not.
"It was a lot better race than I had run in a while, I liked picking people off," Edelman said.
McKinstry didn't start out planning to make any racing decisions besides how she felt.
"I didn't want to worry about where I finished, I just wanted to run a fast race," she said.
That changed with a half mile to go, as her steady pace caught up to more and more early leaders. Tedesco, who previously felt great on the climbs, wasn't able to do it again, and joined Yentz in moving backwards, just as McKinstry, Bushée and Edelman were moving up.
"I didn't plan to take the lead," McKinstry said. "I just wanted to stay with them. But once I saw I was getting closer to the finish, I figured I'd go for it."
As she headed around the narrow horseshoe-shaped path that ended with a 100 meter climb, spectators were tight on the course and their reactions told McKinstry all she needed to know.
"All I could hear was cheering, and I knew it only meant (Bushée) was close to me. Really close. I knew I had to finish hard."
That she did, running 18:52 to edge Bushée by one second. Edelman was third in 18:57, with Tedesco (19:02) and Yentz (19:03) rounding out the top five.
It was a chance for Bushée to take a shot at running with the leaders, and it paid off.
"I just decided to try staying with the rest of the competition and I ended up staying in the front the whole race," she said.
As for McKinstry, success is fueling her confidence.
"This is big for me," she said. "Just the fact I was able to beat people from so many schools gives me a lot of confidence for the postseason."
Javon Watts, a senior from C.H. Flowers, was the first D.C.-area Maryland runner across the line, running 19:27 for 14th place.
Chantilly's girls won their second invitational in three weeks, 104-123 over Annapolis' Broadneck. Elizabeth Wu (11th in 19:24), Momiji Barlow (15th in 19:29), Nyla Carter-Ogden (24th in 19:49), Ruby Carter-Ogden (26th in 19:52) and Ava Miller (38th in 20:19) rounded out the Chargers' scoring, with Caroline Poole one second and one place behind Miller, for insurance.
Early in the morning, Robinson alumnus and assistant coach Nick Reed won the open race on the same course, running 16:32 to win by 28 seconds.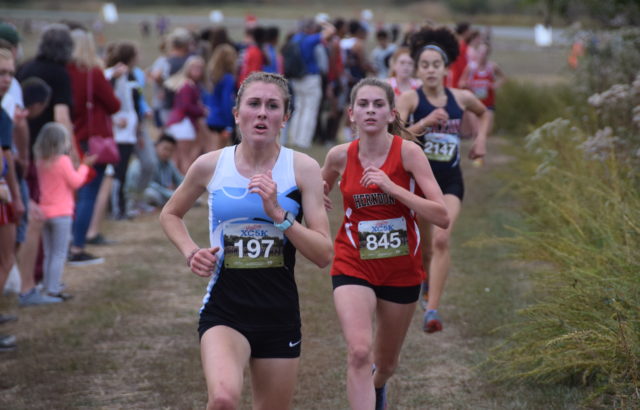 Recent Stories

Both 5K and 1 mile courses are USATF certified. The 5K course has some moderate hills. The 1 mile course is flat making this a perfect PR course. We are really looking to get a broader participation base.
Funds go