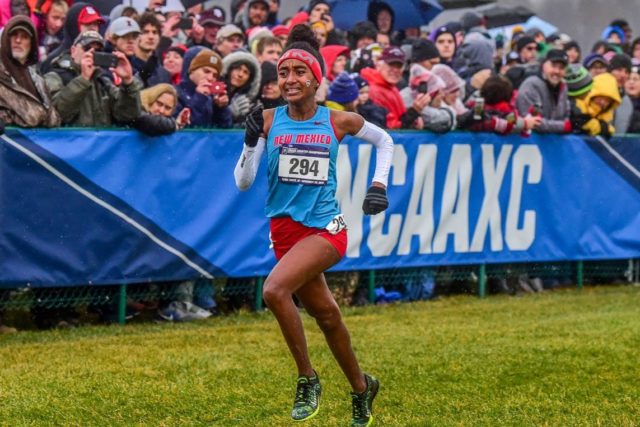 Heritage High School alumna Weini Kelati, racing for New Mexico, won the NCAA Division I cross country championship Nov. 23 in Terre Haute, Ind. She ran 19:47 over 6k for a nearly 10-second margin of victory over Wisconsin's Alicia Monson.
Behind her (and please contact charlie @ runwashington.com with any ommissions, especially for Divisions II and III) :

48. Paige Hofstad (UNC, but ran two years at Georgetown) 20:55
85. Rachel McArthur (Colorado, Patriot High School) 21:10
91. Sara Freix (Virginia Tech, Westfield High School) 21:12
93.Madeline Perez (Georgetown) 21:13
125.Taylor Knibb (Cornell, Sidwell Friends School) 21:25
142.Sami Corman (Georgetown) 21:34
205.Suzanne Dannheim (George Washington) 22:07
206.Natalie Morris (Cornell, Loudoun Valley High School) 22:07

On the men's side, Lake Braddock alumnus Alex Corbett, now running for Virginia, edged Tuscarora alumnus Fistum Seyoum of Virginia Tech to be the top local finisher, both running 31:34 for 57th and 58th place. Iowa State's Edwin Kurgat won the race in 30:32. Langley High School alumnus Alex Gibby's Harvard team finished 15th and Georgetown finished 28th.

62.Nick Wareham (Georgetown) 31:36
64.Peter Morris (Virginia, Loudoun Valley High School) 31:36
105.Diego Zarate (Virginia Tech, Northwest High School) 32:00 (The USATFCCCA also found that Zarate's 36-plce push in the last 2k was the largest gain of anyone in the Division I race)
157.Price Owens (Georgetown) 32:24
176.Jack Van Scoter (Georgetown) 32:40
205.Spencer Brown (Georgetown) 33:08
211.Shea Weilbaker (Georgetown) 33:27
215.Rusty Kujdych (Georgetown) 33:31
221.Matthew Bouthillette (Georgetown) 33:38
236.Jack Joyce (Virginia Tech, Briar Woods High School) 34:15
242.Yared Mekonnen (N.C. State, Edison High School) 34:51

Brentsville District High School alumnus Jacob Willis finished 119th at the Division II Championships in Sacramento, running 31:43 for 10k behind Northwest High School alumnus Branson Oduor ran 32:39 for 197th place. Both run for the University of Mount Olive in North Carolina.
At the Division III Championships in Louisville, our neighbors up the road in Baltimore, the Johns Hopkins women's team won its sixth team title.

92.Abigail Levine (Carnegie Mellon, Bethesda-Chevy Chase High School) 22:49
205.Ana Morris (Emory, Chantilly High School) 23:38
251.Didi Pace (Washington and Lee, Westfield High School) 24:21

On the men's side Stevenson's Patrick Watson won the individual title in 24:13.

57.Tristan Colaizzi (Williams, Georgetown Day School) 25:10
121.Liam Walsh (Carnegie Mellon, Quince Orchard High School)  25:35
123.Jeff Gibson (Mary Washington, Edison High School) 25:35

UnderArmour will hold a free running clinic 10 a.m. – 6 p.m. Dec. 8 at the University of Maryland. See more information here.
The Arlington County Board has signed off for NOVA Parks to apply for a $5.6 million grant that would widen a portion of the Washington and Old Dominion Trail, ARLNow reported. If approved, the project will widen two miles of the W&OD Trail between N. Roosevelt Street and N. Carlin Springs Road by eight feet. In addition, the trail will incorporate a "dual path" to divide walkers and cyclists.

Prince George's County Parks is seeking volunteers to help with trail maintenance at Patuxent River Park- Jug Bay Natural Area the following days from 10 a.m. – 2 p.m.: Dec. 14, Jan. 11, Feb. 8, March 14, April 11. Contact 

[email protected]

 

for more information.
Recent Stories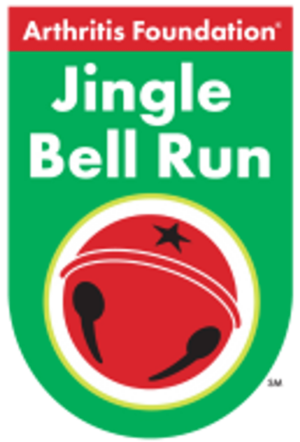 Be part of the original festive race for charity and signature Arthritis Foundation holiday event! Wear your favorite holiday attire and together, we'll jingle all the way to a cure! Register as an individual or bring a team of friends,