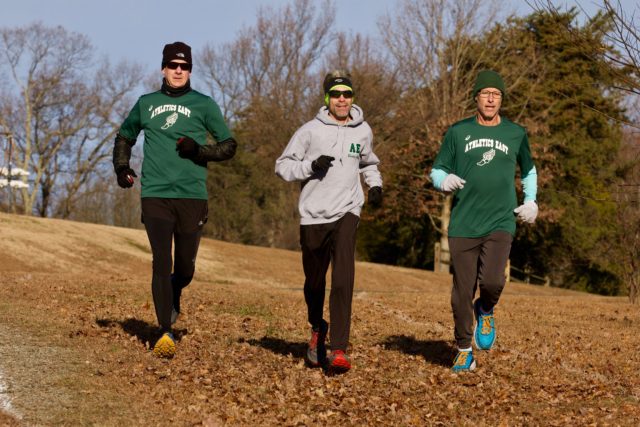 If David Sullivan meets someone and tells them he's a runner, they invariably ask him if he does marathons. 
He blanches.
"To them it's like nothing else exists," he said. "But I get it."
Not so for Sullivan and the members of his Athletics East Track Club who will race at the USATF National Club Cross Country Championships this Saturday at Lehigh University. 
Of the 16 masters runners who will compete for the club's teams, 14 are D.C.-area locals, and Sullivan, of Kingstowne, hopes to keep giving runners over 40 a life beyond the marathon grind.
He found West Springfield resident Bob Briggs at Burke Lake one weekend earlier this year, during the club's weekly Saturday run.
"David came up to me and said, 'Hey, you look like a pretty fast old guy – want to run with us?'" Briggs said. Briggs is 62 and shooting for a sub-3 at the Houston Marathon in January. Soon enough, Briggs became a member of Athletics East, which Sullivan managed and coached while living in his native Boston, then revived in 2018. 
"He's recruited a pretty good group, and the deal is that he wants everyone competing," Briggs said. "He's made it clear that it's not a social club where we'll meet every once in a while and have a Christmas party."
Athletics East is fielding full teams of runners the men's 50s and men's 60s races, though they won't have enough men to compete as a full team in the 40s. The meet includes an 8k for men 60 and over, a 6k for women over 40 and a 10k for men 40-59 (divided into 40s and 50s), along with an open women's 6k and men's 10k. The annual championship race rotates sites around the country and was last held at Lehigh in 2014. This year 2215 runners were entered, with 1071 masters entrants. A few local teams will enter the open races, particularly the Georgetown Running Club, Pacers-New Balance and the Nova Running Club.
Though the team is entirely male, Sullivan is open to interest from masters women in 2020.
As for Saturday's meet, he is looking forward to more than just the races. This will be his 20th USATF club meet as an athlete or a coach.
"It feels like college again," he said. "We're rooming together, we're carpooling together, we'll have a team dinner the night before. It's going to be a lot of fun."
Fairfax's Chris Johnston has the most regular exposure to cross country as the coach of the Robert E. Lee cross country teams for four years. The spectre of the cross country meet is bringing him back to his days running cross country for two years at St. Joseph's University. 
"It's going back to my roots, we had a powerhouse program in high school and a decent college team, but I haven't raced much cross country since my junior year of college," except for the U.S. Cross County Championships in 2009 at the Agricultural Farm Park. 
In preparation for the race, he has been doing hill repeats at the Manassas Battlefields, but he also has a decent base from his coaching. He also tuned up with the Freeze Your Gizzard cross country race in Leesburg.
"I'll do some runs and workouts with the kids," he said. "I've definitely spent a lot of time at cross country meets over the last few years."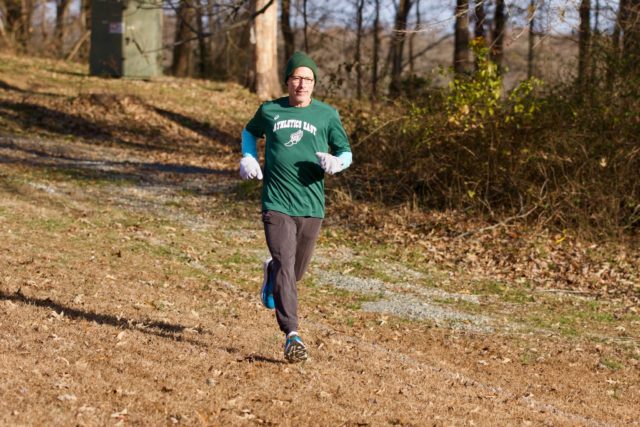 Though work schedules and family obligations often keep the runners from meeting for mid-week workouts, they run most Saturday mornings at Burke Lake and keep in touch throughout the week.
"We're usually talking throughout the week about how things are going," Johnston said. 
The focus on a team race has reinvigorated Briggs, who typically runs a marathon every few years, followed by a long recovery period that lasts until he gets disgusted with his idleness. 
"I'm a guy who runs one or two races a year and I was really focused on Houston, but when I met David, I was just putting in the miles, but he kind of got me excited," he said. "I ran Glory Days a few other races i wouldn't have run if he hadn't needling me to race more.
"And I had a ball. I'm indebted to him. He's opened my mind to what's out there besides just running another marathon." 
Though not nearly as prolific as road racing, the D.C. area does offer opportunities to run cross country race. The Montgomery County Road Runners Club shoulders a heavy load, and will hold at least eight off-road races in 2020. The club will coincidentally hold the Seneca Slope 9k cross country race Sunday at Seneca Creek State Park, so runners who hadn't registered for the USATF meet can sample the sport's local flavor. Those races end up blending traditional grass cross country courses with semi-technical trail racing, though the Glory Days 5k race in October follows the same Bull Run Regional Park course used for high school invitational and championship meets. The D.C. Road Runners holds a race on the Landon School campus in Bethesda, and the Howard County Striders holds a series of Friday night cross country races in the summer, along with a November race in Mt. Airy.
Down the road, USATF Virginia holds its annual championship race during Labor Day weekend in Mechanicsville. The Potomac Valley Association held a cross country meet in Vienna. 
But it's still all a different world to many runners, even if they grew up in the sport.
"I didn't even know this race existed," Briggs said. "I bought spikes for the first time in decades, but I'm going to be banking on muscle memory. Cross country is hard, you gotta really be strong…and I'm not any of that.
"If I can get in the top 50 in my age group, that would be the cat's meow."
Sullivan doesn't see himself as a threat in the 50s race, but that's all secondary.
"I've always said cross country is the gateway to success on the track," he said, nothing his true love – middle distance running. "If you develop your speed and your strength, it's going to be good for your career
What Sullivan most wants to see is a healthy group of regional running clubs that can establish friendly rivalries, and in interested in establishing a local cross country race among D.C. area teams.
"Right now we have a wager with the Eastern Buckeye Track Club – the loser has to buy beers after the race for the winners," he said of the national meet. "I like that competitiveness. It makes the sport even more fun."
In its Boston incarnation, Athletics East offered housing for developing runners, typically from Division II and II programs. The team folded when he couldn't find someone to take it over. 
Upon moving to Virginia in 2012, he was surprised by the dearth of organized competitive options away from the roads, and had a tepid response when he invited other Potomac Valley Track Club runners to join him at the club cross country championships.
"Nobody was really interested, I got two other guys one year," he said. 
That drove him to break away to revive his club with a specific charge — be competitive and relive the times that made him love the sport early on. 
That works for Briggs, who sees the contrast when he works out at the West Springfield High School track. 
"I go over there, I'll be out on the track and I'll feel like I'm fast, but then the high school runs by and I feel like I'm probably invisible to them," he said. "But you always think of yourself as a particular age in your mind.
"In my head, I'm still 23."
---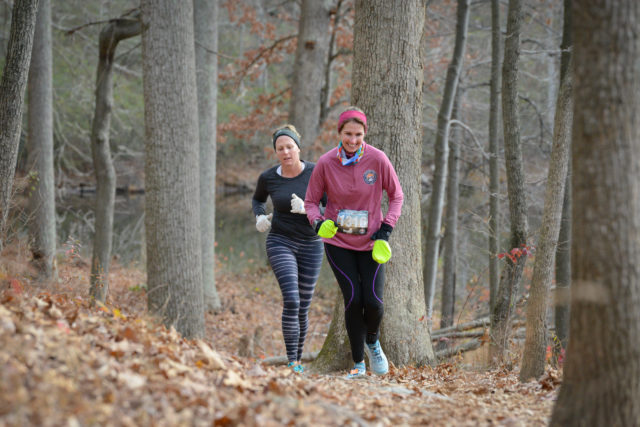 What's out there
A variety of cross country-style races are available throughout the year. Unless noted, races are conducted by the Montgomery County Road Runners Club.
Dec. 15 – Seneca Slopes 9k, Seneca Creek State Park, Gaithersburg, Md.
March 29 – Spin in the Woods 4 Miler, Wheaton Regional Park, Md.
May 3 – Run Aware, Cabin John Regional Park, Md.
June 6 – Little Bennett , Little Bennett Regional Park, Md.
July and August – Howard County Striders Cross Country Series
Aug. 8 – Groovin Woodstock, Woodstock Equestrian Center, Dickerson, Md.
August – D.C. Road Runners Cross Country 3 Miler, Landon School, Bethesda, Md.
Sept. 5 – USATF Virginia Cross Country Championships, Pole Green Park, Mechanicsville, Va.
Sept. 19 – Lake Needwood, Derwood, Md.
Oct. 3 – Black Hill 10k, Black Hill Regional Park, Boyds, Md.
Oct. 10 – Potomac River Running Glory Days 5k, Centreville, Va.
Oct. 18 – Cross Country on the Farm, Agricultural Farm Park, Derwood, Md.
November – Run Through the Grapevine, Mt. Airy, Md.
Dec. 6 – Seneca Slopes 9k, Seneca Creek State Park, Gaithersburg, Md.