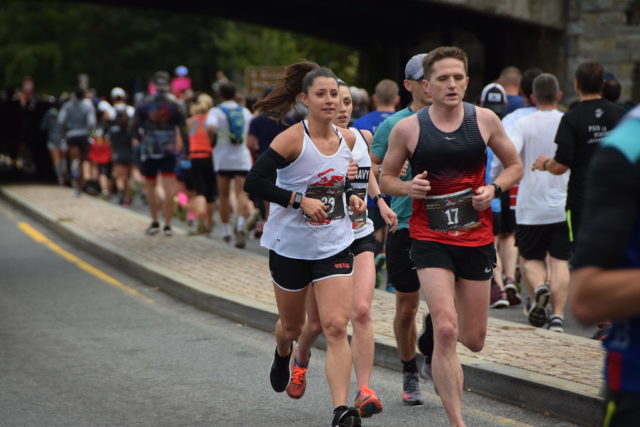 It took U.S. Marine Corps Capt. Lindsay Carrick two hours and 43 minutes (and 43 seconds) to run the Military World Games marathon in Wuhan, China. It took more than three weeks to find out her effort was good enough to qualify for the Olympic Marathon Trials.
But the course and race management checked out, and it made the fall and winter a lot simpler for Carrick, who had been aiming to run under 2:45 for two years.
Her coach, Patrick Gomez, said the Olympic Trials qualifying time was a larger goal, but he wanted her to be able to do well at the Military World Games without overdoing it. They had a backup race planned if needed.
"We went into the race saying let's set ourselves up to be as successful as possible, and it just happened to be an Olympic Trials qualifying mark," he said.
The World Military Games were held Oct. 27, the same day as the Marine Corps Marathon, where a year before Carrick, now 26, finished third, second among members of the military, and earned her spot on the team that traveled to China. It proved fortitous for her time goals, because heavy rain and humidity challenged most Marine Corps racers. Carrick, meanwhile, enjoyed  temperatures in the mid-50s with light rain.
She is an executive officer for the Headquarters and Service Company at the Officer Candidates School in Quantico, and her schedule typically forced her to run early in the morning and late at  night. She lives in Fredericksburg.
The Military World Games included an athletes' village, opening and closing ceremonies, plenty of college-aged volunteers and a tour of the course in what Carrick described as "climate-controlled buggies."
"It almost felt like we were truly at the Olympics," Carrick said.
Carrick said she had the goal of running 2:45 for the marathon for the past year or two and her 2:48:45 at the 2018 Marine Corps Marathon told her she was on her way.
She increased her mileage for her most recent training cycle, topping out at 75 miles in a week. On top of that, working with the officer candidates is a physical job.
The course in Wuhan was primarily a large loop around East Lake noting it was pretty flat, but with lots of turns. 
Runners were able to have their own bottles available every five kilometers on the course.
Carrick said she got a good sign five kilometers into the race when she tossed her water bottle right into the trash can — something her teammate Kyle King had done earlier this year when he qualified for the Olympic Marathon Trials at the Eugene Marathon.
Carrick ran with a man from Croatia for the first half, then ran with a Canadian man until mile 19 before breaking off to the finish.
"You weren't in the atmosphere of say a Boston Marathon or Marine Corps Marathon," Carrick said. "You were on your own because there were about 40 women and 80 men. So who you started with was typically kind of who you ended with."
Carrick wanted to run a negative split and ran the first half in about 1:23. She said she felt great and the last three miles were about 6:07, 6:06 and 6:05.
After finishing, she waited for her teammates, Katherine Irgens and Amy Natalini, and they embraced, Carrick said. Irgens' time was 2:51:37 and Natalini's time was 2:53:53.
Carrick came in 14th among 43 female finishers, and the U.S. women placed fifth out of 10 teams.
The marathon was on the last day of the Military World Games, and during the rest of the event, the U.S. team members were able to see their teammates compete in different sports. 
"One night you're supporting the swim team and the next you're going to the basketball game," Carrick said.
Carrick is a member of the U.S. All-Marine Running Team. In June, she traveled with the team to England and ran 1:18:24 at the Torbay Half Marathon. In January, she'll get to compete with the team at the USA Track & Field Cross Country Championships in San Diego.
During her senior year at Council Rock High School North in fall 2010, Carrick, then Lindsay Rheiner, won the Pennsylvania state cross country championship for her division with a time of 18:42. She went on to play lacrosse at the Naval Academy and ran cross country there during her senior year.
Carrick was also selected as the female 2018 Marine Corps Semper Fit Athlete of the Year. 
Gomez described Carrick as a motivated and consistent runner. And whenever she toes the line for a race, she'll do her best, he said.
"She's going to get the best effort out of herself possible," he said.
 And on Oct. 27, that best effort was an Olympic trials qualifying time.
"Stars aligned for the conditions and just how my body felt," Carrick said.
Recent Stories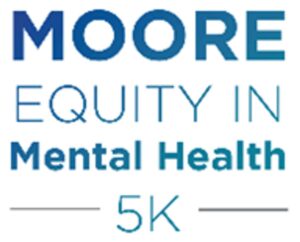 About APA's MOORE Equity in Mental Health 5k
The APA's Division of Diversity and Health Equity invites you to join us in combating mental health inequities facing young people of color and in honoring mental health advocate Bebe Moore Campbell.