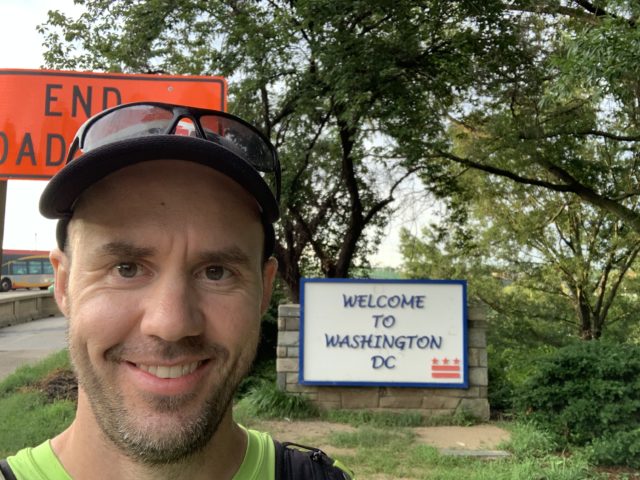 For one of his latest outings, Jarad Schofer zig-zagged through the residential areas bordering Kenilworth Aquatic Gardens, but he wasn't perfect.
"I'm going to start checking Strava before I leave a neighborhood," he says with a laugh.  
When he studied the log, he saw a blank strip in a thicket of lines, about one-tenth of a mile of Nash Street NE. The oversight — or overstep, maybe — cost him a 20-minute drive both ways.
Missing even a tiny portion won't do when Schofer aims to cover each and every street in D.C. with his footsteps. This from a guy who couldn't run a mile just a decade ago.
How the idea developed
"I was one of those people who would make jokes about people who run," Schofer says. He recites well-worn flatliners: "I only run when someone's chasing me. I don't want to drive my car that far."
Then in 2010, Schofer found himself single instead of married, his planned outcome for the relationship.
"It caught me off guard," he says. "I needed this intense shift to something different."
So he tried the opposite of his former lifestyle – think of George Costanza. He walked and ran his way up the race ladder, from 5ks to a full marathon by 2011.
Before, running sucked. Now, running stuck.
Schofer kept adding in subsequent years, from 50ks to 50-milers to 100-milers. He signed up for the Vol-State in early 2019. The same crew that designs the famed Barkley Marathons also hosts this event, a half-ultra, half-orienteering journey that spans 314 miles across Tennessee with no aid stations. But Schofer landed on the waitlist.
"They said everyone gets off. Just keep training."
Wrong. Yet he did secure a spot for 2020, and an idea emerged. Schofer had followed the #EverySingleStreet movement on social media, from Rickey Gates tracing San Francisco to Stephanie Lasure, who has applied the concept closer to home, in Alexandria.
"I'd never seen anyone do D.C.," he says. "I'm now three months in, and I can see why."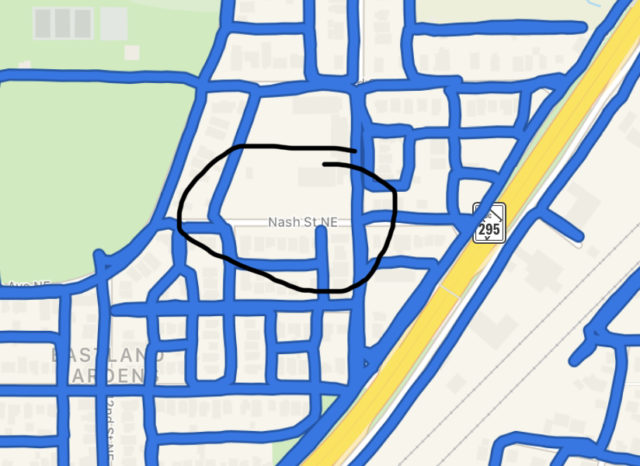 Why a mile is more than a mile
His digital map looks like a beginner's attempt at weaving, with stray purple yarns that thread between clumps of a more loomed variety. Schofer also records progress on a hardcopy, and both maps tell two important stories.
First, he's 825 miles in.
Second, he has a long way to go.
He highlights each completed neighborhood in a different pen color on the paper map, and he dates the runs in the whitespace outside D.C.'s northeast boundary line.
The District Department of Transportation cares for 1,392 miles of roads. That tally includes highways, which Schofer skips, and does not include alleys, which he counts. Another 356 miles of alleys hide among the capital's classic grid of streets punctuated by traffic circles and park-enclosed squares.
Schofer estimates he'll need to run around 2,500 miles because the city's design creates an inherent conflict between an efficient effort and an encyclopedic one. That mismatch appeals to Schofer, who earned his doctorate in mathematics and teaches at St. Albans School. He lives in Park View.
"It's a huge math problem," he says. "If there's an intersection that has an odd number of branches coming out of it, there's no way to do it without overlap. Any day I feel like I've run less than 25 percent overlap, I feel like it's a good day."
At least two other people have plodded along the entire D.C. road network, but they didn't include alleys. Those people also spent more than three years meandering and finished in 2006.
Schofer is on track to see the whole city in ten months as a playful reconfiguration of the otherwise brutal volume required to prep for the Vol-State in early July.
"There's no better way to train than to do a lot of roads and something totally monotonous," he says. "My thing is back-to-back long runs. If you do 45 miles in two days, that's like doing 50 miles in 24 hours."
What this all adds up to
His typical week involves the highest mileage on Sunday to take advantage of the daylight. More explorations happen Monday, but weekday runs require a calculated course — another math problem of minutes and parking meters. To find the route, divide the applicable parking limit by an 11- or 12-minute pace.
"It's a lot of walking and stopping and marking up the map," Schofer says. "It's so easy to get lost when you're doing this."
He carries his gear in his left hand. A small printout of his target neighborhoods wrapped in a plastic baggie. A bright yellow water bottle with a zipper pouch to hold a pen.
"I'm really learning I have not been everywhere. Not even close."
He's talking about visits to far-flung street corners in D.C., but his sentiment applies to his running career, too.
A ruined relationship served as the springboard, and almost 10 years later, Schofer is engaged to someone new. Meanwhile, his wall map will become a tangible display of how he spent that time and a reminder that the miles always contain more than distance.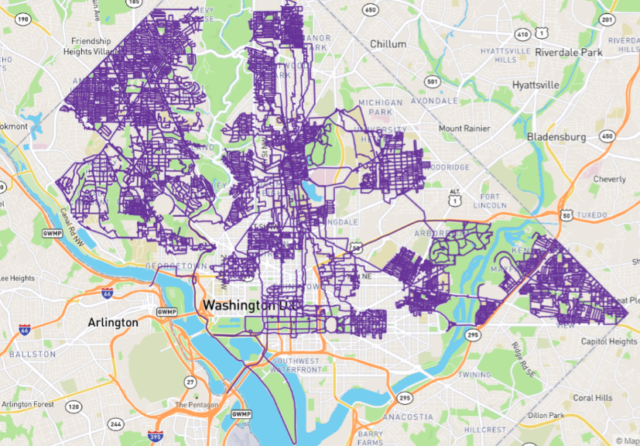 Recent Stories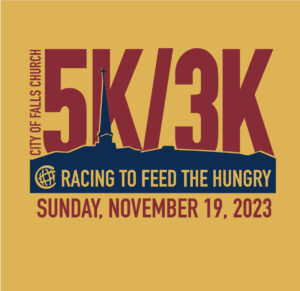 The out and back Falls Church City 5K/3K course is mostly flat on the W&OD Trail starting and finishing at 103 Columbia Street. Overall male and female winners earn free shoes and medals are awarded to all categories. Great family