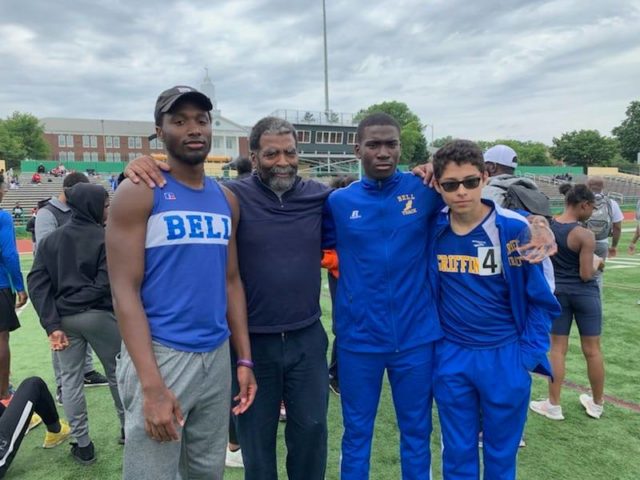 In 2011, Mark Robinson, a longtime coach at Catholic University, was at a crossroads. 
He was essentially juggling two full-time careers: His job as head cross country coach and assistant track coach at Catholic, and his job as a curriculum manager for a D.C. nonprofit. 
Robinson, a CU graduate who set records on the track that still stand today, opted to retire from coaching to focus on the job that paid his bills. 
"It was a gut-wrenching decision," he said. 
A few years passed, and he realized that giving up coaching had left a huge void in his life. So in 2017, Robinson reached out to Bell Multicultural High School in Columbia Heights to see if he could assist with the school's track program. 
"I was a D.C. public school student and athlete, and while I loved coaching at the college level, I really wanted to coach some students who were maybe a little more like me," said Robinson, who lives within walking distance of the school. "I thought, maybe I could help them." 
Bell's athletic department thought so, too. 
The school, carrying an athletic reputation built on football and soccer, was just in the beginning stages of growing its running program when Robinson signed on as track and cross country coach of both the boys' and girls' teams. 
Robinson has lead the young runners to several big successes, including new school records for the boys' track team in the 4 x 100, 4 x 200 and 4 x 400 meter relays in the city track and field championships. At the Penn Relays in Philadelphia last year, that team took fourth in the 4 x 100 event. 
"After that first year, there was a lot of positive buzz and I know that helped," said Robinson, who is currently the head boys' coach and assistant girls' coach.  
Helena Burnett, a 2018 Bell graduate, started running for Robinson as a senior and said he continually motivated her to do better. At the time, she was the only girl on the track team, and it was intimidating at first. 
"I wanted to quit because I wasn't as strong and fast as the boys I trained with on my team. Coach Mark told me to prove to the boys that I can be on their level and don't let their comments get to me," she said. "He didn't show any favoritism to anybody. If we weren't doing good in class, we weren't able to practice. He made sure we went hard in academics and on the track." 
As a runner at Catholic, Robinson specialized in the 800, but also ran the mile and the mile relay. He was a two-time national champion and set the school's records in the 800 (1:46:00) and the mile (4:07) in 1974. 
Robinson's close friend Joe Fisher, who recently retired as Catholic's associate head cross country and women's track and field coach, also ran alongside Robinson at Catholic. He described him as "one of the most talented middle distance runners I've ever gotten to know." 
And he wasn't surprised that Fisher later transitioned into coaching.
"He was a thinker," Fisher said. "He definitely had the knowledge and the passion for the sport, and he was very quick to understand the pedagogy of coaching. He understands the development in becoming a runner."   
After graduating, Robinson stayed in touch with Coach Jerry McGee, who had recruited him when he was a senior in high school. In the early 1980s, McGee tapped him to be his assistant, coaching middle distance and distance runners. After about six years, Robinson became the head cross country coach in addition to assistant track coach. 
He said he appreciates the nuances of both sports. For example, training for cross country is simpler, because everyone is running the same distance. Track workouts are much more specific, with the different programs based on different events. 
Over the years, Robinson coached champions in distances from 800 to 5,000 meters and brought home five East Coast Athletic Conference distance medley titles. His athletes received multiple All-American honors over the years, plus 13 All-Conference selections in cross country, according to a profile Catholic's Athletic Department published on Robinson at the time of his retirement. 
Many of those college athletes are still involved in the sport — some are even coaching now, Robinson said. 
"Running gets into your blood," said Robinson, who still runs competitively at 65. 
There are, of course, differences between coaching college runners and high school runners. Many of his high school students work, and can't always be available for practice, so Robinson has to work around that. Robinson also coaches many new runners at Bell, so there's more of a learning curve. 
"Coaching in college, athletes are more sufficient. In high school, you have to observe every workout and walk through every step," he said. "And the workouts that I give to the high school students aren't nearly as intense."
"But I don't see a difference in work ethic." 
Fisher said Robinson has never lost his love for the sport or for the athletes he coaches — and those athletes love him, too. 
"He is so knowledgeable. He's able to store all this historical data and just pull stuff out of his head, and I think that's why the kids really enjoy him," he said. "As passionate and intense as he is, he is at the same time very entertaining, and I think that's what makes him so special." 
Moving forward, Robinson hopes to become even more involved in coaching, especially once he retires from his day job. 
"I'd like to try to get my life to fit around coaching," he said. "We want to have a track and field culture at the school." 
Recent Stories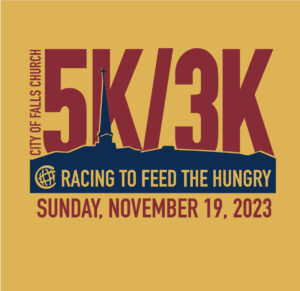 The out and back Falls Church City 5K/3K course is mostly flat on the W&OD Trail starting and finishing at 103 Columbia Street. Overall male and female winners earn free shoes and medals are awarded to all categories. Great family