Name: Nate Rathjen
Self-described age group: slowly admitting I'm not a recent college grad anymore (25)
Residence: Historic downtown Leesburg!
Occupation: IT guy
Volunteer roles in the running world: Treasurer, Loudoun Road Runners
Why you run: What's not to love? It's free. I love exploring on foot. I meet awesome people. It's a really time-efficient way to stay in shape. Also, I'd be lying if I said part of it wasn't being able to eat whatever I want. Food's a big motive.
When did you get started running: Actually, it all started when I ended up on UVA's club quidditch team in 2012, my first year there. If you're wondering what that looks like as a sport, combine basketball, rugby, and dodgeball, move the whole thing outside, and you're close! Later that fall someone started group runs to work on the team's conditioning, we became training partners, and the rest is history.

Have you taken a break from running/Have you dealt with a major injury: Completing my first half in 2014 brought up latent knee issues that kept me on the shelf for months. This was a wake up call that I was, in the grand scheme of things, very inexperienced and had a lot to learn about good running. So, after rehabbing extensively and learning more about how to stretch, roll, take care of myself and figure out what shoes are right for me – shoutout to Robin Witlin, my beloved PT and herself an accomplished triathlete – I've never had a major running injury or more than a brief time away since. (Knock on wood!)
Training shoe: New Balance 860.
Coach or training group: I currently run with Loudoun Road Runners and D.C. Road Runners, twice a week each. I can't overstate how important running with a group has been to my progress – with nice folks to push me on the track and make long runs much less boring, my PRs have cratered and I've gotten remarkably stronger.
The hardest race you've ever run: My first full, the 2019 Vermont City Marathon. That was a crazy race day: first, the start was delayed 45 minutes by a freak thunderstorm. I was in the corral ready to go and the directors had to get everyone out and sheltered. They didn't tell us why we were being evacuated, either, so my thoughts immediately went to the worst and it was a bit scary. Then, after the race kicked off, the humidity unexpectedly cranked to 11 with around ten miles to go. It was Memorial Day weekend, so I was expecting it to be hot, but not that hot. Something like 20 per cent of the field DNFed. I dropped off the 3:15 group, then got passed by the 3:30 group, and slogged to a 3:32. Then, to add insult to injury, the only post-race beer they had left was Michelob! Gross!
Most adventurous decision you've made with your running: I'm going international for my next full – Toronto on the first weekend of May. It's supposed to be a fast, easy course and I love doing race-cations, so I'm excited.
My favorite place to run in the D.C. area is: Running out in the west of Loudoun County is sublime. Fantastic views, neat back roads that sometimes can be barely called roads, and no cars!
Favorite local trail: When I last moved, I purposely picked a place as close to the W&OD as possible. It happens to be exactly 10 miles to the Purcellville end, making for a good route during marathon training. The westernmost portion is some nice solitude.
My best race was: 2019 Freedom's Run half. This is really a challenging race, as the first 7 miles are beautiful but shred your legs with some massive hills, and then the last 3 are so unremarkable it is too easy to lose your focus. It's not a PR-friendly route, in other words. Despite all this, running on not much sleep, and being a bit underdressed, I turned in 1:33:35 for a new half PR.
Favorite local race: I was hooked by the scenery of the Parkway Classic last year and it's earned a spot on my annual calendar. It stretches the definition of local, but the race I look forward to most every year is the Charlottesville Ten Miler in March. The course is beautiful for an urban race and very challenging. And, since it passes through UVA grounds, how many other races will you do that include a UNESCO world heritage site?
Ideal post-run meal: If the run was long enough to not feel guilty about stuffing my face, I'll swing by Döner Bistro, a German bar/restaurant in Leesburg, and grab a döner kebab or schnitzel and some beer.
Goals: Short-term, enjoy myself and don't get hurt. My long-term goal is to BQ by the time I'm 28. I think I'm well on my way there, but my plan to do three fulls in the next year – Toronto, Green Mountain in the fall, then Charleston in January 2021 – will be a true gut check.
Your advice for a new runner: The advice that was given to me by Mary Beck, my old calculus professor and a longtime runner: the first mile never gets easier – but just get out, put one foot in front of the other, keep at it, and you'll find you enjoy it.
Favorite running book: I'm currently on Peter Sagal's Incomplete Book of Running. He is as hilarious on the page as he is on the radio.
Song in your head during a run: One that pops in often these days is "Ran" by Baltimore-based Future Islands. It's not actually about running, but it is catchy!
Why is the D.C. area a great place to be a runner: There's so much varied scenery within an easy drive – from the Mall to Arlington to Round Hill – and so many good people in the community.
Recent Stories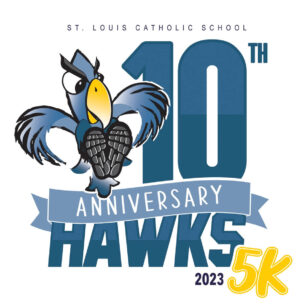 2023 will be the 10 year anniversary of the St. Louis Hawks 5K and Fun Run for Health & Wellness. The USATF certified course runs through the historic Hollin Hills neighborhood in Alexandria, VA.
The Hawks 5K goal, in conjunction