Name: Erin Cunningham
Self-described age group: I'm 30
Residence: Capitol Hill, D.C.
Occupation: Sometimes server, sometimes host, sometimes junior manager at Chloe, a restaurant in the DC Navy Yard.
Volunteer roles in the running world: I've never volunteered! Making a mental note to do some volunteering this year.
Why you run: I was inspired to start by my mom, who's been running longer than I've been alive. She's finished 32 marathons! I was never super athletic at any point in my life, always active to an extent, but that really dropped off during my twenties. Eventually I got the itch to start doing something and running seemed like a good idea. It's also helpful for me because I work in a high stress environment and it's a great way to relax, almost meditative.
When did you get started running: I started running in earnest in February of 2017. There were fits and starts where I ran a bit in the past but never with any sort of regularity. On this particular occasion my mom and brother were signed up for a half marathon, so I decided to run the 5k out of a sense of solidarity or obligation, I'm not sure. But that was when the running started to stick!
Have you taken a break from running:  Not longer than just a month or so.
Training shoe: Nike Pegasus 35 or Brooks Ghost 11
Coach or training group: I have no training group! But I'm always looking. My schedule makes things difficult in that regard. No coach either, although I am following a Hal Higdon training plan for my next race.
The hardest race you've ever run: When I was still *very* new to running I did an 8k in Central Park that could not have possibly been any hillier. It also rained. Not a huge distance but it was tough.
Most adventurous decision you've made with your running: I entered the lottery for the Berlin Marathon next year, and got in! I'm excited but terrified. It'll be my first marathon.
Running mentors: My mother and sister.
My favorite place to run in the D.C. area is:  I love running along the Anacostia river for the views. The mall is always nice too when it's not too crowded with tourists.
Favorite local trail:  Anacostia Riverwalk.
My best race was: The Veterans' Day 10k I ran last year, I was so much faster than I anticipated.
Favorite local race: Credit Union Cherry Blossom Ten miler, of course.
Ideal post-run meal: Sandwich, fries and a pickle from an NYC diner. But here at home, probably just a smoothie.
Favorite flavor of gel, gu, etc: I haven't tried many but I've yet to find one I like.
Pet peeve: When people are difficult to pass on sidewalk! Pick a side.
Goals: My sister is very competitive and I'd like to someday beat her best marathon time. It may not be realistic for me but I'm gonna try.
Your advice for a new runner:  You're stronger than you think you are.
Favorite running book: I've only read one running book and I think about it often; Running to the Edge by Matthew Futterman. It's an account of coach Bob Larsen & some unorthodox training secrets.
Song in your head during a run: The song in my head changes but it's usually Beyonce.
Have you dealt with a major injury: Nothing I would call major. I had an issue with a hip flexor that slowed me down for a few months last year but I was still able to run a bit.
Running quote: Something I tell myself all the time, not only in respect to running, "The only way out is through."
Why is the D.C. area a great place to be a runner: There are so many good spots to run in this town! It's nice that you don't have to go far at all to feel like you're outside the city. And the running community is enormous. It feels like everyone here runs.
Recent Stories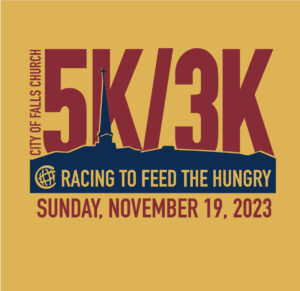 The out and back Falls Church City 5K/3K course is mostly flat on the W&OD Trail starting and finishing at 103 Columbia Street. Overall male and female winners earn free shoes and medals are awarded to all categories. Great family