Vienna's Pat Welch, 75, usually has the mornings to herself. She doesn't have to go into work until 1:00 at her job at a chiropractic' office, which means she uses the morning to run.
"I love a crisp cold sunny morning," she said. "The colder the better."
Welch first tried running back when she lived in Massachusetts, but it didn't stick.
"I started running around the pond by the house," she said. "Then I decided that's not far enough, so I ran around it two times, and that was the last time I ran for years."
In 1981, Welch moved to Vienna from her home in Massachusetts. Here, she was struck by the vibrant running community.
A few years later, Welch, 41 at the time, was reintroduced to running through her kids. In 1985, Welch's 12-year-old son's soccer coach told him that he had to run a mile a day. "I thought, there's no way he's going to run by himself, so I started running with him." Her daughter was also a runner and would run 5Ks and 10Ks. Welch decided to run with her too, and she formally began participating in races.
At first, she began running three miles a day every day. Not realizing the importance of taking days off, Welch assumed that runners were supposed to run every day. "I had no structure, but I was just going out."
In 1995, Welch decided to run a marathon. Again, she ran without any proper training regimen. Back then, she worked at a retail store with hard marble floors. "After doing a 22-mile training run, then I would go walk on marble floors at work," she recalled.
Unfortunately, her unstructured training regimen and long hours on hard floors contributed to injuries that left her unable to run the first two marathons she had signed up for in 1995 and 1996.
In 1996, after her second unsuccessful marathon attempt, Welch decided to work with a coach. Now with a smarter plan, things began to turn around. In 1998, she tried again. This time, she was able to complete the marathon.
Now she has run 24 marathons and tries to do at least one or two marathons in a year. Her next will be Boston, which has been tentatively rescheduled to September, and the Marine Corps Marathon a few weeks after that.
Her favorite races have been the Berlin Marathon, which she ran in 2008.
"My favorite marathon might have been the Berlin Marathon because I was very aware that they have cobblestones marking the Berlin Wall, so I was very aware of crossing the wall every so often," she said.
Her second-favorite race, she says, is the Twin Cities Marathon, which she ran in 2017 and 2018.
"I love Twin Cities. As far as a race goes and the atmosphere and how it's run, I think Twin Cities is my favorite." She adds of the city itself, "[It's a] very young, very active city. You see cyclists and runners."
Her two least-favorite marathons were Boston in 2004, when the weather averaged around 85 degrees, and the Marine Corps Marathon in 2019, when it was pouring rain.
Welch now runs between 20 and 30 miles in a week and tries to do a longer run on the weekend between 10 to 12 miles. When training for a marathon though, her mileage can get up to 43 miles in a week.
Recently, Welch completed the virtual Credit Union Cherry Blossom Ten Mile. She was pleasantly surprised to have finished in around the same time as she did last year during the actual race.
"I thought the crowd is what spurs me on when you're with other runners, and I seemed to have found it just by running by myself."
In addition to running, Welch also loves skiing. She said they are her "two favorite loves."
"I've had a couple of skiing injuries." One of those injuries was to her ACL in 2013. The injury meant she was unable to run or ski.
When doctors in Reston told her there was nothing she could do for her injured ACL, Welch looked somewhere else. "A doctor in DC asked, 'What kind of life do you want to live?' and I said, 'I want to run and I want to ski.'" The doctor in D.C., sympathetic to Welch's needs, was determined to find a way to help.
Her surgery was on May 13th, 2013. By July, Welch was running again. "I had the best surgeon in the world!"
Welch's goal was to be able to run the Virginia Beach Half-Marathon in September 2013. "I've run the Virginia Beach half-marathon every year it's offered, and I made it my goal to run that one too." Sure enough, that September, she ran the race.
Now healthy and injury-free, Welch continues to run. "I have goals to run until I can't run anymore. I'd like to continue even though a marathon is a long, long way. I love the feeling and the comradery, and I love the training. It's a great experience."
She adds, "There's a 101-year-old man who's running marathons."
More recently, Welch says the novel coronavirus has led her to change where she runs, adding that she now runs more in downtown DC. "I'm running more in DC because I feel like you have more space."
Additionally, she now runs less with others. "I usually run with friends, but we haven't been able to get together in the last couple of weeks. When we do run, we stay distant."
When running closer to her home in Vienna, she says she has not noticed much difference. "I run a lot in the neighborhood where I live and we have wide streets and not much traffic right now. I generally have the place to myself."
But when there are other runners around, Welch notices that some runners behave differently due to social distancing practices. "It's interesting when you're running on the trail, you find that you and the other person are running off the trail, so you don't pass by them too much."
The Reston 10 Miler was the last race Welch was able to run before races began canceling or postponing.
"I really wasn't planning on running it because I was planning to run Cherry Blossom and I thought it really doesn't fit into my schedule and I'm so glad I did it," she said. "I think that was one of the last races to be held."
"Running is an amazing thing. I wish more people understood it and went out and did it. People would take out their frustrations on the road while they're running and not throw them onto other people," she said. "Runners are good people. They care about each other. They love what they do and they take care of friends and people they don't even know."
Recent Stories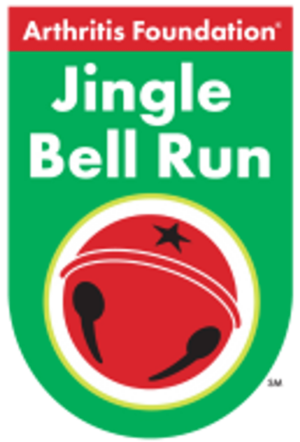 Be part of the original festive race for charity and signature Arthritis Foundation holiday event! Wear your favorite holiday attire and together, we'll jingle all the way to a cure! Register as an individual or bring a team of friends,